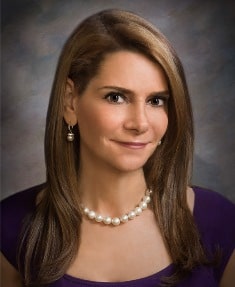 Elizabeth "Liz" Elting is the co-founder and co-CEO of TransPerfect, the world's largest provider of language services and technology solutions. TransPerfect has offices in 90 cities on six continents. Previously, Elting worked in sales and production for translation company Euramerica, which was later acquired by Berlitz. She has been honored with numerous awards, including the 2016 Women of Power and Influence Award from the New York Chapter of the National Organization for Women.
Elting earned a B.A. in modern languages — French and Spanish — from Trinity. She went on to earn an M.B.A. from New York University. She serves on Trinity's Women's Leadership Council's Founders Council and was awarded the College's Alumni Medal for Excellence in 2007. She is a member of the Audit and Risk Committee and the Comprehensive Campaign Subcommittee. Her father, Everett E. Elting, Jr. '58, and sister, Lynn Elting Siegel '85, also attended Trinity.
Elting and her husband, Michael Burlant, have two sons and reside in New York City.