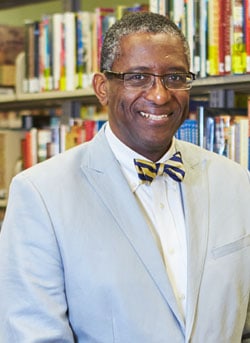 Michael Gary, with more than 26 years of experience as an independent school administrator and teacher, started as head of Friends Select School (FSS), an independent Quaker pre-K through 12 school in Philadelphia, during the 2016-17 school year. Prior to joining FSS, he served as director of admissions at Phillips Exeter Academy in New Hampshire from 2002 to 2016; for six years as director of admissions at The Peddie School in New Jersey, where he also taught economics; and as associate director of admissions and director of multicultural affairs at Pomfret School in Connecticut. Before starting his independent school career, Gary spent three years in the marketing department of Aetna Life and Casualty and as an account executive at KGA Advertising Agency. 
 Gary earned a B.A. in economics from Trinity and went on to earn a master's of education from Harvard University. He has served on Trinity's Board of Fellows and on the boards of Pomfret School, The Association of Boarding Schools, and the Enrollment Management Association. He is the founder and president of Inner City Lacrosse, a nonprofit program in Connecticut that connects local youth with collegiate players. He is a member of the Academic Affairs Subcommittee, Awards for Excellence Committee, Evaluation and Success Committee, Governance Committee and Student Life Subcommittee.  
 Gary and his wife, Trina '86, live in Philadelphia and are the parents of three children. Trina Gary serves on Trinity's Board of Fellows.