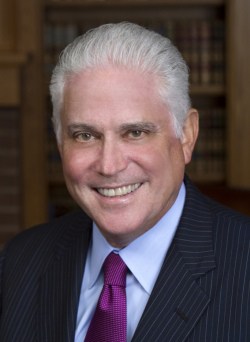 Walter Harrison served for nearly 20 years as president of the University of Hartford before retiring in 2017. His career in education began as a member of the English faculty at Johannes Gutenberg University in Germany, then at Iowa State University, and later at Colorado College, where he moved into administration, serving as associate director and then director of college relations. After a stint with media relations consulting firm Gehrung Associates, he went to the University of Michigan, where he was named vice president of university relations and secretary of the university, roles he held until 1998, the year he returned to Connecticut. 
 Harrison has served on numerous boards, including those of Saint Francis Hospital and Medical Center, Hartford Promise, and Capitol Squash, located on Trinity's campus. He also has held several positions in the National Collegiate Athletic Association (NCAA), including chair of the NCAA Committee on Academic Performance. In 2014, he was honored with the NCAA President's Gerald R. Ford Award for his lifetime commitment to the academic success of student-athletes. He serves on the Academic Affairs Subcommittee and the Enrollment Subcommittee.  
 Harrison earned a B.A. with honors from Trinity, an M.A. from the University of Michigan, and a Ph.D. from the University of California, Davis, all in English. In 1998, Trinity honored him with its Alumni Medal for Excellence, and this past spring, the college awarded him an honorary doctor of humane letters degree. He and his wife, Dianne Mintz Harrison, reside in Wellfleet, Massachusetts.