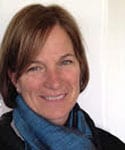 A native of Connecticut, Kathleen Foye MacLennan is the former access coordinator at Edina High School in Edina, Minnesota, where she designed and implemented programs that assist students with post-secondary planning and scholarship opportunities. She serves as a communications adviser for several nonprofit organizations. 
 MacLennan is a board member of College Possible Twin Cities (former board chair), Edina Give and Go (co-chair) and Twin Cities Rise. She recently was recognized for her community leadership with Edina youth by the Edina Community Foundation. Previously, she worked as a litigation attorney at Baker & McKenzie in Chicago and St. Paul Companies in Minneapolis. She is a member of the Awards for Excellence Committee and the Enrollment Subcommittee, and Chair of Student Life Subcommittee. 
 A 1983 graduate of Amherst College, MacLennan received her J.D. from Loyola University Chicago in 1987. She resides in Edina along with her husband, David MacLennan, P'17, '20. They have three children including Margaret, '17 and Catherine, '20.