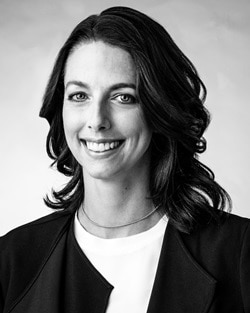 Christine Elia earned a B.A. in art history from Trinity and an M.F.A. in motion picture producing from the Peter Stark Producing Program of the University of Southern California School of Cinematic Arts. She is the head of product and creative director for Snap+Style Business, a SaaS company aimed at brands and retailers and a consumer-facing iOS app, Snap+Style. Elia is an adviser to Memo Collection, a fine jewelry start-up, and to RXS, a private equity group where she identifies potential opportunities and partnerships for portfolio companies. She was the former board chair of CariClub, a tech platform that connects young professionals with nonprofit boards. She founded the fashion social commerce company Closet Couture, a TechCrunch finalist in 2008 and pioneer in social shopping. 
 Elia, a trustee since 2013, is a member of the Founders Council of the Women's Leadership Council. In the past, she served on the Board of Fellows and the Alumnae Leadership Council. In 2011, Elia was awarded the college's Gary McQuaid Award. She is co-chair of the Information Services and Facilities Subcommittee and a member of the Marketing and Communications Subcommittee. 
 Elia and her husband, Eric Simon, reside in New York City with their son and daughter.