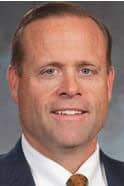 William Eugene Cunningham, Jr. is an insurance industry senior executive with nearly three decades of experience. He serves as CEO of IAT Insurance Group, a position he assumed in January 2015 after working 27 years at The Travelers Companies. At Travelers, he held various national and regional positions of senior leadership, most recently as executive vice president of business insurance. 
Cunningham, a board member since 2014, and his wife, Sandra Cunningham P'19, '21, have four children: Jack '19, Bailey '21, and Molly, as well as daughter Kelly, who passed away in 2005 from mitochondrial disease; the Cunninghams founded The Foundation for a Cure for Mitochondrial Disease, Inc. in 2000 after Kelly was diagnosed with the disease.
 Cunningham, who resides in Cheshire, Connecticut, majored in computer coordinate with economics at Trinity. He serves as the Chair of the Alumni Relations Subcommittee and is a member of the Comprehensive Campaign Subcommittee, Enrollment Subcommittee, as well as the Evaluation and Success Committee.