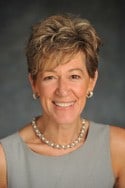 Rhea Pincus Turteltaub is vice chancellor, UCLA External Affairs, a position she has held since 2008. She oversees a diverse department comprising development, alumni relations, communications and public affairs, government and community relations, and the UCLA Foundation. She previously served UCLA as associate vice chancellor for development and in the university's Office of Planned and Major Gifts. Her work experience also includes fundraising positions at Otis College of Art and Design, the University of Chicago, the University of California, Berkeley, and Trinity College. 
 A political science major at Trinity, Turteltaub has been a member of the board since 2011. She has served as a member of the Presidential Search Committee, the National Alumni Association Executive Committee, the Alumnae Leadership Committee, and the Founders Council of the Women's Leadership Council. In 1997, she was awarded the Alumni Medal for Excellence. She is the chair of the Advancement Committee, as well as a member of the Evaluation and Success Committee, Executive and Planning Committee and Governance Committee.  
 Turteltaub and her husband, Adam B. Turteltaub, have two sons and reside in Encino, California.