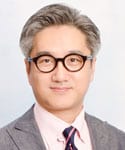 Ling S. Kwok is a partner at Quantum GBL, LLC, an independent, New York-based alternative investment firm responsible for creating structured financial products, including hedge funds, credit, real estate, and private equity funds. Previously, Kwok worked in investment banking at Morgan Stanley and Citicorp Securities in New York. 
 Raised in Farmington, Connecticut, Kwok attended Kingswood Oxford School in West Hartford and earned his B.A. with honors from Trinity College as a double major in economics and Asian studies. He and his wife, Vicki Kwok, reside in New York City with their two children. 
 Kwok, who previously served on Trinity's Board of Fellows, is a member of the Board of Trustees at The Browning School, a private school in New York City. He is a member of the Alumni Relations Subcommittee and the Investment Subcommittee, as well as the chair of the Awards for Excellence Committee.