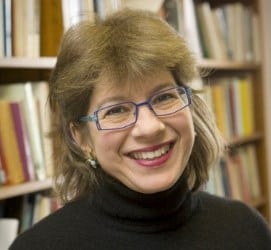 Susannah Heschel earned a B.A. in religion from Trinity. She went on to earn an M.T.S. from Harvard Divinity School and a Ph.D. from the University of Pennsylvania. Heschel is the Eli Black Professor of Jewish Studies at Dartmouth College. Her numerous publications include Abraham Geiger and the Jewish Jesus (University of Chicago Press), which won a National Jewish Book Award, and The Aryan Jesus: Christian Theologians and the Bible in Nazi Germany (Princeton University Press). In 2013, Heschel was named a Guggenheim Fellow.
 Heschel, a trustee since 2013, was honored with Trinity's 175th Anniversary Award in 1999 and the Alumni Medal for Excellence in 2003. She received an honorary doctor of divinity degree from the College in 2010. She is a member of the Academic Affairs Subcommittee and Student Life Subcommittee. 
 Heschel and her husband, James Louis Aronson, have two children and reside in Newton, Massachusetts.