Trinfo.Café: Neighborhood Community Space, Cyber Café, and Garden
Trinfo.Café is a community space at Trinity College that brings together residents and organizational partners alongside Trinity students and faculty to build relationships around common activities and events. We provide document services, a tech help desk, a free community garden, and a computer donation program. To read more Trinfo.Café related stories and news visit the CHER blog.
Trinfo.Cafe is located 1300 Broad St, Hartford CT 06106. Our current hours are Mondays and Wednesday 9:00 am-5:00 pm and Friday 12:30pm-4:30pm.
Our Services
Computer Use Time:
Patrons have free access to our internet-connected workstations and Wi-Fi connectivity. We have 3 computers in the social space and 9 computers in our computer lab.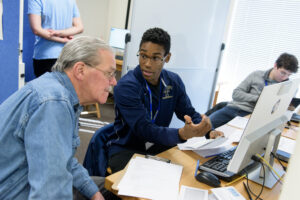 Tech Help Desk:
Patrons can bring their tech questions to our knowledgeable student staff or be guided through an online digital learning curriculum. For more information click here.
Computer Donation:
Trinfo works with IT services at Trinity to refurbish and donate used computers to the Hartford community. To be eligible for a computer you must live in the city of Hartford and have internet or WiFi access. All donations include a CPU, monitor, keyboard and mouse.
Historically, families who completed our computer literacy workshops would qualify for a refurbished computer at the end of their experience. Today, donations are granted on a rolling basis or as a special project with partners.
At present, we are not accepting computer donations.
If you're interested in learning more, please contact us at 860-297-4238.
Document Services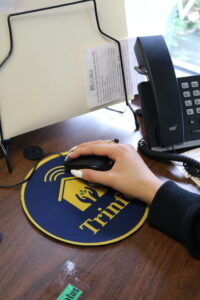 Community members can access paid document services like printing, copying, and faxing, as well as free scanning in color to an email. We also offer free earphones and CDs and USB/Flash
Drives at a small cost.
Printing in Black and White: 10 Cents per page  |  in Color: 50 cents per page
Scan to Email: FREE      |     Faxing: $1 per page
USB/Flash Drives 8 GB $5 | 64 GB $10
Earphones- FREE  |  CDs- FREE
Community Garden:
The Community Garden at Trinfo.Café brings together Hartford and Trinity community members as gardeners, supporting one of Trinfo's core programmatic themes of building relationships between Trinity and its Hartford neighbors. The garden serves as a space for student learning and engagement, while also supporting urban farming to expand access to fresh produce in Hartford. To learn more please visit here.
Space Requests and Reservations:
The computer lab and separate training room can be reserved. Costs may vary depending on the context and resources of each party interested. Please contact Karolina Barrientos at (860)- 297-4238 for space reservations at Trinfo.Cafe or at Trinity College.
Trinfo's VITA Tax Clinic
The VITA tax clinic at Trinfo provides free tax preparation services to the community. The clinic is one of several VITA locations in Hartford run by the United Way of Northeastern CT and The Village for Families & Children. The clinic is also a community learning opportunity for students, who are trained as IRS-certified tax preparers in Professor Serena Laws' course "Tax Policy and Inequality in Hartford." Get more information about the clinic and book an appointment.