The community garden at Trinfo.Café brings together Hartford and Trinity community members as gardeners, supporting one of Trinfo's core programmatic themes of building relationships between Trinity and its Hartford neighbors. The garden serves as a space for student learning and engagement, while also supporting urban farming to expand access to fresh produce in Hartford.
How to Get a Plot
To be eligible for a plot at the Trinfo.Cafe community garden you must be a member of the Hartford community and sign a community contract. Trinity students, staff, and faculty are welcome to apply for a plot. Hartford residents are given preference for plots; however, residents of the Greater Hartford area may be considered. If interested or any questions contact us at 860-297-4238.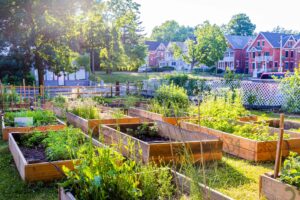 An Urban Farm as a Hub
Founded over a decade ago by a student club, the garden has since expanded to 42 plots (21 boxes). Hartford residents, who make up most of the gardeners, share the space with Trinity College faculty, staff, and students, as well as community organizations. Each summer, youth in several local programs (Summer of Solutions Hartford, TC Boys & Girls Club, COMPASS Youth Collaborative, Girl and Boy Scouts, and Camp Dakota) join in tending the garden. For five years, an after-school beekeeping club at the neighboring Hartford Magnet Trinity College Academy (HMTCA) has tended three hives that pollinate plants throughout the neighborhood.
Susan Masino, Vernon Roosa Professor of Applied Science, has been a key leader in the garden, along with students and staff in her lab. She often holds class at the two all-season picnic tables abutting the garden. This space also provides a venue for Trinfo-sponsored outdoor events like the Men of Color Alliance's Back-to-School Community cookout. In the 2022-2023 academic school year, the community garden worked with OCS (Office of Community Service) and P.R.I.D.E (Promoting Respect for Inclusive Diversity and Education) on maintaining the Community Garden as well as community clean-ups around the Trinity campus.