In recent years, Trinfo coordinated tech literacy and multimedia afterschool programming at nearby schools and community partners. Trinfo student staff design the curriculum and lead classes in Spanish and English.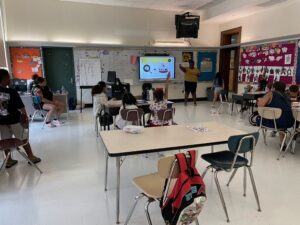 All of our multimedia programs are designed to teach fundamental multimedia skills (video production, internet search, etc.) wrapped around a theme or topic. In the links below, check out examples of student work from a variety of schools where themes ranged from 'Things I Like' and 'Make my own music video' to 'City Explorers' and 'World Traveler'.
In the past, Trinfo held computer literacy classes on-site for adults focusing on both professional and practical skills. View our past adult computer literacy program resources, as well as current youth curriculum resources, at the links listed below or on our YouTube page.
Computer Literacy for Adults