The VITA tax clinic at Trinfo provides free tax preparation services to the community. The clinic is one of several VITA locations in Hartford run by the United Way of Northeastern CT and The Village for Families & Children.
Call 2-1-1 or visit 211ct.org starting in mid-January for an appointment at the VITA clinic at Trinfo or another nearby VITA site.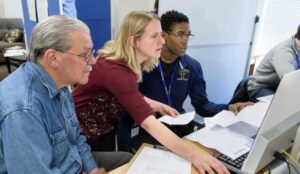 For the 2022 tax season, the VITA clinic at Trinfo was open from Monday 2/7 to Monday 4/18. Check back in early January for 2023 dates and hours. The program generally serves people who make less than $55,000 a year or people with disabilities. Tax preparation services are offered in English and Spanish.
Email Professor Serena Laws, serena.laws@trincoll.edu, for more information about the clinic. For more information on VITA in CT, visit https://unitedwayinc.org/myrefund/.