TrinVotes! is a nonpartisan initiative to help students vote. Our mission is to make the voting process more accessible and to promote civic engagement among students.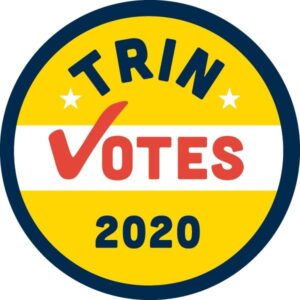 Through this website, we make it easy to register to vote, request an absentee ballot, and turn out on election day. We also provide resources for learning about the issues and candidates and explain how to get more involved in the political process. In addition to our website, we will be tabling throughout campus during the 2020 spring and fall terms. Volunteers will be available to help you through the voting process and respond to your questions.
If you have any questions, comments, or need help navigating the voting process, please contact trin-votes@trincoll.edu.
Interested in TrinVotes!? Get involved!
---
Check the Status of Your Ballot
Has your state received your mail-in ballot?  Check the status of your ballot here.
---
Call to Students from the Tripod
The Tripod is planning a special issue to commemorate election day on November 3rd, both out of student interest and to capture this historic moment in the Trinity community. That issue will be released on November 3rd. This election issue will feature exclusively student opinions on the elections and the term would be construed broadly: the issue can include opinions of the Presidential candidates themselves, their policy positions, individual electoral issues, the integrity of the elections, or Congressional elections, among others. If interested, please submit opinions to tripod@trincoll.edu by Wednesday, October 28th, 2020.

---
Register to Vote here:
Partners