Cybersecurity Awareness Month 2021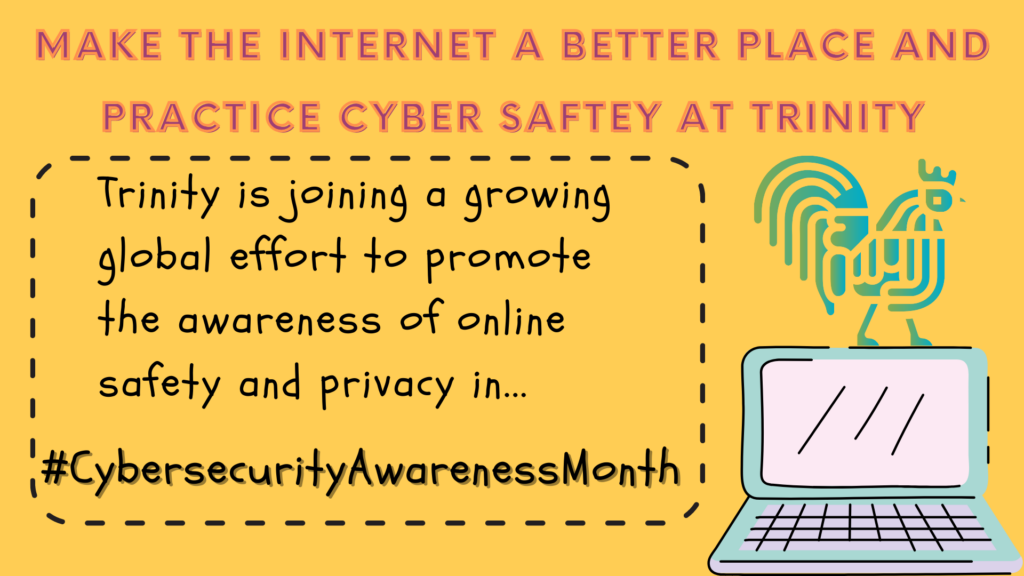 October is Cybersecurity Awareness Month, organized by the National Cyber Security Alliance (NCSA) and the Cybersecurity and Infrastructure Agency (CISA) of the U.S. Department of Homeland Security. Trinity College is proud to participate in a growing global effort to promote online safety and privacy awareness.
The theme of this year's program is 'Do Your Part. #BeCyberSmart' and is a collaborative effort among businesses, government agencies, colleges and universities, associations, nonprofit organizations, and individuals committed to Cybersecurity Awareness.
Each week in October, Trinity's IT Department will be sharing resources on a cybersecurity topic, per the schedule below. We hope these resources prompt further discussions with your team regarding your current and desired security practices.
If you have any questions on these topics or would like to organize a discussion with your team, contact the Information Security Team at security@trincoll.edu. We welcome the opportunity to join your team for further discussion and strategizing about any of these topics.
For more information about ways to keep yourself safe online, please visit https://www.dhs.gov/be-cyber-smart.
Sincerely,
John M. Inghilterra
Cyber Security Lead
---
Week 1: October 4th, 2021 | Double your login protection
Enable multi-factor authentication (MFA) for all accounts and devices to ensure that the only person who has access to your account is you. MFA is currently implemented for faculty and staff and is available upon request for students.
It is strongly recommended to set up more than one verification method.
The Microsoft Authenticator app is an easy-to-use verification method that does not result in any text or call-related charges.
Keep in mind that the Microsoft Authenticator app will not backup with traditional native backup resources like Apple or Android for security reasons. Learn how to backup your authenticator app.
---
 Week 2: October 11th, 2021 | Shake up your password protocol
According to the National Institute of Standards and Technology (NIST) guidance, you should consider using the longest password or passphrase permissible.
Get creative and customize your standard password for different sites, which can prevent cybercriminals from gaining access to these accounts and protect you in the event of a breach.
Use password managers to generate and remember different, complex passwords for each of your accounts.
---
 Week 3: October 18th, 2021 | The Power of Updating
You may not realize it, but cyber attackers are constantly looking for and finding new vulnerabilities and weaknesses in the software people use every day.
When a software vulnerability is discovered, a software update (also known as a patch) is developed and released by the vendor.
When an update for a device, operating system, program, or mobile app is available, you must manually download and install the update.
The advantage of automatic updates is that you don't have to do anything. Enabling automatic updates for your Mac or Windows PC is one of the simplest and most effective ways to protect yourself and securely make the most of today's technology.
---
Week 4: October 25th, 2021 | Stay protected while connected
Before you connect to any public wireless hotspot – like at an airport, hotel, or café – be sure to confirm the name of the network and exact login procedures with appropriate staff to ensure that the network is legitimate.
If you do use an unsecured public access point, practice good internet hygiene by avoiding sensitive activities (e.g., banking) that require passwords or credit cards.
Some home WI-FI routers come with preset passwords out of the box. But hackers can easily find these passwords, so it's important to change them to something more complex.
Your home WI-FI network should also be set up correctly in order to be secure.
Only use sites that begin with "https://" when online shopping or banking.
Sensitive data should never be sent through email, but when you must, be sure to encrypt your email. Learn how to send Encrypted emails from your Trinity account on your Mac or Windows PC.