Resources for creating a more sustainable and equitable academic publishing system.
Celebrating faculty scholarship by the numbers: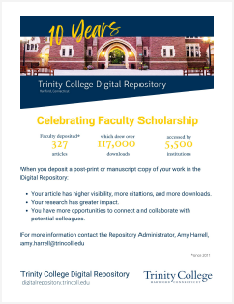 The Complexity of Scholarly Publishing
The traditional system of academic publishing was born in a print-based world, in which scholars submitted their work to a journal supported by library subscriptions. During the last few decades of the twentieth century, journal publishers merged and raised subscription prices far above inflation rates. In response, scholars and their institutions are increasingly favoring alternative business models that bundle together fees for subscription and publishing. These models often result in Open Access readership.
Open Access
Open Access is a common end goal among academic publishing stakeholders, but there is not yet a one-size-fits-all economic model that is both equitable and sustainable. To publish an article under Open Access terms, you typically have the following choices:
Submit the work to an Open Access journal (Gold OA). Usually, you will need to pay an article processing charge (APC) to publsh the article, but sometimes the journal is independently funded by an academic society or several institutions so the APC can be waived. 
Submit the work to a hybrid journal. Many journals from the big publishers are hybrid, in that content within journal volumes can be either closed or open depending on whether authors have paid an APC. 
Publish your work as subscription-only but deposit a post-print copy in the Trinity College Digital Repository.  Many journal publishers allow authors to upload a post-peer review manuscript copy of an article to their institution's repository.
Here are some suggested readings on Open Access issues.
Unlocking your work
A few ways to help ensure your scholarship reaches the widest audience:
Deposit a publicly-accessible post-print copy of your work in the Digital Repository.  Many publishers permit the deposit of the post-print or manuscript version of an article. This is the post-peer reviewed version but *not* the final published copy. You can look up your publisher's policies by searching the Sherpa/Romeo database.  then submit your work directly to the Digital Repository.
Seek out publishers and Open Access journals that have more lenient distribution policies and submit your work to these publishers first. Use the Sherpa/Romeo database or the Directory of Open Access Journals to find Open-Access minded publishers for your discipline.
Negotiate with your journal or monograph  publisher upfront to retain your copyrights. Read more about this from SPARC and use their Author Addendum with publishers.
Faculty publications recently added to the Digital Repository
Trinity's Institutional Repository is a digital archive that showcases and provides access to scholarly and creative works by Trinity College community members. Works in the Repository are open to anyone on or off campus, resulting in increased readership and visibility.
Studies of live cells often require loading of exogenous molecules through the cell membrane; however, effects of loading method on experimental results are poorly understood. Therefore, in this work, we compared three methods for loading a fluorescently labeled peptide into cells of the model organism Dictyostelium discoideum. We optimized loading by pinocytosis, electroporation, and myristoylation […]

A collaborative learning module for teaching protein mass spectrometry has been developed to overcome common obstacles to incorporating the modern topic of biological mass spectrometry into the undergraduate chemistry curriculum. Protein mass spectrometry data is provided to eliminate the need for expensive instrumentation, and an instructor's manual gives necessary details for those unfamiliar with the […]

The red alga Dasya sylviae C.W.Schneid., M.M.Cassidy & G.W.Saunders sp. nov . is described from mesophotic depths of 60–90 m off Bermuda. Genetic sequences (COI-5P, rbc L) and morphological characteristics show that this species is distinct from other known pseudodichotomous species of Dasya . Of ten current species in the genus reported from Bermuda, only […]

Giuseppe Sarti's opera buffa Fra i due litiganti il terzo gode was one of the great operatic successes of the late eighteenth century. First performed in Milan in September 1782, the opera was quickly taken up by theatres in other cities. In 1783 it began a long run at the Burgtheater in Vienna, where it […]