Multi-factor Authentication (MFA) Rollout
Student Multifactor Authentication (MFA) Rollout Event
On Thursday, April 14th, Trinity College's Library and Information Technology Services (LITS) Divison had a Multifactor authentication (MFA) enrollment event directed towards the onboarding of students. The event was held outside the Raether Library and highlighted the many benefits why one needs to use Multifactor authentication. Students were able to win prizes if they added their authentication methods to their Microsoft accounts. The event was held outside the library during the common hour, with close to 100 students participating. Students scanned a QR code that prompted them to set up MFA or showed that they already had it set up. The event assisted students in adding their MFA authentication methods, as this is highly recommended to complete before the implementation dates listed below. Once the authentication methods were set up, the participant had the opportunity to spin a wheel to collect a prize. Prizes consisted of Peter B's gift cards, Trinity travel mugs, Bantam bobbleheads, and stickers.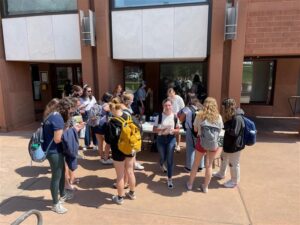 This event was put together and run by LITS' current Cybersecurity & Leadership Interns Anahit Avagyan and Keelyn McNamara, Assistant Director of Constituency in LITS, Rosie Beranis, and Lead Security Analyst Johnny Inghilterra. The LITS division nearly doubled its expected goal of participants and made sure students enjoyed the many rewards of being secure online. Using Multifactor is the first and primary step to securing one's digital data. In an effort for Trinity college to secure its data and its many user' data, MFA is being implemented on the dates listed below to students.
If a student has not set up MFA by the critical implementation deadline, they will have to do so during their login and could delay their access to their account. Students could set up MFA using their phone or secure laptop in under three minutes.
MFA implementation dates:
First-years and Sophomores – April 23rd
Junior and Senior – April 30th