Library & Information Technology Services: A Year in the Pandemic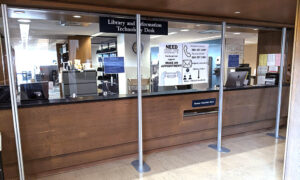 The pandemic upended everyone's lives at Trinity College, challenging us to rethink how we teach, learn, and work. Trinity staff and faculty put in long hours under stressful circumstances. This slideshow provides a few snapshots of the ways people in the Library & Information Technology Services division adapted to life and work during COVID-19.
Snapshots in Time: A Campus History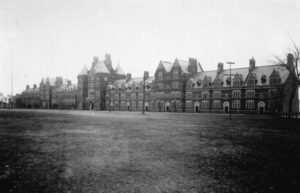 During the 2019-2020 academic year, Tess Meagher, class of 2020, and Cheryl Cape, Instructional Technologist, worked on a story map showing the evolution of the Trinity College campus over time. The map uses historic aerial photos from 1934 -1986, along with pop-ups about each of the campus buildings, to document growth and change of the campus from a birds-eye view. The story map uses the Esri ArcGIS Online Story Map Series template, along with a website hosted in domains.trincoll.edu to store images.
We encourage users to take the time to explore the story map to 'see' the campus as it existed years ago. Check out Boardman and Alumni Halls on any of the images before 1986, as we created image galleries of these buildings that no longer exist on campus. On one of the tabs you can swipe to compare the 1934 campus to the 1986 campus. There is also an extensive list of resources for anyone that is interested in additional research or information about Trinity's campus. Visit the Story Map.
Digital Liberal Arts Framework
Digital Liberal Arts at Trinity College represents a commitment to support our students as they fulfill our mission to become independent thinkers who lead transformative lives.
This framework offers students opportunities to reflect on and develop digital skills in the following areas: Information and data literacy, communication and collaboration, digital content creation and making, safety, and problem solving. Trinity students may encounter opportunities to explore these areas as part of in-class workshops and trainings or may opt-in to learning about these areas through programming and individualized tutorials offered by Information Services. Our goal with this framework is not simply to provide opportunities for students to become proficient in different technologies, but rather to create an environment in which exposure to digital scholarship, training, and tools can provide students with perspectives to enhance a part of their overall liberal arts education. Read more about the framework.