The Public Humanities Collaborative (PHC) is a summer research opportunity that brings together students, faculty, and individuals and organizations in Hartford to work on public humanities: the study of how people interpret stories of our human experience. The PHC is a component of Trinity College's Summer Research Program funded by the Dean of Faculty's Office. The program funds between 10 to 16 students per summer.
Each PHC team includes Hartford-area humanities partner (such as a museums, libraries, cultural institutions, or related organizations), one or more Trinity faculty fellows, and two to four Trinity student researchers.
Students work approximately 15 hours a week with faculty on their humanities-oriented scholarship (such as journal articles or book chapters) and another 15 hours a week with Hartford humanities partners on public humanities projects (such as an oral history collection, interactive website, community discussion, exhibit, public performance, etc.)
Students, faculty, and Hartford humanities partners will attend a weekly lunch and workshop on topics such as collaborating using digital tools, presenting work to academic and public audiences, and creating social change in the city.
To apply:
Hartford humanities partners: Applications for next summer will be announced in winter 2024.
Faculty fellows: Applications for next summer will be announced in winter 2024.
Student researchers: Applications for next summer will be announced in winter 2024.
The PHC Faculty Director and Director of Community Learning will review proposals and applications to identify matching interests for potential teams. Team members will share a common interest in a broad humanities theme (such as colonization, literacy, or migration) and/or a methodological approach (such as oral history, storytelling, or digital mapping).
PHC is a competitive application process, with preference given to first generation, under-represented, and other students with demonstrated financial need, for whom socioeconomic status has prevented them from engaging with summer research opportunities.
If you have any questions, please contact PHC co-directors Erica Crowley, Director of Community Learning or Mary Mahoney, Digital Scholarship Strategist
Recent projects
Migration, Housing, and Organizing with the West Indian Foundation and Anti-Colonial Thought with Professor Maurice Wade
In the video below, Esther Appiah '21 and Ali Kara '20 discuss their work with community partner Fiona Vernal of the West Indian Social Club/West Indian Foundation. The 1940s and 50s wartime labor needs brought thousands of migrants to Hartford, and West Indians in particular stood out for high home ownership rates, entrepreneurial endeavors, educational attainments, and eventual flight to the suburbs. Unfortunately there have been few ways for the public to engage with this history in Hartford except for a few times a year during the West Indian and Puerto Rican parades. As a means of allowing the community to create and engage with this knowledge, Esther and Ali worked with Dr. Vernal and other Hartford community partners on an exhibit that tracks migration, housing, and community organizing among African American, Puerto Rican, and West Indian migrants (see more about their community partner project here). For their faculty project, Esther and Ali worked with Professor Maurice Wade to conduct primary source research on anti-colonialism to add to the Caribbean Anti-Colonial Thought Archive,  where they used Timeline and WordPress to add information and resources to the website itself.
"What We Wore" Exhibit with the Amistad Center for Arts and Culture and Rethinking Urbanism and Urban Responses to Immigration with Professors Garth Myers and Abigail Fisher Williamson
Aboubacar Bakayoko '20 and Lucy Pereira '20 worked with the Amistad Center for Arts and Culture to develop a digital timeline, seen in the video below, for the "What We Wore" exhibit. This is a community sourced textile exhibition which features clothing showing another side of African American history in Hartford. Take a look at the full timeline here: http://bit.ly/AmistadCenter. Aboubacar also worked with Professor Garth Myers on "Rethinking Urbanism: Lessons from Postcolonial Studies and the Global South," combining archival research and oral histories of communities in Hartford, and Lucy worked with Professor Abigail Fisher Williamson on "Urban Responses to Immigration," which examined how a diverse range of towns and cities respond to immigrants and how these responses shape immigrant incorporation.
"Heroes on the Homefront" with Connecticut State Library and "French Novelists and the American Academy" with Professor Sara Kippur
Melani Norsigian '20 and Megan Caljouw '20 worked with Christine Pittsley at the Connecticut State Library to prepare the exhibit "Heroes on the Homefront: A Look into the Role of Connecticut Citizens During World War I", featuring soldiers' letters, photographs, and wartime recipes, which were also showcased on the library's instagram (pictured below). In addition, Melani and Megan explored "French Novelists and the American Academy: A Digital Humanities Project" with Professor Sara Kippur, creating story maps of French novelists' travels in America. See Megan's story map on Alain Robbe-Grillet and Melani's story map on Nathalie Sarraute.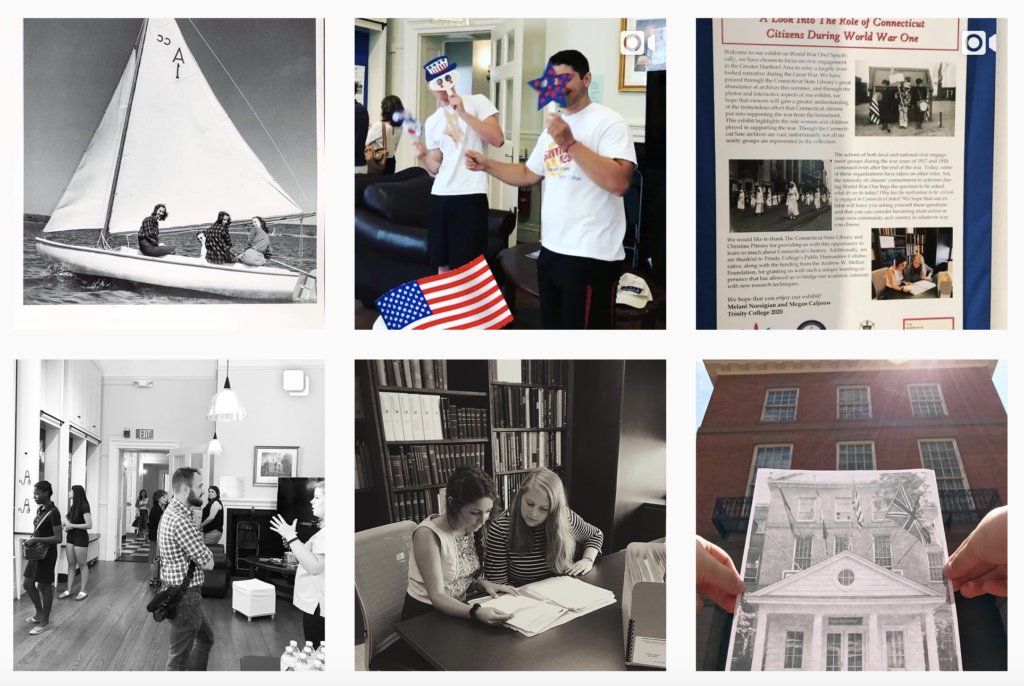 For more information on past PHC projects, see the following posts: