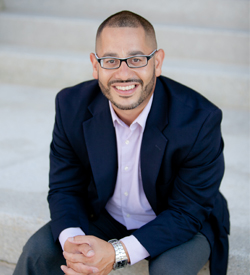 Jason Rojas M'12
Chief of Staff, Assistant Vice President for External Affairs
(860) 297-4166
jason.rojas@trincoll.edu
Jason Rojas serves as the president's chief of staff and assistant vice president for external affairs, with primary responsibilities of administering the Office of the President at Trinity College. Rojas's responsibilities include coordination of the president's senior management team and meetings of the President's Cabinet. Additional key duties include arranging/managing the president's schedule and travel arrangements; supporting the president's speaking engagements; assisting the president's fundraising efforts; maintaining effective relationships with both internal and external constituencies; interacting on a regular basis with trustees of the College, alumni, faculty and staff, students, and others; and serving as a liaison between the College and the Hartford community while encouraging collaboration between Trinity College and many of its community partners.
In addition to his duties at Trinity, Rojas is a member of the Connecticut General Assembly representing the Ninth Assembly District (East Hartford and Manchester) in the Connecticut House of Representatives. He is currently co-chair of the Finance, Revenue, and Bonding Committee and has served as a past chairman of the Planning and Development Committee, as a deputy majority leader, and co-chairman of the House Screening Committee. He has also served on the Higher Education and Workforce Development Committee; the Education Committee; the Finance, Revenue and Bonding Committee; and the Planning and Development Committee. A lifelong resident of East Hartford, Rojas attended East Hartford Public Schools and was the first in his family to graduate from college, earning a B.A. in history from the University of Connecticut and an M.A. in public policy from Trinity College.
Rojas serves on the Board of Directors of Billings Forge Community Works and Southside Institutions Neighborhood Alliance and is a member of the Board of Trustees of the Boys & Girls Club of Hartford. He is a former member of the East Hartford Town Council and Board of Education as well as the New England Association of Schools & Colleges Commission on Public Secondary Schools.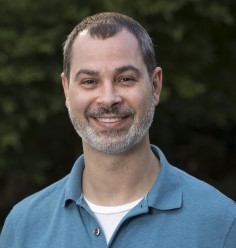 Carlos Espinosa BA'96 M'98
Director, Office of Community Relations & Trinfo.Café
(860) 297-4277
carlos.espinosa@trincoll.edu
Carlos Espinosa joined the President's team in August 2018 as director of the Office of Community Relations in a merger with the Trinfo.Café, the College's community and technology space next to the Learning Corridor and the Hartford Magnet Trinity College Academy (HMTCA).
Mr. Espinosa serves as a liaison between the College and the surrounding community supporting the work of the Chief of Staff, the Office of the President and the program units comprising the Center for Hartford Engagement and Research. He is also responsible for coordinating efforts to promote the College, representing the College at meetings and events sponsored by neighborhood and city organizations as one of the College's chief external representatives; building and maintaining effective working relationships with neighborhood and community leaders and constituents who interact with the College and its community programs; and promoting the strengths and distinctions of Trinity to business, government, community, and other leaders while serving as a primary point of contact for community requests for access to campus facilities and other resources.
In his capacity as director of the Trinfo.Café, Mr. Espinosa initiates and manages Trinfo.Café activities, namely, providing neighborhood residents and local organizations access and training in computer technology, both in the Hartford community and Trinity College; seeks and coordinates fundraising and contractual opportunities for Trinfo.Café; designs and develops new programming which broadens relations between Trinity College and the Hartford community and bolsters the capacity of community organizations to better service their constituencies; and oversees and maintains technical systems at Trinfo.Café.
Carlos Espinosa received his B.A. in Educational Studies and Sociology (1996) and then an M.A. in Public Policy in 1998 from Trinity College. Mr. Espinosa was the first Trinity student to participate in the Trinity Center for Neighborhood's community organizer training program while completing his Master's Degree, where Mr. Espinosa worked for Hartford Areas Rally Together organizing neighborhood residents in several neighborhoods surrounding the College. He further explored public policy issues by serving as a policy analyst and lobbyist for the Center for Community Change in Washington, D.C. Upon returning to Connecticut, Mr. Espinosa helped found the Caring Families Coalition, a statewide advocacy group aimed at affecting public policy on health issues as it relates to caregivers. Mr. Espinosa became the Director for the Smart Neighborhood Initiative on 2003, Trinity's community digital divide project, and Trinfo.Cafe..  In July 2014, Mr. Espinosa took on an additional role as interim director of the Community Learning Initiative, the College's service learning program alongside Carol Clark, the faculty director of the program.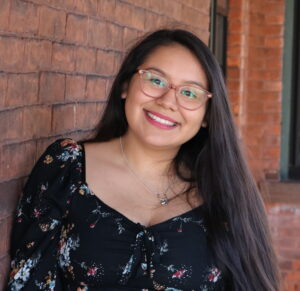 Karolina Barrientos BA'22
Program Manager, Office of Community Relations &Trinfo.Café
(860) 297-4238
karolina.barrientos@trincoll.edu
Karolina is the Program Manager for the Office of Community Relations and Trinfo.Café at Trinity College. In this position she oversees and manages all Trinfo programming and attends community NRZ meetings. An Alumna of the college, Karolina has been heavily involved in the community both on and off campus. On campus she held multiple leadership positions in Multicultural Affairs and has worked with community organizations since her first-year at Trinity. In 2021 she was awarded the Newman Civic Fellowship and graduated in 2022. She holds double Bachelor Degrees in Sociology and Educational Studies with a minor in Community Action and is looking to continue her education as Educational Sociologist.