Brent O'Leary
Class of 1992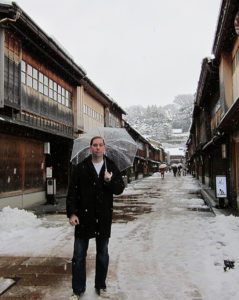 Brent studied Japanese at Trinity in 1990-2. In 1992 he was chosen for the Best Student in Japanese. After graduating from Trinity, he went to Aomori, Japan and taught English on the JET Program. After that he came back to the US and went to Boston University Law School. When he graduated and passed the bar, he was hired by Tanaka and Takahashi Law Offices in Tokyo and worked for them for 2 years before moving to White & Case Law Offices in Tokyo, where he practice international law and used his Japanese every day for 4 years. He then became legal compliance counsel for Asia for Bloomberg LP based in Tokyo for 4 more years. He was also Chair of the Corporate Counsel Committee of the American Chamber of Commerce Japan. After 11 years in Japan, Brent transferred back to Bloomberg's NY office and has been there over five years. Brent still goes to Japan, keeping his Japanese at a high level. His exposure to Japan since Trinity days has been a wonderful experience both professionally and personally.
Bob Hoegler
Class of 2008

Bob began his Japanese studies during his Freshman Year in 2004 with his Freshman Seminar, which revolved around the history and cultural significance of Japanese Anime. As a result, Bob applied and was chosen for Trinity's Technos Japan Tour, a two-week exchange program. Although Bob had declared a major in Economics, he would go on to add International Studies (Japanese) as a second major, add Japanese Language as a minor, and pursued study abroad in Nagoya, Japan in 2007. After graduating with honors in 2008, Bob rekindled his passion for Japan and Japanese in 2011 by accepting a position to work at Mizuho Bank, the second largest bank in Japan, in their New York City branch. He works in the lease marketing department of the bank, and regularly uses his Japanese skills to converse with his Japanese coworkers.  He continues his interest and drive toward fluency and cultural immersion to this day and hopes to return to Japan in the future.
James Gale
Class of 2010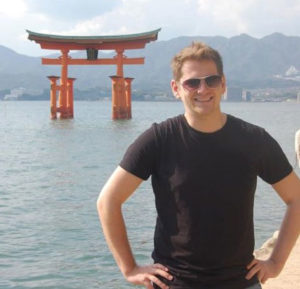 James began his pursuit of Asian Studies at Trinity in 2006. During his freshmen summer, James studied abroad at International Christian University in Tokyo and stayed with a Japanese host family, who were very welcoming and he fell in love with the Japanese customs and culture – an experience he would never forget. After graduating with honors in 2010, James returned back to Washington D.C., where he first worked at a consulting agency focused on U.S.-Asia policy issues for Fortune 50 companies, then managed and fundraised programs at a non-profit organization. In 2011, James went back to Japan on the JET Program, where he taught English in a small community (Niseko) in rural Hokkaido for two years. After returning to the U.S., he now works as a research consultant at the U.S.-Japan Business Council (USJBC), and assists the Senior Director on U.S.-Japan foreign policy. He plans on returning to Japan for the 2020 Tokyo Olympics.
Rebecca Tompkins
Class of 2011

Rebecca began her Japanese studies as a freshman at Trinity. During her junior year, she studied abroad at International Christian University in Tokyo, where she studied Japanese and other courses relating to Japan and Asia toward her Political Science and International Studies majors. After graduating with honors in 2011, she spent two months on Critical Language Scholarship at Doshisha University in Kyoto. She then entered East Asia master's degree program at Harvard University. She also spent a year at the Inter-University Center for Japanese Language Studies in Yokohama. After six years of Japanese language study, she succeeded in passing the most prestigious Level N1 of the Japanese Language Proficiency Test. She completed her master's degree in May 2013 and is currently a first-year PhD student in Modern East Asian Studies at Leiden University in the Netherlands. Her research focuses on waste management in Japan. She plans to return to Japan frequently both for her academic and personal goals.