Gabriel R. Sorondo Guirola
Hispanic Studies Major
Presidents Fellow, Language & Culture Studies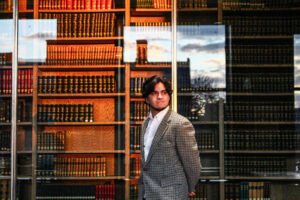 I am a senior majoring in Language and Culture Studies, in the Hispanic Studies section. I also major in Theatre & Dance, where my interests in the Hispanic Studies field have juxtaposed with each other. I was also nominated as the President's Fellow for the Department of Language and Culture Studies. In the LACS department, I have focused my own interests into the wider literature of the Hispanic world, whilst focusing on oral history archives of the Latinx communities of Hartford. As well, I have focused myself upon the Latin American Theatre of Crisis of the 60s to the 80s and the chronicles of Latin American writers in what are categorized testimonial narratives.
While I was at Trinity, I discovered an important lesson upon attending a Hispanic Studies open house. The LACS department has showcased to me the core of the importance of mixing research, pedagogy and the diverging paths of the students in order to celebrate each of them and their unique qualities. The Hispanic Studies section, slowly but surely, across my time at Trinity became a hub not only for my interests but also for my own professional and personal development in the field of Hispanic Studies as I aspire to become a professor like those that accompanied me on this journey. The LACS department as a whole across my time at Trinity seemed to have one goal in mind: the success of its students.
But why study Spanish when, I myself, am a native speaker and Latin American? Because languages are the core of our expression, the ways in which we tell stories and relate to each other are at the heart of the ways in which we exist. Spanish, as it exists, is a language marred by its colonial history but enriched by the ways in which the different countries, cultures and dialects have managed to mold themselves and create unique and innate identities to deal with their own historical contexts. As my time at Trinity finishes, I think the Hispanic Studies and LACS department have both taught me the way in which I shall pursue my pedagogy as a professor. As the time comes to a close, I will be seeking to continue educating and bringing forward the brilliance of literature to those who desire to learn about it. As well, the Hispanic Studies section has allowed me to explore and understand that, in the future, my path might be marked by a combination of pedagogical endeavors and creative explorations.