The Long Walk Societies (LWS) bring together generations of donors and volunteers – both veteran and emerging leaders – to support virtually every aspect of academic and student life.
About the Long Walk Societies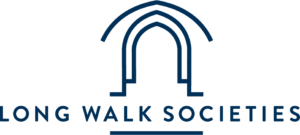 Long Walk Societies members represent incredible generosity. They understand that their gifts are an investment in an exceptional liberal arts education, and they choose to prioritize Trinity College in their philanthropy. The opportunities that Trinity offers are made possible by the generosity of alumni, families, and friends. Your leadership annual gift helps prepare students to be bold, independent thinkers—students who are driven to learn, explore, and, ultimately, shape the world as leaders and doers in businesses, communities, and organizations in every field of human endeavor, and in every corner of the world.
Through their commitment, LWS members
Open Trinity's doors to the very best students from around the world
Empower the next generation of leaders, innovators, and risk-takers
Strengthen the college's reputation and national standing by enrolling extraordinary students and attracting and retaining world-class faculty
Create a learning community brimming with talent and vitality from across the globe
Deliver a distinctive, relevant liberal arts education that is second to none
Connect the Trinity community to the Hartford region and beyond
Build on Trinity's historic past to ensure a vibrant, sustainable future
Choose your impact!
Long Walk…………………..$2,000 to $4,999
Jarvis……………………………$5,000 to $9,999
Chair's Circle…………..$10,000 to $24,999
Northam………………….$25,000 to $49,999
Summit……………………$50,000 to $99,999
President's Circle…………………..$100,000+
It is easy to join the LWS by becoming a Trinity GEM with monthly gifts. Click here to set up recurring payments.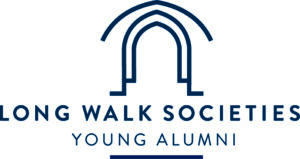 The LWS extends a special invitation to young alumni classes through the 10th Reunion to join with a gift of $100 multiplied by the number of years since graduation. Each year following, the amount required to sustain membership increases by $100. Young alumni are encouraged to take a leadership role by joining the LWS and becoming a guiding force in the future of the college. Remember that corporate matching gifts are included as part of total giving.
For example, during the 2022 fiscal year (July 1, 2021 – June 30, 2022), young alumni are invited to join the LWS at the following gift levels:
To make your gift online, please click here.
Matching Gifts and Monthly Payments
Your employer may have a charitable matching gift program that increases your total gift at no cost to you. Gifts may be made in monthly or quarterly installments over the course of the fiscal year (July 1 – June 30). For more information, visit www.matchinggifts.com/trincoll.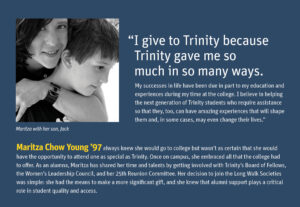 Celebrating Trinity College
Recent gifts from LWS members enhance the Trinity experience for generations of students and they are recognized at landmark facilities on campus.
Manuel and María Luisa Lopes Borges Admissions Center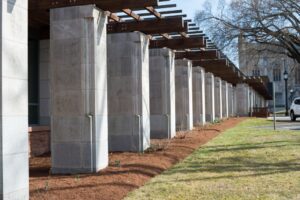 Read more about the Manuel and María Luisa Lopes Borges Admissions Center here
With this beautiful act of family generosity, the Borges family has dramatically affirmed our commitment to access and sent a powerful message of opportunity to students from all areas. Thanks to their gift, we can expand as never before our efforts to give all deserving students the opportunity to experience the transformative power of a Trinity education. We are humbled to honor Manuel and María Luisa Lopes Borges and their family's long association with this college.

- President Joanne Berger-Sweeney
The Tansill Muldoon Stadium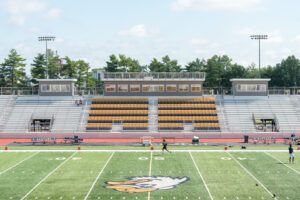 Read more about the stadium here
For over a century, the Tansill family's success has been intertwined with that of Trinity College and our teams… It is a legacy marked by competitive success, commitment to community and extraordinary philanthropic leadership.

- Drew Galbraith, Trinity College Athletic Director
The Cornelia Center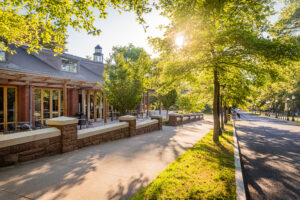 Read more about The Cornelia Center here
The Cornelia Center will be among the first buildings on campus named for an alumna, in honor of Cornelia Parsons Thornburgh '80, who served for 17 years on the Trinity College Board of Trustees—including since 2014 as its first female board chair—until retiring from the board in June, 2021.
Trinity College Wall of Honor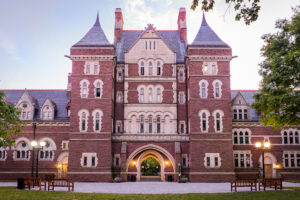 Located in the Fuller Arch in the heart of the Long Walk, the Wall of Honor celebrates lifetimes of philanthropy.
Etched into the Wall are the names of those alumni, parents, friends, and organizations who have had institution-building impact at the College.
The most recent 2021 inductees are listed below:
Elizabeth Elting & Michael Burlant
The Fernandez Family 
Kathleen F. & David W. MacLennan 
Frank R. Mori & Margaret R. Mori 
See the full list of Wall of Honor members here.
To make your gift online, please click here.
GET IN TOUCH
Executive Director of Alumni, Family, and Reunion Giving
Kerry Smith
Trinity Commons
300 Summit St
Hartford, CT 06106