Become a Trinity GEM by setting up a monthly sustaining gift to Trinity College. 
With the Trinity GEM (Give Every Month) Program, your gift is divided into manageable increments, which allows you to maximize the impact of your giving to the college while being more environmentally friendly (no more solicitations in the mail!) and avoiding a large, one-time charge. As a Trinity GEM, you'll receive benefits all year long. 
TRINITY
GEM
BENEFITS
Set it and forget it.

Donations are automatically deducted monthly from your credit card. You have the option to make your monthly gifts perpetual, meaning you have one thing less to worry about next year.

 

It all adds up. We'll send you written calendar and fiscal year-end summaries of the collective impact Trinity GEMS have had on student lives. Celebrate with us by joining now!
SAMPLE YEARLY SUSTAINING GIFTS
Monthly Payment (begun in July)

 

Total Payment (by June 30, fiscal year end)

 

$5

 

$60

 

$10

 

$120

 

$25

 

$300

 

$41.67

 

$500

 

$83.33

 

$1,000

 

$

166.66

 

$2,0

00*

 
*Join the Long Walk Societies with an annual gift of $2,000 or more. Membership for young alumni (1-10 years out) begins at $100 and increases by $100 for every year post-grad. Please visit the Long Walk Societies page for more information. 
Frequently Asked Questions
Easy! Visit www.trincoll.edu/GiveOnline (the place for all your online gifts). Choose how you'd like to support Trinity—one of our greatest areas of need, Financial Aid or the Student Emergency and Equity Fund, or choose "Other" and type your designation.
Choose your gift amount and click "Monthly Gift" from the three available options (see below). You may choose to begin your monthly giving on the same day as the transaction, or the subsequent 1st or 15th of the month. Your future monthly gifts will reflect this preference.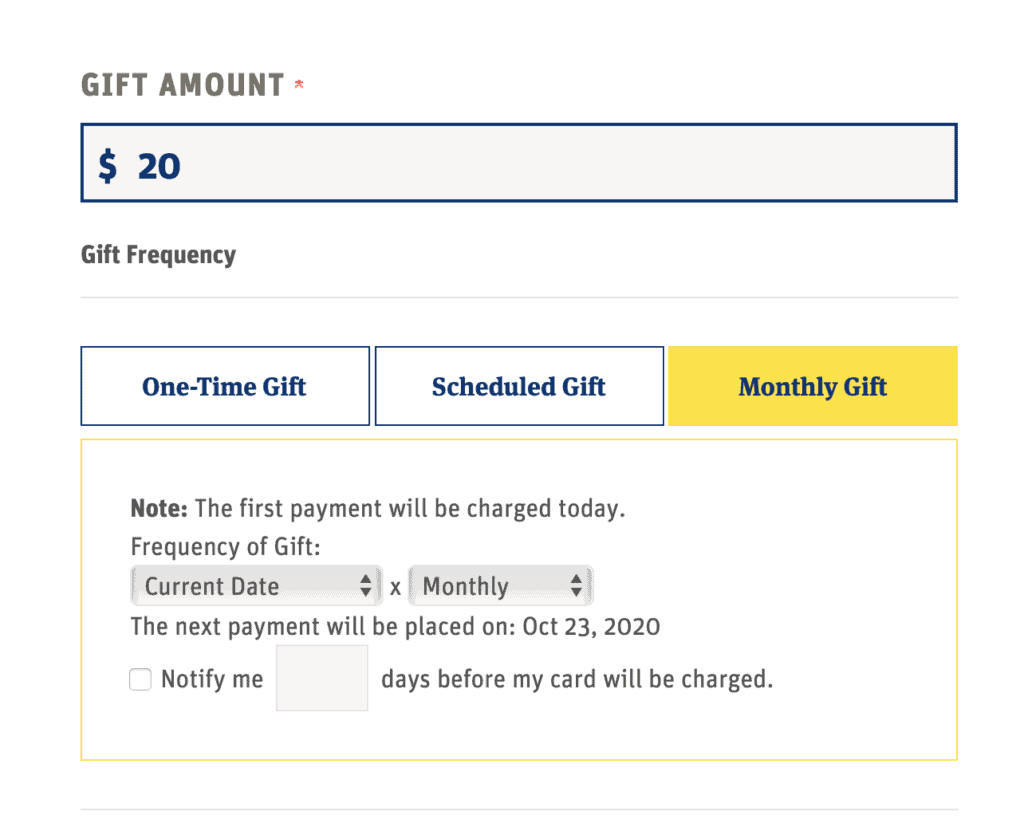 And that's it! The "hardest" part is done. Once you've filled out your personal and credit card information, we will email you a gift receipt and you may expect a letter from us welcoming you as a Trinity Gem! 
To change how much you give every month, or your gift's designation, you will need to perform a new transaction. The first gift of your new transaction will be deducted depending on your date preference (i.e. the date of the transaction, or the 1st or the 15th of the month).  
Important: To avoid having two scheduled gifts in the system, please email Sami Ashton at [email protected]  notifying her that you would like to cancel your original gift. 
If a charge was already attempted on a card that has expired or been replaced, you will receive an automated email asking you to update your card. You can do so by clicking the link in the email.
If you would like to change your card proactively, please call Caity Claflin at 860-297-4126. She will be able to update your card or ask the system to send you an update request.
Security Tip: Never email your credit card number to anyone, including Trinity.
GET IN TOUCH
Trinity College Office of Advancement
Liz Patterson, Senior Associate Director of Annual Giving
300 Summit St
Hartford, CT 06106