Our gifts to Trinity College are part of our continuing Trinity College story. What's your giving story?
We asked a few proud Trinity students and alumni to share their stories about Trinity, and why they give. Read about their experience below, and don't forget to make your gift to Trinity.
Sam Rotner '20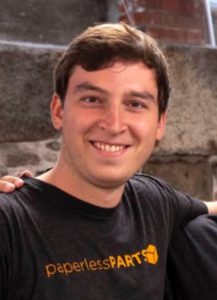 My connection to Trinity began when I was young. My mom is a proud graduate of Trinity and a member of the class of 1986. It has never escaped me that in my time here, I am walking the very same halls and taking classes in the very same buildings that she did. As much as the world has changed since my mom's college days, Trinity still has the same standard of academic excellence that she told me stories about. I think the college's ability to continue attracting students that not only have a strong IQ, but EQ, is something to be highly valued. I have been able to forge strong friendships through Greek Life and the classroom. I have participated in club skiing and soccer and in the process made lasting friends. I could not imagine spending four years anywhere else.
As most Trinity students know, our alumni network is extensive and caring. My junior summer I was lucky enough to connect with Matt Katzman '05. He graciously took me under his wing, offering advice, interview prep, and support during my internship hunt in my junior year. Thanks to Matt, I was able to connect with another Trinity graduate and my future boss, Jason Ray '08. Jason became a mentor to me at Paperless Parts, the startup he founded. At the company, I worked with three other Trinity graduates and a fellow Trinity intern. Without Trinity, I am sure I would not have gotten this opportunity and as a result, would have missed out on the unbelievable experience my summer internship offered.
Empower more students to seize opportunities– support Trinity today. 
Chanel Erasmus '15, M'18

I chose Trinity because of its excellent athletics program and great academic reputation. I was also drawn to the incredible people that made up the Trinity community–my coaches on the rowing and squash teams, and my teammates, classmates, and professors enhanced every aspect of my Trinity experience. I wanted a community that encouraged involvement, growth, and intellectual curiosity. I received all of that at Trinity.
I was lucky enough to have wonderful mentors during my time at Trinity. Professor Michael Preston and Barbara Kager were my outstanding theater professors. They not only pushed me to be a better actor, but they developed my love for the arts, my passion for learning and asking the difficult questions on and off the stage. Randy Lee helped me through some of the most challenging times at Trinity. He was and still is my mentor and confidant and I am so thankful for everything he has done for me and so many students at Trinity. Wendy Bartlett and Wesley Ng pushed me to become the best athlete I could be during my time at Trinity. They helped develop my "never settle" attitude, and they pushed for and demanded excellence, for which I am eternally grateful. Paul Assaiante continues to have an incredibly positive influence on my life.
After graduation, I remained at Trinity as a Trinsition Fellow and pursued my master's degree in Public Policy. I  now work at The Hill School where I'm the Director of Squash and work in the Office of Institutional Giving as a Stewardship and Donor Relations Officer. I learned so much about time management and striving for excellence in everything you do while I was a student at Trinity. Trinity pushed me to be an active member of the community and to make a difference in the world. I learned during my time there the importance of building and maintaining meaningful relationships.
If it weren't for alumni giving back, I would never have had the opportunity to attend Trinity–let alone move to the United States from South Africa. I would never have competed alongside some of the most incredible students-athletes in squash and rowing. I would never have performed on the Austin Arts stage or worked with professors that are experts in their fields. I would never have formed lifelong friendships with my professors, coaches, teammates and classmates. None of this would've been possible without the support of alumni. I give back to Trinity to give opportunities like these to more students that might never have had them. I give back because Trinity opened the world to me.
Enhance opportunities for Trinity students with Chanel. Make a gift to Trinity.
Erica Phiansunthon '21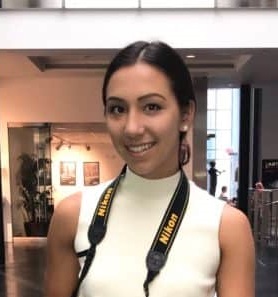 Trinity feels like a second home to me. I have formed some of my closest friendships here. Going to a small school facilitates meeting more people than at a big school because there is a greater opportunity to meet the same person in different classes and activities, enabling a strong connection to quickly develop. I have met and formed bonds with so many people because of this that the school feels like one large, extended family. I have a diverse group of friends that I don't feel as though I would have had the opportunity to meet at another school. The beautiful campus itself is able to instantly brighten my day, whether it's sitting out on the quad on a nice spring day or walking by the colorful trees in autumn.
I am very proud to say I go to Trinity and am happy I am having such an amazing experience at Trinity. Being able to call my school my second home and to truly be safe and happy at school is a special thing. I have made so many lifelong friendships and have been taught by some of the best professors.
I participated in Venture, the women's leadership pre-orientation program. This was a great way to meet other women and form a network of friendly and supportive faces coming into college. I also gained two mentors from the program, one a retired Trinity alumna who serves on the Women's Leadership Council, and one who is a year above me at Trinity. The dedication and support these two women have shown me has positively affected my life and made me feel like I am truly connected to the extensive, caring community of Trinity.
I am currently studying at Trinity's Rome Campus. I am having an incredible experience in Rome, making new friends from Trinity and from other schools, traveling around Italy and Europe, and taking classes that are taught in a different style. Through Italian classes we are also encouraged to socialize with Italian students partnered with our class, which is a great way to learn about the similarities and differences between students in Europe versus America. I am very grateful for this opportunity to study abroad, which has greatly enriched my college experience and expanded my knowledge of another culture.
I feel deeply connected to Trinity because it has strongly and positively impacted so many aspects of my life, such as motivating me to become a more dedicated student and introducing me to amazing people with whom I have formed friendships for life.
Support connections like the ones Erica has made– give to Trinity today.
Jose Lugo '95
During my time at Trinity, people of color were few. I grew up in the Hartford Public School system and to make the transition to a school like Trinity proved challenging. At first I struggled with being one of only a few from Puerto Rico on campus, but then I remembered that the school selected me for a reason because I had something to offer. In a lot of ways, I felt like a pioneer during my time at Trinity. While I was there, as members of La Voz Latina, we were instrumental in getting the administration to establish a Latino cultural center, which is now on Vernon Street along with the Asian American Student Association (AASA) for which we also petitioned. Whenever I take a walk down Vernon Street, I feel a sense of pride that I helped make those cultural centers happen.
Borden Painter made me realize that in my heart, I am an historian. His class was tough but he made me see that history was far more than memorizing dates and events–to understand current events, one had to explore the past. Getting an "A" on his final exam was THE highlight of my freshman year. He had a saying that rings so true in business…"the more you know, the less you write." I've done some freelance writing since graduating from Trinity so whenever I've had to edit pieces, I always thought of his sage advice.
My ability to seek creative ways to solve problems was honed at Trinity, as were my abilities to write effectively and listen to others with an open mind and learn from them. All of this has made me an invaluable team player.
Next year, I'll be celebrating 25 years as a Trinity graduate. Being that it's a milestone anniversary, it's definitely a time of reflection. I didn't realize it at the time because I was going through the motions of a college student, but I was really a fortunate person. I did most of my maturing when I was at Trinity. Since graduating, I have faced a few life challenges from the loss of jobs, to the passing of a few friends and both of my parents. I credit Trinity for teaching me to seek out solutions when life throws you a curve ball. The generosity of donors helped me get an exceptional education. It only makes sense that I give back to an institution that has given so much to me. I feel now more than ever we need creative problem solvers and innovative thinkers. Any way I can help to shape a changing world, I'm all for it.
Join Jose in changing the world– make your gift today.
Peace Kabari '20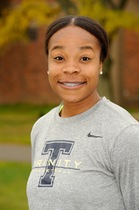 Over my four years, I have made various connections to the Trinity community through my on-campus involvement on the Women's basketball team, Women's Indoor/Outdoor Track & Field Team, as a P.R.I.D.E Leader, as a First Generation Peer Mentor, a Dream Camp Counselor, a summer research assistant, and as a friend. I am grateful for the opportunity to pursue a great education along with exploring my interests and getting out of my comfort zone.
The relationships I've cultivated during my time a Trinity is what has made it so special. There are so many memories I have made especially with my teammates at practice, in the weight room, and on game day that I will never forget. On game day there is no better feeling than putting on the Trinity jersey and having your teammates support you through wins, losses, and in life. My college athletic career will soon end, but thankfully these friendships will last.
In my junior year, I took a class called Christian Mysticism in which we studied the ways in which writers of the tradition interpreted their relationship to the divine. As part of the class, I had the opportunity to spend a full day at an abbey in Bethlehem, Connecticut where I met several nuns who spoke about their connection to nature and God. It was a seemingly isolated way of living compared to urban lifestyles in Hartford. However, hidden in the woods, the compound and the people provided a sense of oneness with the world, that I am glad to have had the chance to experience. While living in a self-sustainable farm devoted to their faith, they were willing to engage in debates that ran counter to their beliefs about the 'greater truths of life.' It was these conversations that opened my eyes even more to the academic study of religion which lead me to declare it as a minor. I am so grateful for all the opportunities that have been provided to me at Trinity.
Peace was recently nominated as one of Trinity College's 50 for the Next 50, honoring women who will shape the college's future in the next 50 years.
Support students like Peace today.
Jennifer Wolfe '84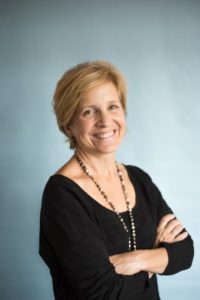 I remember sitting in Mather Hall freshman year arguing with with a guy from our class about financial aid. My argument was that they were more likely to be successful students because they were more vested in their college experience. They had some skin in the game! I knew that was true for me, for sure. I remember working carefully with my mother on my financial aid application, believing my future happiness was at stake. I was gratified when Trinity was able to put together a package for us to make it work. To his credit, my friend conceded that I might have a point.
I was fully vested in Trinity, and in the work I was doing there as a student, as a community member, and as a budding professional writer. Had I not had financial aid, I would not be the person I am today, and perhaps the Trinity Community would be just a little different than it was—including my friend from Mather Hall.
I found my career and a community in the offices of the Trinity Tripod, learning how to both write articles and put together different elements on a page to make them easier to read. I learned how to use my first computer and how to work with a staff (admittedly, not well, but it was a beginning). I learned how to put on events, how to write editorials, and even how to drive the Trinity station wagon to the printer on Tuesdays. My study abroad program was instrumental in waking me up to the world, especially the oppression of women and other marginalized groups through the use and misuse of the law. I also began to see America as a part of a larger whole, and learned so much by traveling.
I simply want to pay it forward. What was done for me should be done for others. I value my degree and my experience, and I want to prioritize that in my personal giving. So much starts with education, and I do hope that I can help prevent finances will not stand standing between Trinity and another person's ability to live their best life.
Most of all, I learned at Trinity how to find my niche, how to take advantage of the opportunities presented to me, and how to find community within that. I felt empowered to do anything I wanted to do, and I was able to do it! And I've stayed close to a handful of friends who've played an instrumental role in my life since then. If I can offer all of that to a future Trinity student with my annual donation, then I will have done something useful for this world.
GET IN TOUCH
The Trinity College Fund
300 Summit St
Hartford, CT 06106-3100