The Trinity College Parents Leadership Council is committed to preserving and enhancing the quality of the Trinity experience through personal philanthropy and outreach.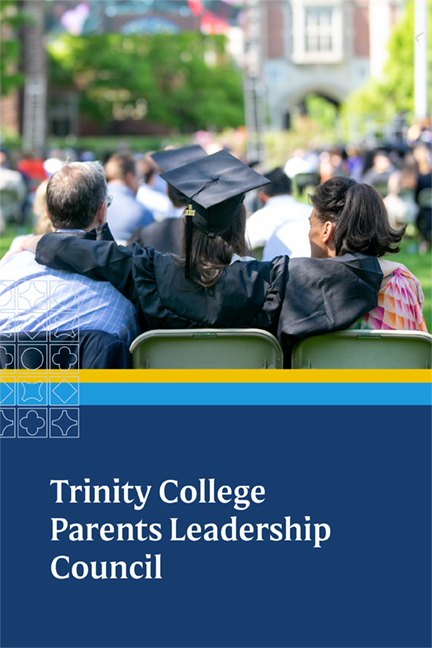 Your student has embarked upon a special time of academic rigor and exploration at the nation's preeminent liberal arts college in an urban setting. We invite your family to take part in this journey as a member of the Parents Leadership Council.
The Parents Leadership Council is comprised of approximately 70 Trinity families.  Members seek to inspire support from other Trinity families by making example-setting gifts, engaging in personal outreach, hosting and attending regional events, and welcoming new families into the community.
The Parents Leadership Council offers two tiers of membership: the Parent Directors level and the Class Chairs level.  Parent Directors will demonstrate philanthropic support with an annual gift of $10,000 or more.  Class Chairs will demonstrate philanthropic support with an annual gift of $5,000 or more.
Membership on the Parents Leadership Council provides an opportunity to participate in the growth and development of Trinity while fostering stronger ties to your student's experience.  In consultation with the college's Advancement Office, Parents Leadership Council members will craft their own relationship with Trinity while gaining a special perspective about our campus, our faculty and staff, and other parents.
PLC members enjoy the following benefits:
2 x Invitation-only receptions and meetings with college leadership—one in the fall and one in the spring
Exclusive access to Trinity programming—regionally, virtually, and on campus— featuring opportunities for networking with other invested parents, and personal updates from Trinity's star faculty and top administrators
Specialized communication and resources from the staff in the Office of Parent and Family Giving
Responsibilities may include:
Attend two council meetings per year (two held annually) with senior leaders, faculty and other Trinity volunteers
Connect with select Trinity families annually to invite their support of The Parents Fund or otherwise promote their engagement with Trinity
Serve as an ambassador for the college by welcoming new families to Trinity and sharing your experience in your home community
Host regional events for fellow parents (optionally)
Mentor students and/or offer internships to Trinity students through the Center for Career & Life Design
Sign correspondence from the Office of Parent and Family Giving
For more information, please contact:
Molly Birenbaum
Director of Parent and Family Giving
860-297-4058
[email protected]
Matthew Slaughter
Senior Associate Director of Parent and Family Engagement
860-297-2138
[email protected]
Rose Ferrie
Program Coordinator of Parent and Family Giving
860-297-4068
[email protected]
2023 – 2024 Parents Leadership Council
Chair: Giovanna Miller P'25
Vice-Chairs: Krystal & Curtis Nelson P'24
Members by Class Year:
2024
Laura & George Bilicic P'21, '24
Cheryl & Bill Bundy P'24
Kate & Read Coughlin P'24
Greg Craig P'24
Amy & Andy Dewitt P'24
Tracy Goodridge '91 & Chris Goodridge '91, P'24
Tracy & Greg Hartmann P'24
Lisa & John Hockin P'24
Lauren & Greg Manning P'24
Christy & Mike Maura P'24
Anna Morales & Tom Rhodes P'24
Christine & Jonathan Needell P'24
Nancy Place P'24
Millie Serrano & Shadi Daher P'24
Karen & Mike Simons P'24
Sophie & Steve Tishman P'24
Michelle & Sean Traynor P'24
Christine & David Yaccino P'24
Joan & Craig Ziady P'13, '22, '24
2025
Nicole Gagnon & Marco Caffuzzi P'25
Valerie & Mark Constant P'25
Carolyn & John Darby P'25
Sandra & Chris Epes P'22, '25
Kim '93 & Bill Esler '93, P'25 P'27
Klijne & Guillermo Guzman-Barron P'25
Claire & Bart Johnston P'25
Elissa Raether Kovas '93 & Ted Kovas P'25
Sherry Nicewonder P'25
Katie & Jim Norton P'25
Brice & Larry Russian P'25
Amanda & John Rutledge P'25, '26
Jane & Mark Schoenholtz P'25
Lixia Zhang & Tim Steinert P'25
2026
Umran & Ali Beba P'26
Siri & Peter Burki P'26
Caley & Sean Cantrell P'26
Liz & Jonathan Carey P'26
Danielle Debenedictis GP'26
Erin & Mark Epker P'26
Christine Hamori P'26
Gwenn Hansen P'26
Victoria Alin & Mark Hvidsten P'26
Karen & John Lambros P'26
Emily & Marc Lampkin P'26
Maureen '86 & Jim McAloon '85, P'19, '26
Sandra Jedzeniak '89 & Jeremy Mellitz P'26, '26
Clark McCombe P'26
Suzie & Jim Nebelung P'26
Ashley & Frank O'Keefe P'26
Christine & Steve Paxhia P'26
Laurie & Jonathan Shapiro P'26
Tracy & Kevin Steele P'26
Robyn & Shawn Sullivan P'26
Carolyn & Mark Wiesenhahn P'26
Susanne Wilke P'26
2027
Laura & Jason Cooper P'27
Sally & Bill Maier P'27
Reed & Brad Roberts P'27