Back to News
Tim Hoeffner P'21, '23 Excels at Building Trinity Connections, Encouraging Other Families' Involvement
Trinity Community
posted
by Kathy Andrews
With one of his sons a current Trinity senior and another a 2021 graduate, Tim Hoeffner P'21, '23 has spent a good deal of time in recent years speaking with Trinity families about the College and the ways in which he, as a parent volunteer and donor, embraces opportunities to be involved in supporting Trinity and its students.
Hoeffner's enthusiasm for and commitment to Trinity has grown as he has learned about the College's mission and the opportunities and challenges of higher education, and as he has connected with more members of the Trinity community.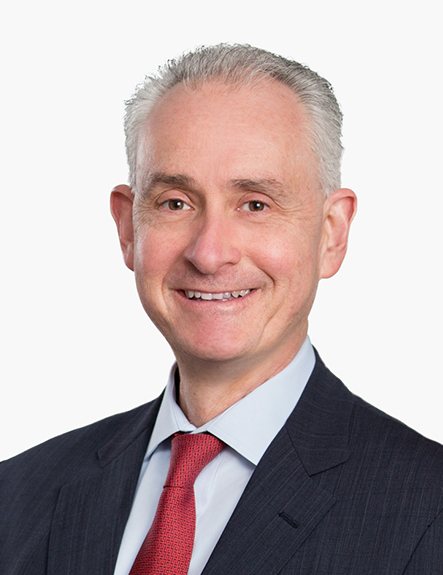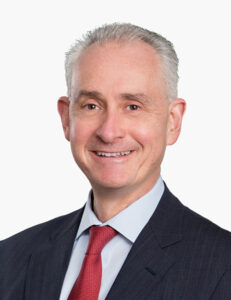 "It's a very tight, supportive community of parents, administrators, teachers, and alumni who are all focused on making the students happy and developing in a way that's going to give them a full life," said Hoeffner. "Cameron Jones, senior philanthropic officer, has been a terrific resource for the family. And it's across the board—from President Berger-Sweeney to everybody; they've just gone out of their way to show their respect and appreciation to my children, which is what matters to me."
Hoeffner, from New Hope, Pennsylvania, chairs the securities and corporate governance litigation and accounting liability groups of the law firm McDermott Will & Emery LLP in New York City. It was a professional colleague's recommendation that sparked his family's initial interest in Trinity. "We are fortunate that I have as a friend and colleague Ashley Altschuler ['94], who has worked on my team since his first day out of law school. Ash is a very involved Trinity alumnus and huge cheerleader for the school, and he suggested we consider Trinity," Hoeffner said.
For both Grant Hoeffner '21, who earned his B.A. in political science, and Colin Hoeffner '23, an economics major, Trinity has been an excellent match, according to Tim Hoeffner. Each had in mind a small school, where members of the campus community could really get to know one another. "They were able to build their own connections within the community," he said, noting that both enjoyed participating in the Investment Club and Colin had positive experiences with the Tech-Edge Program and a J-Term course on using Trinity's Bloomberg terminals to analyze and communicate financial data.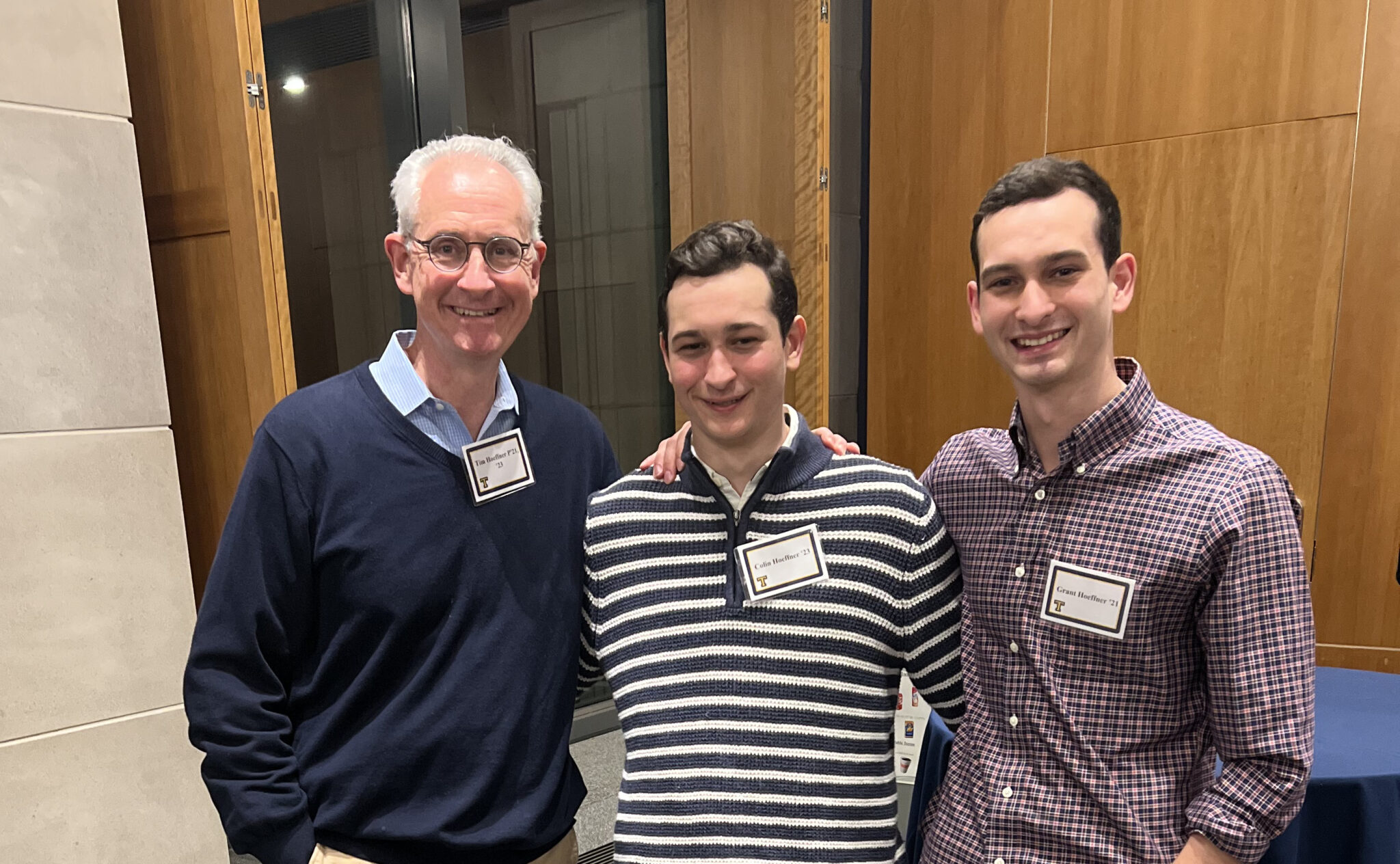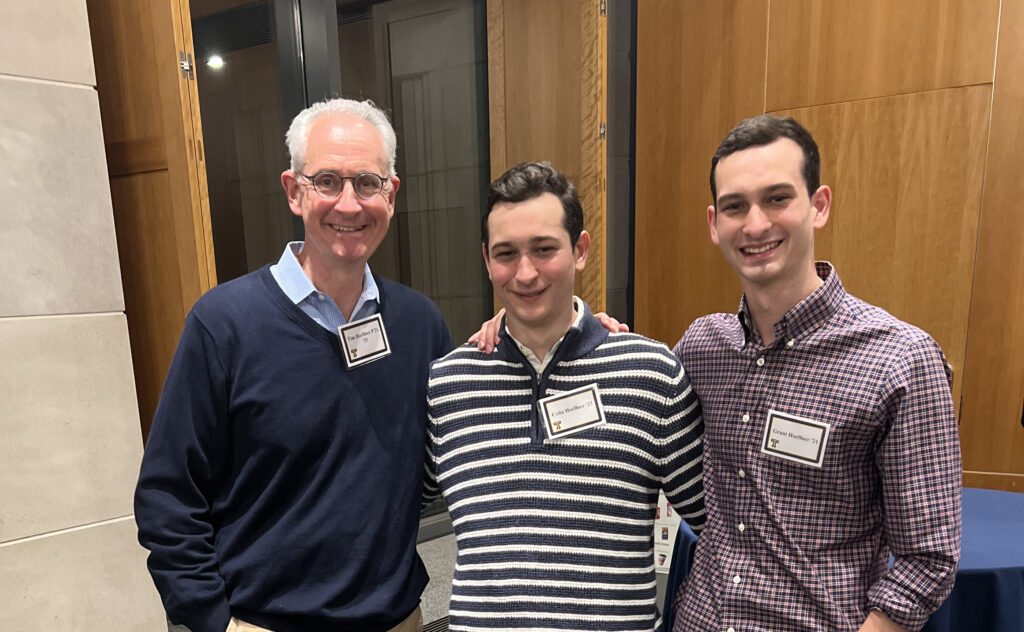 He added, "Colin and Grant are the youngest of my four children and I actually had an opportunity to dedicate more time to getting engaged with the College since they were both at the same school." As Grant and Colin have always been close, Hoeffner was pleased that Grant remained in Greater Hartford after graduation, accepting a position as a surety underwriting analyst with Amynta Group, an insurance services company in Glastonbury.
For the past three years, Hoeffner served as chair of Trinity's Parents Leadership Council (PLC), before passing the baton in November 2022 to the new PLC chair, Giovanna Miller P'25. And, in testament to his continuing commitment to being a champion for Trinity, Hoeffner recently accepted a new leadership volunteer role, chair of the Senior Parents Committee.
A regular donor to the Trinity Parents Fund, Hoeffner also recently made a leadership gift to establish a scholarship fund that will advance a goal central to Trinity's mission: expanding access for talented, deserving students who would otherwise be unable to attend Trinity solely because of their family financial circumstances. The scholarship gift will make possible two other important things, said Hoeffner. One, the gift will be matched by the Schuler Access Initiative matching gift challenge through Trinity's partnership with the Schuler Education Foundation. Two, the way in which the Hoeffner family is setting up the fund, his sons will continue to invest in it as alumni.
"Through the years, our family has been very involved in programs that help students have opportunities. The ideas that Trinity, in partnership with the Schuler Access Initiative, is putting forward are completely consistent with our family values, and our scholarship fund will be one of the ways Grant and Colin will remain connected with the alumni community post-graduation," Hoeffner said.
Hoeffner noted also that his involvement as a leadership volunteer has led to opportunities to connect with Trinity community members who have offered his sons valuable advice and direction about internship and job possibilities. One of those conversations has led to Colin accepting an internship offer from an investment management firm this spring, following his graduation.
Also, at a recent Trinity gathering at New York City's Manhatta restaurant—owned by Union Square Hospitality Group, which was founded by past Trinity Trustee Danny Meyer '80, P'20—Hoeffner was impressed when one of Colin's professors went out of his way to introduce Colin to Trinity Trustee Lou Shipley '85, technology CEO and lecturer at Harvard Business School and MIT Sloan School of Management. "The people who work at Trinity care about the students, and making a connection like that may not seem a big thing, but having had two other children who went to two other schools, I think it's a positive distinguisher for Trinity," said Hoeffner.
"We've been able to meet wonderful alumni and parents who've welcomed us with open arms and have been willing to help in terms of talking with my sons about their future, trying to help them steer towards satisfying careers in professions where I just don't have the background," said Hoeffner. "So, having parents and alumni who work in finance, insurance, and other fields take the time to talk with them, it's just been a godsend."
Added Hoeffner, "I'm just passionate about life, and I figured I'd do something to become engaged with Trinity. I think, as with anything you're involved in, you should just do it well; and then I try to transfer that to my children."
Members of the Trinity community interested in exploring how their own family can become more involved in the College may contact Director of Parent and Family Giving Molly Birenbaum at [email protected] or 860-297-4058.