Trinity is committed to reducing its environmental footprint in all aspects including the dining services provided on campus. As part of The Compass Group, Chartwells is committed to social responsibility, especially promoting and maintaining an environmentally sound dining program.

Sustainable purchasing initiatives
Buying Connecticut-grown produce when available through Project Green Thumb.
Purchasing exclusively cage-free eggs.
Purchasing seafood only in accordance with the Monterrey Bay Aquarium's Seafood Watch guidelines.
Increasing purchase of Greenware (plant based plastic) products that can be composted.
Installation of urban cultivator for growing herbs and micro-greens.
Green Restaurant Certification
The Bistro at Trinity College has been certified as 3 star Green Restaurant. Please visit http://www.dinegreen.com/certification-standards to learn more about the certification standards.
Trinity College is currently working with Chartwells to develop a plan for Mather dining Hall and the Cave to receive similar certifications.
Waste reduction
Composting program in partnership with Trinity's facilities management company and Blue Earth Compost.
Trinity Dining Services is currently working with the community service office to continue  participation in the Food Recovery Network.
Trinity College Community Garden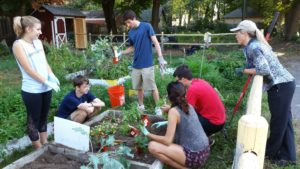 Students, faculty, and staff can also lead a sustainable lifestyle by acquiring a plot at our community garden. Trinity College's Community Garden is managed by Trinfo Cafe, a community space connecting Hartford to Trinity College. The community garden is a space where local residents can connect with rest of the Trinity community and build relationships based on mutual interests, like gardening, composting, cooking or beekeeping.