Roman Catholic Priest Associate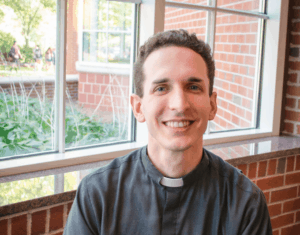 Father Matt serves the Trinity College community as the Roman Catholic Priest Associate, beginning this position during the 2018-2019 academic year. He is a Connecticut native, born and raised in Southington, and studied music education at the University of Connecticut, graduating in 2010.
Following graduation, Father Matt was accepted into the seminary formation program for the Archdiocese of Hartford, studying in Washington, DC, at Theological College, the National Seminary of the Catholic University of America. He earned Master of Divinity and Bachelor of Sacred Theology degrees and was ordained as a Roman Catholic priest in 2016, initially serving as the Parochial Vicar of Saint Mary Church in Branford. He then worked as Parochial Vicar at Our Lady of Mount Carmel Parish in Hamden, spent a year as the Roman Catholic Chaplain of Quinnipiac University, and moved to Toronto, Canada to complete a media and communications internship at Salt + Light TV. In addition to his work at Trinity, Father Matt currently serves as the Secretary to the Archbishop of Hartford, the Most Reverend Leonard P. Blair and as Director of Communications of the Archdiocese of Hartford.
Contact: matthew.gworek@trincoll.edu