At Trinity, you'll find a welcoming place to join in religious, social, and cultural programming on a regular basis, with special events for all major Jewish observances and celebrations.
As the grounding event of our week, we celebrate Shabbat every Friday evening of the academic year with delicious food and good company. Hillel's Shabbat table is a casual space to eat with friends, sing songs, and discuss issues of the day — while perhaps learning some history and culture along the way.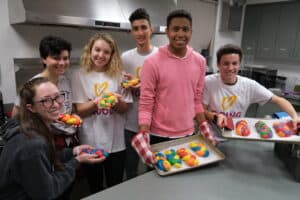 Participate in weekly programs designed to build community through a Jewish lens:
Every Friday night, the Hillel House comes alive with an engaging, musical Shabbat service and a delicious catered kosher dinner that is free to all students. Hillel often partners with other student organizations to put on themed dinners that can include cross-cultural discussions, cooking classes, speed-dating, and more.
Come to the Hillel House for Parshat Hashavuah (lunch and learn), a weekly kosher deli lunch and Torah study sponsored by the Jewish Studies program.
Participate in Challah for Hunger and help bake and sell challah loaves, the proceeds of which go to local food banks and Mazon: A Jewish Response to Hunger. It's a wonderful opportunity to bake, share, and engage in traditions of Tzedakah.
Celebrate the Jewish holidays at Trinity's Zachs Hillel House:
The Jewish holidays begin with High Holiday services and kosher meals at the Zachs Hillel House.
Chanukah is marked by group candle lighting in Mather Hall for each night of the holiday, and a party!
Tu B'Shvat offers an opportunity to focus on ecology and our natural world through a Jewish perspective.
Purim at Hillel means hamantaschen making, a purimspiel, megillah reading, and masquerade ball.
Passover begins with a large community seder and continues throughout the holiday with a kosher-for-Passover meal plan in Mather Hall.
To join us for any of these events, keep your eye on Trinity Today for details.
High Holy Days 2023/5784
with Trinity College Hillel
Rosh Hashanah
Friday, September 15
6:00 p.m.–7:00 p.m.—Rosh Hashanah evening service
7:15–8:30 p.m.—Rosh Hashanah dinner
Location: Trinity Hillel
Saturday, September 16
10:00 a.m.–12:30 p.m.—Rosh Hashanah morning service
12:45–1:45 p.m.—Rosh Hashanah lunch
Location: Trinity Hillel
Sunday, September 17
2:00 p.m.–3:00 p.m.—Shofar blowing and Tashlich
(casting our sins into a body of water)
Location: University of Hartford*
Yom Kippur
Sunday, September 24
5:00 p.m.–6:00 p.m.—pre-fast dinner
6:00–6:15 p.m.—cello playing Kol Nidrei
6:30–8:45 p.m.—Kol Nidrei service
Location: University of Hartford*
Monday, September 25
10:00 a.m.–12:30 p.m.—Yom Kippur morning service
12:30–12:45 p.m.—Yizkor memorial service
5:30–6:30 p.m.—Jonah text study
6:45–7:30 p.m.—Ne'ilah service
7:30–8:30 p.m.—Break fast
Location: University of Hartford*
*Transportation will be provided from Trinity to University of Hartford