As a proud member of the Hillel International network, Trinity Hillel is home base for Jewish life on campus, providing an inviting, comfortable environment for Jewish students to connect with their own Jewish identity and campus community.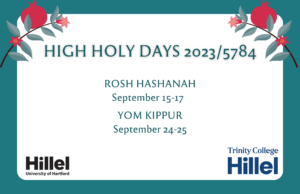 High Holy Days 2023/5784
with Trinity College Hillel
Rosh Hashanah
Friday, September 15
6:00 p.m.–7:00 p.m.—Rosh Hashanah evening service
7:15–8:30 p.m.—Rosh Hashanah dinner
Location: Trinity Hillel
Saturday, September 16
10:00 a.m.–12:30 p.m.—Rosh Hashanah morning service
12:45–1:45 p.m.—Rosh Hashanah lunch
Location: Trinity Hillel
Sunday, September 17
2:00 p.m.–3:00 p.m.—Shofar blowing and Tashlich
(casting our sins into a body of water)
Location: University of Hartford*
Yom Kippur
Sunday, September 24
5:00 p.m.–6:00 p.m.—pre-fast dinner
6:00–6:15 p.m.—cello playing Kol Nidrei
6:30–8:45 p.m.—Kol Nidrei service
Location: University of Hartford*
Monday, September 25
10:00 a.m.–12:30 p.m.—Yom Kippur morning service
12:30–12:45 p.m.—Yizkor memorial service
5:30–6:30 p.m.—Jonah text study
6:45–7:30 p.m.—Ne'ilah service
7:30–8:30 p.m.—Break fast
Location: University of Hartford*
*Transportation will be provided from Trinity to University of Hartford
About Trinity Hillel
Trinity's Zachs Hillel House is an inclusive gathering space where students often invite friends of all backgrounds to join in on festivities and events, creating a vibrant community among students, staff and faculty here on campus. We welcome all to engage with and learn about Jewish life in a creative setting.
As part of Trinity's Hillel, you can:
Participate in thoughtful social, cultural, and religious programming related to Jewish holiday celebrations and observances
Experience the community of our spirited Shabbat table
Work to bring social justice to the local and international community
Get involved in Hillel-related alternative break programs
Strengthen your leadership skills
Contribute your ideas and creativity through visual arts and music
Create genuine bonds with Israel and Jews around the world through participation in programs such as Birthright Israel and the Fresh Perspectives trip.
Participate in internships throughout the local Jewish community
Have the opportunity to teach in religious schools at local synagogues
Access our kosher kitchen facility at Hillel and the Kassow Hillel Kosher Eatery in Mather Hall.
Join one of the "Top 20 Small & Mighty Campuses of Excellence," as chosen by Hillel.
To get involved, be in touch any time with Rabbi Rachel Putterman, Hillel Director as Associate Chaplain.
Rabbi Rachel's Office: (860) 297-4195
Stay up-to-date on Hillel events by following us on Instagram and Facebook.
GET IN TOUCH
Trinity College Hillel
Rachel Putterman
Zachs Hillel House
Trinity College
Hartford, CT