The Muslim Life program at Trinity College creates a space for students to engage in spirituality, dialogue, and community outreach based on the principles and ethics of Islam.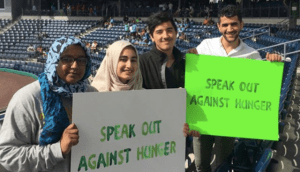 As one of the first colleges in the United States to hire a full-time Muslim chaplain, Trinity College has a rich history of cultivating Muslim student life. Various resources promote Muslim life at Trinity including dedicated staff and faculty resources, a space for worship and community gathering, Jumu'ah Prayers each Friday, a student organization funded through the Student Government Association, a halal station in the main dining hall, and numerous weekly and annual events.
The College Chaplain and Dean of Spiritual & Religious Life Marcus Halley advocates for Muslim students along with faculty adviser Marieke Koertner, the Muslim Advisory Group consisting of four additional faculty members, and other colleagues in the Office of Spiritual and Religious Life.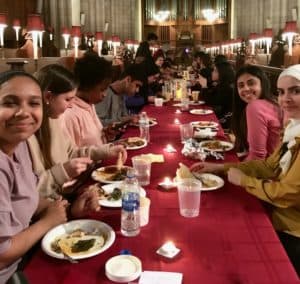 In addition to the staff and faculty resources, Muslim Life is strengthened by the Muslim Students Association. The MSA works with staff members to coordinate weekly Jumu'ah Prayers, the observance of holidays, organize yearly events like Discover Islam Week, and connect with the Greater Hartford Muslim community. The MSA is dedicated to interfaith dialogue, outreach, and understanding. The MSA hosts activities and events to educate the campus community about Muslims and Islam and create opportunities for students of all faith traditions and backgrounds to reap the benefits of interfaith engagement. To that end, the MSA often partners with other student organizations and academic departments to create programming on campus and learning opportunities.
Muslim Life is centered in the Muslim Prayer Room, located at 76H Crescent Street. The space includes ample room for daily worship practices, a library of Islamic books, and furnishings for meetings, dinners, lounging, and other activities. All students are welcome to visit the prayer room and look into the resources about Islam and Muslims.​​ To request access to the Muslim Prayer Room, please contact Chaplain Marcus Halley ([email protected]).