Inviting people of all religions and worldviews into shared conversation where every voice is welcome and through which we engage in relationship with one another, identify common values, and work together toward the common good.
With pluralism built into the fabric of Trinity since its founding, interfaith cooperation has a long and lively history at the college. Today, interfaith dialogue is centered in the Charleston House of Interfaith Cooperation, located at 155 Allen Place.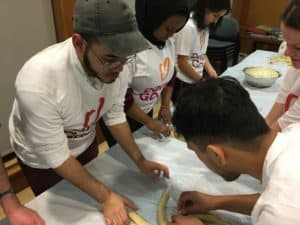 Called the Interfaith House when its doors opened in 1999, this is a place where students, faculty, and staff of various religious traditions and worldviews gather for community, learning, service, and interfaith leadership development. In 2014, the house was renamed in honor of the Right Reverend Steven Charleston '71 H'92, a former chaplain at the college and an embodiment of interfaith cooperation as both an Episcopal bishop and Native American elder in the Choctaw Nation.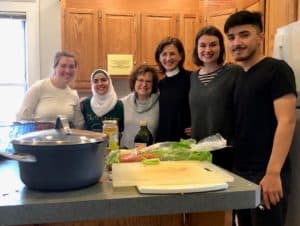 Throughout the academic year, the Charleston House meets weekly for discussion and also hosts numerous dinners to make space for timely, intentional conversations on Trinity's campus. The Charleston selects topics for meetings and programs in response to world events, politics, and social movements, as well as to learn more about various cultural traditions, worldviews, and systems of ethics and morals. Members of the Trinity faculty and leaders from the community often join the Charleston as guest speakers at these events.
The Charleston House is also where the Newman Club, Trinity's Roman Catholic student group, and Project PACKS are based. Project PACKS is a community service organization that partners with the Charleston House to provide backpacks filled with nutritious food for schoolchildren in Hartford who are on free and reduced lunch during the week to take home on the weekends.