Trinity College invites prospective students to apply for the Hillel Leadership Scholarship, a special opportunity to develop your skills, interests, and talents as a member of the Jewish student community on campus. This $20,000 scholarship is awarded to one incoming student each year who demonstrates academic excellence and a commitment to Jewish community through leadership or volunteerism and intends to enthusiastically bring these qualities to their Trinity experience. The Hillel Leadership Scholar will join a growing cohort of motivated students who participate and lead their peers at Trinity College Hillel in areas of Jewish life of their choosing, including (but not limited to) cultural, educational, volunteer, social, and religious programming.
Benefits:
Renewable $20,000 scholarship for up to four years, based on annual review (not dependent on financial need)
Being part of a cohort of like-minded students in a supportive Jewish community
Cohort mentor, in addition to your academic advisor
Special entrée to the Hartford Jewish community for potential internships and networking opportunities.
Stipend for summer research or and/or travel related to a field of Jewish interest.
To be considered for the Hillel Leadership Scholarship, students should first submit their Common Application to Trinity by one of our established deadlines. Students can then complete the Hillel Leadership Scholarship application.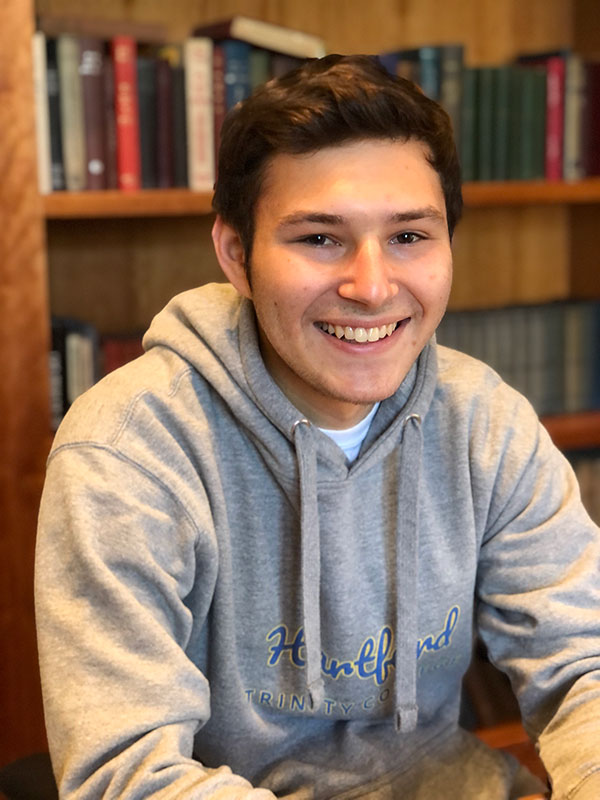 "In high school, I was a part of my local Jewish youth group where we would meet weekly to do things like community service, learn about Jewish history, or simply just talk and hang out with each other. I was also a part of my Temple's confirmation class which was a great way to further embrace my Jewish heritage. On top of that, after the tragedy that took place at my high school, Marjory Stoneman Douglas in Parkland, Florida, I turned to my amazing Jewish community where we travelled to Tallahassee, the state capital, to lobby with government officials in hopes of stricter gun violence prevention laws being passed."
Alex Moscou '24
Hillel Leadership Scholar