Program Coordinator for Muslim Life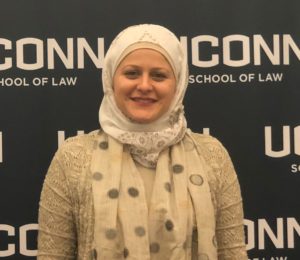 Maryam Bitar was born and raised in Damascus, Syria. After coming to the U.S. she earned her B.A. in international studies at Trinity College in 2016. During her time as an undergraduate, Ms. Bitar served as vice president of the Muslim Student Association. Currently, she is a second year at the University of Connecticut School of Law. At UConn, she is treasurer of the Muslim Law Student Law Student Association.
Ms. Bitar is dedicated to interfaith dialogue, outreach, and understanding. She spends most of her time in Connecticut advocating religious freedom and tolerance. In the summer of 2018, she worked as a legal intern at the Religious Freedom Institute in Washington, DC. Ms. Bitar has also attended numerous seminars for religious freedom including interfaith seminars at Princeton University, Baylor Law School, BYU, and more. She has been a speaker in series of panels called Honest Conversations with your Muslim Neighbor, organized by the Muslim Coalition of Connecticut.
Students can reach out to Ms. Bitar for ideas, spiritual questions, concerns, and to ask for any additional resources they may need. Her role as program coordinator for Muslim life is to advocate for the needs of Muslim students on campus. Jointly with MSA, Ms. Bitar coordinates weekly Jumu'ah (Friday prayer services), weekly halaqas (spiritual/education gathering), outreach events, Mosque visits, and participating in collaborative events with other student organizations.
Contact: maryam.bitar@trincoll.edu