Associate Chaplain for Roman Catholic Life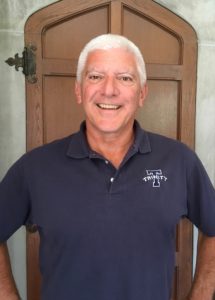 John P. Campbell is a lay Catholic chaplain in the Office of Campus Ministry for the Archdiocese of Hartford and, since 2007, has served at Trinity College. As a member of the Spiritual and Religious Life team at Trinity, John works primarily to build Catholic understanding and discipleship on campus. He forms community among students, faculty, staff, and administration; teaches the faith; schedules Roman Catholic Mass and other sacraments; and provides service trips and opportunities to experience the breadth of Catholic life. John also works with the entire Spiritual and Religious Life team to further interfaith dialogue and interreligious cooperation. The ability to work together and to serve each group is what makes the Trinity spiritual and religious experience so unique. As a group, we strive to walk with members of our community and to help them find their true place in this world.
Before coming to the Archdiocese of Hartford, John was the director of youth ministry for the Diocese of Bridgeport, Connecticut, for 12 years. Prior to that, he spent three years at the Capuchin Youth and Family Ministries in Garrison, New York, as the center's assistant director and director of development, and was a volunteer youth minister at St. Pius X Parish in Middletown, Connecticut, for seven years. John has served the National Federation for Catholic Youth Ministry (NFCYM) as a member and second vice chair of its Board of Directors, as the chairperson and a member of several committees and task groups, and as an instructor in the NFCYM's New Diocesan Director Institute. He also co-emceed the 1998 National Conference on Catholic Youth Ministry in Cincinnati, Ohio. John is an experienced keynote speaker, workshop presenter, and retreat director. He earned a bachelor's in communications from Central Connecticut State University and a master's in religious studies from Sacred Heart University. John lives in Madison, Connecticut, with his wife, Heidi, and has two stepdaughters who are working and enjoying their young adult lives.
Contact: john.campbell@trincoll.edu
John Campbell's office is located in the Chapel in the North Sacristy, accessed through the hallway to the right of the Friendship Chapel.