December 9, 2021
Dear Members of the Trinity College Community,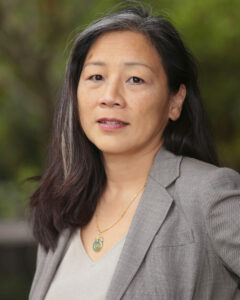 I am delighted to announce the appointment of Hellen Hom-Diamond as Trinity College's vice president for strategic marketing and communications. She will begin her new role on January 24. As a key member of the college's senior administration, Hellen will lead the development, articulation, and dissemination of Trinity's mission, brand, and messaging to further the college's strategic priorities.
Hellen is a highly experienced strategic marketing and communications professional who comes to us from Sidwell Friends School in Washington, D.C., where she has served since 2018 as the school's chief communications officer. She has more than two decades of experience in education, the majority of which were spent at Yale University and UCLA.
The search committee and I were impressed with Hellen's breadth of experience and her ability to lead collaboratively and inclusively across organizations. She has a proven record of success in all aspects of branding and marketing, as well as extensive experience in dealing with a full range of communications challenges. It was clear to us that she understands the importance of adapting a college's approach to marketing and communications to productively engage a diverse community. As the college sought a marketing and communications leader to shepherd its story and to engage all of its stakeholders, Hellen stood out as someone with a deep understanding of what it means to champion a 21st-century liberal arts education and of how to leverage marketing and communications to advance an institution's strategic goals.
In her role at Sidwell Friends, Hellen oversees the brand and reputation of the school and supports strategic revenue-generating initiatives. She has focused on creative and smart marketing and communications strategies that bring together four divisions, multiple departments, and two campuses. During her tenure, she created the school's inaugural communications strategic plan, which serves as a brand DNA messaging platform and visual identity program for both the school and athletics. She also has led advancement, campaign, and strategic plan communications; directed the school's Equity, Justice, and Community (EJC) communications plan; and navigated numerous media challenges.
Prior to Sidwell Friends, Hellen spent five years as the chief communications officer at The Hotchkiss School, where she led a comprehensive effort to revitalize the communications office and to develop the school's strategic communications plan. Other previous roles include serving as the director of campus communications in Yale's Office of Public Affairs and Communications, where she directed strategies for campus communications, and as the UCLA Alumni Association's director of online communications, where she oversaw strategies to grow and sustain alumni engagement for the third largest alumni association in the nation.
Hellen earned her bachelor's degree in architecture from Columbia University.
I want to extend my gratitude to Michael Casey, vice president for advancement, for leading the search for our new vice president, as well as to all members of the committee for their dedication and service on this critical search: Anthony T. Berry, director of admissions and special assistant to the vice president for strategic initiatives; Dania Field, associate director of intersession programs and special assistant for strategic initiatives; Liz Foster-Feigenbaum '22, Student Government Association co-vice president of communications; Drew Galbraith, director of athletics and chair of physical education; Peter Kyle, associate professor of theater and dance; Abigail Williamson, associate professor of political science and public policy and law and director of CHER.
I also want to thank Caroline Deveau, who has provided outstanding leadership and served with great dedication as interim director of communications and marketing.
We look forward to welcoming Hellen to Trinity in January!
Sincerely,
Joanne Berger-Sweeney
President and Trinity College Professor of Neuroscience