September 14, 2016
Dear Members of the Trinity College Community,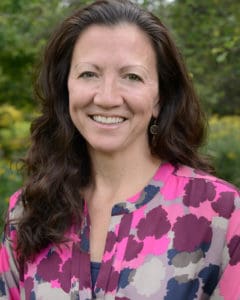 I am extremely pleased to announce the selection of Angela Paik Schaeffer as Trinity's new Vice President for Communications and Marketing. This key position will be a member of the senior leadership team and will provide strategic oversight and management of communications, messaging, marketing, and branding activity for the College.
Angela is a seasoned professional who comes to us from Williams College, where she is the Chief Communications Officer. She has more than 15 years of progressive responsibility in higher education and broad and deep expertise in all aspects of communications, including those for alumni relations, development, and recruitment, as well as institutional branding, media relations, and crisis communications. Her experience in brand visibility, reputation management, and crisis communications particularly impressed all of those who interviewed her. Her references highlighted her strategic thinking, collaborative style, and strong work ethic. Members of the search committee noted that Angela conveyed "her genuine interest in Hartford and the benefits of our urban setting" and that "she has already begun to think about how to partner creatively with students, faculty, alumni, and staff."
Angela has experience both inside and outside academia. Before coming to Williams, she spent 10 years at the Johns Hopkins University Zanvyl Krieger School of Arts & Sciences, the last several as Director of Communications and Marketing. Within the higher education community, she has served as a member of the Public Issues Committee of the Consortium on Financing Higher Education and the Communications Committee of the Annapolis Group. She has taught journalism courses at University of Maryland University College, and she spent the first several years of her career as a newspaper reporter, first at The Philadelphia Inquirer and then at The (Raleigh) News & Observer and The Washington Post. Angela understands the special mission of the liberal arts and has a B.A. from Dickinson College and an M.S. from the Columbia University Graduate School of Journalism.
I want to extend my sincere thanks to the members of the search team for their considerable time and conscientious work toward identifying the right person for this extremely important position at the College. The team was co-chaired by Beth Iacampo and Renny Fulco, and included Christopher Card, Stephen Donovan, Jack Gieseking, Lauren Glasse '18, Consuelo Pedro '15, and Julia Rivera '14.
Until Angela's arrival at Trinity on January 1, 2017, the Communications Office will continue to be ably shepherded by Kathy Andrews and Caroline Deveau in their interim roles as Director of Communications and Director of Marketing, respectively. They have both done excellent jobs in their interim positions since March, for which I am truly grateful.
We look forward to welcoming Angela in January.
Sincerely,
Joanne Berger-Sweeney
President and Trinity College
​Professor of Neuroscience