Back to News
'You Are Our Future': Trinity College Celebrates Class of 2022 at 196th Commencement
Announcement
posted
by Andrew J. Concatelli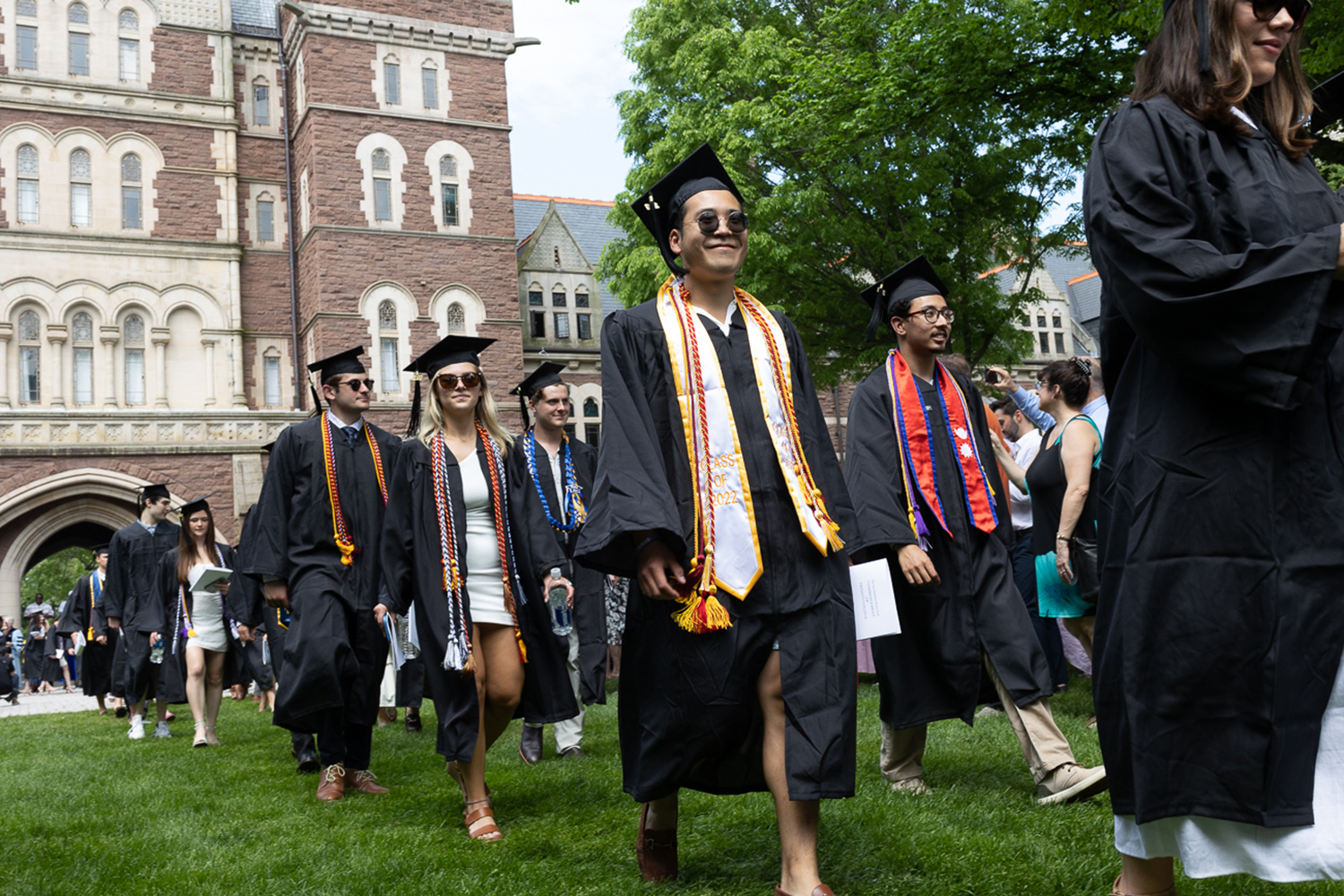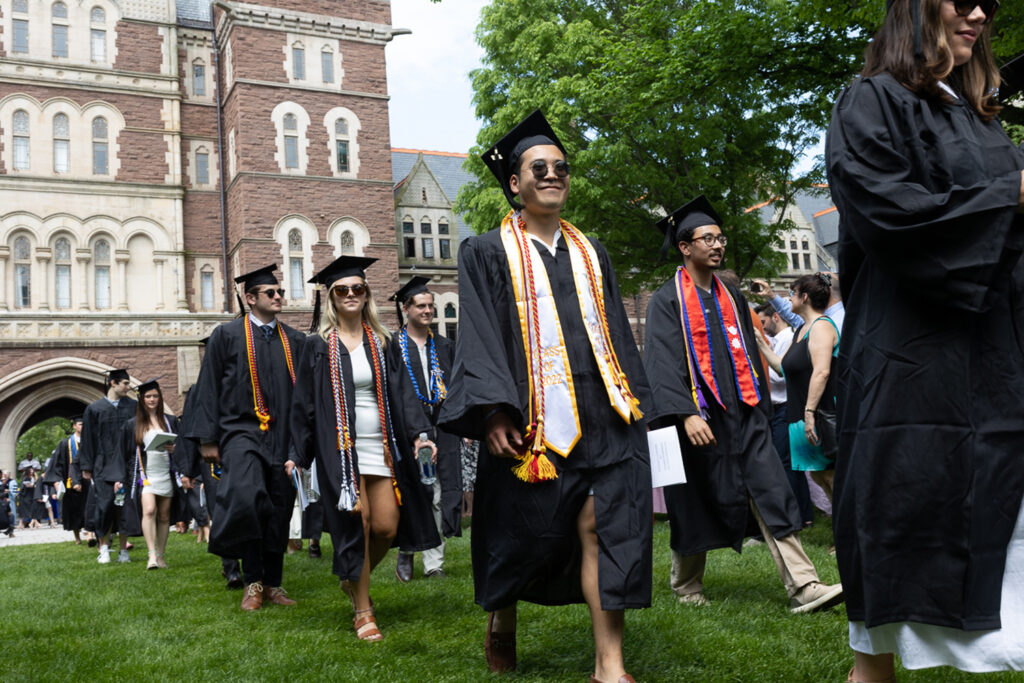 "You are our future," painter and poet Raja Changez Sultan '72 said to the graduates of the Trinity College Class of 2022 during his Commencement address on Sunday, May 22. "You are the new faces of our visionaries and dreamers; our scientists and scholars; our conservationists and planners; our poets, painters, musicians, and dancers; our educators, engineers, and doctors; you are the future brand of our politicians with the motivation to move mountains. As such, you are undoubtedly destined to play a major part in taking us forward."
A crowd including family members, alumni, faculty, staff, students, administrators, and other guests gathered on the Main Quadrangle on a hot day to witness more than 520 students receive their degrees. Among the undergraduates, 320 received bachelor of arts degrees and 188 were awarded bachelor of science degrees. Six of the undergraduate degree recipients were Individualized Degree Program (IDP) students. In addition, 14 graduate students received master's degrees.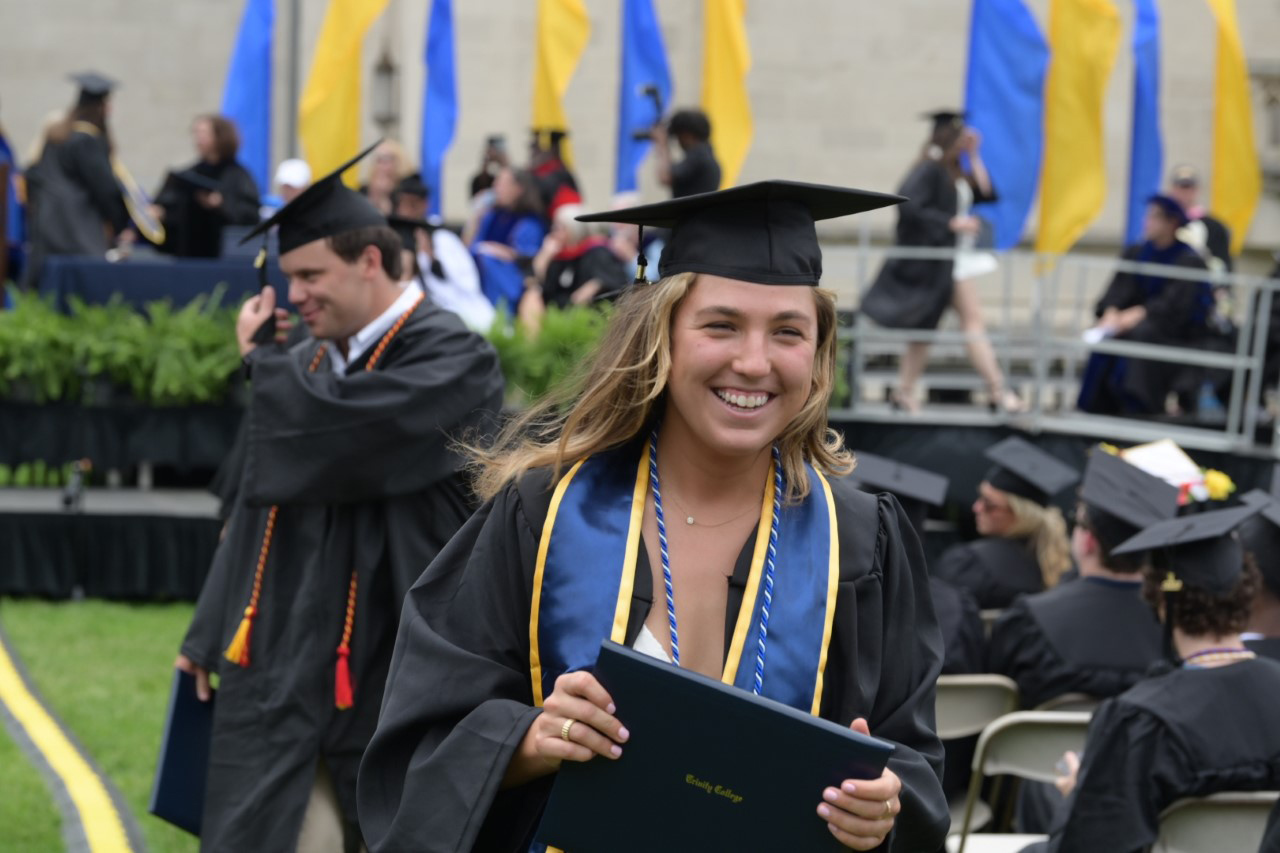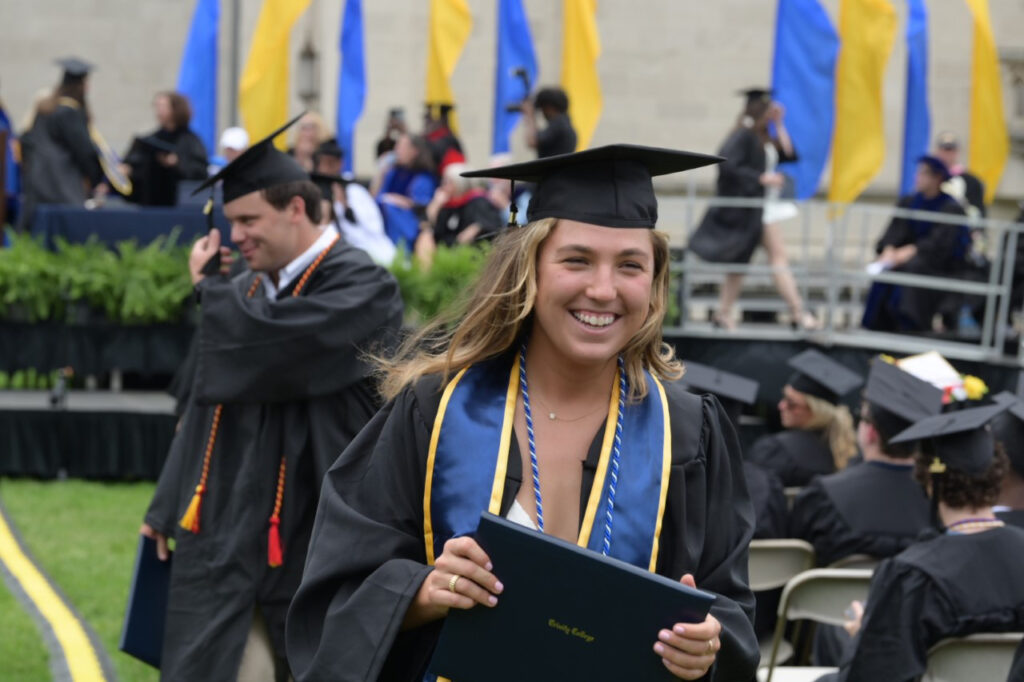 Sultan, an internationally renowned artist from Pakistan, received an honorary doctor of fine arts degree in recognition of his distinguished career and for his devotion to a more just society for his home country and for the world. He offered advice to the graduates remotely before reading an excerpt from one of his poems. "Aim for building bridges instead of creating chasms," he said. "The diversity that you find around the globe is our collective strength." Sultan implored the Class of 2022 to strive for a balance between power and wisdom and to shun shortcuts. "Success has always come through dedication, hard work, and commitment," he added. "May your journey be long and purposeful, and may each of you leave an indelible mark on the sands of time."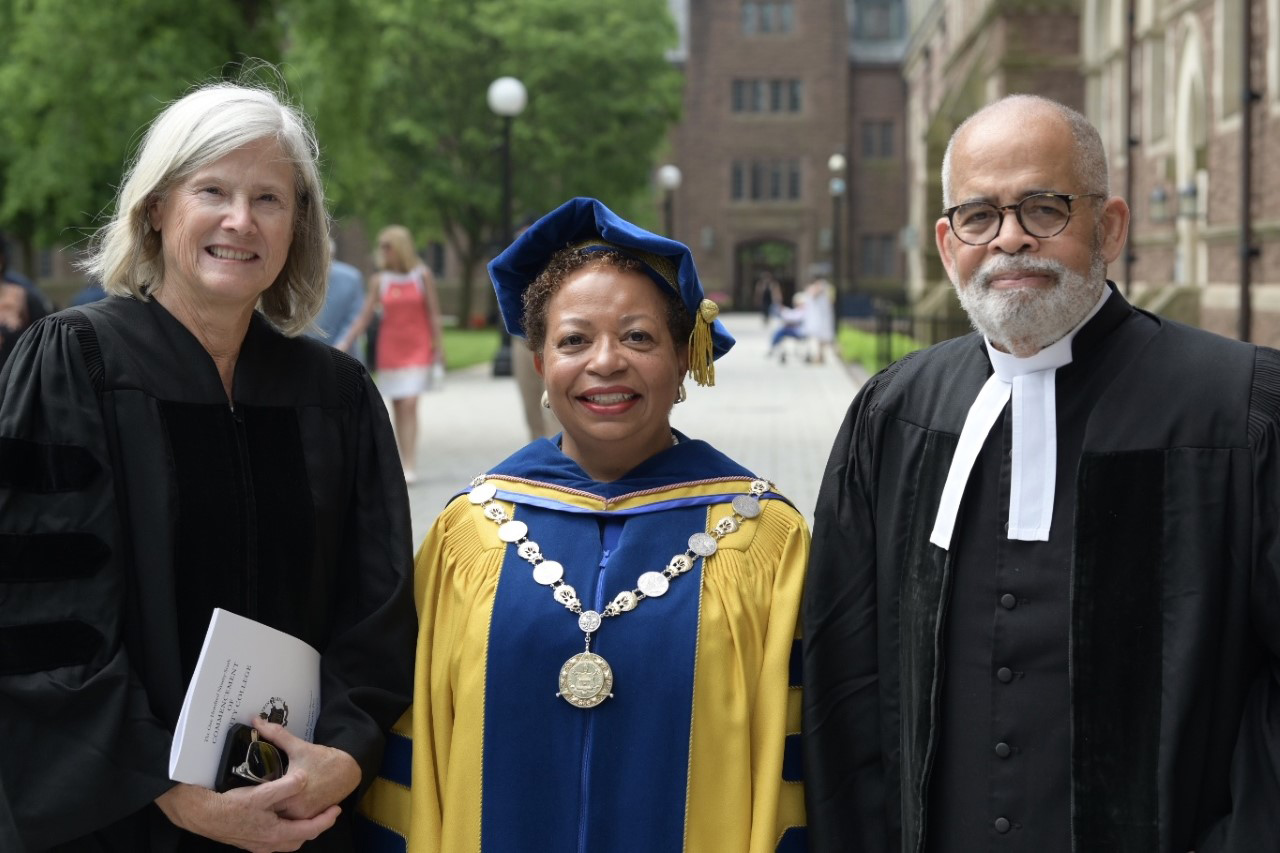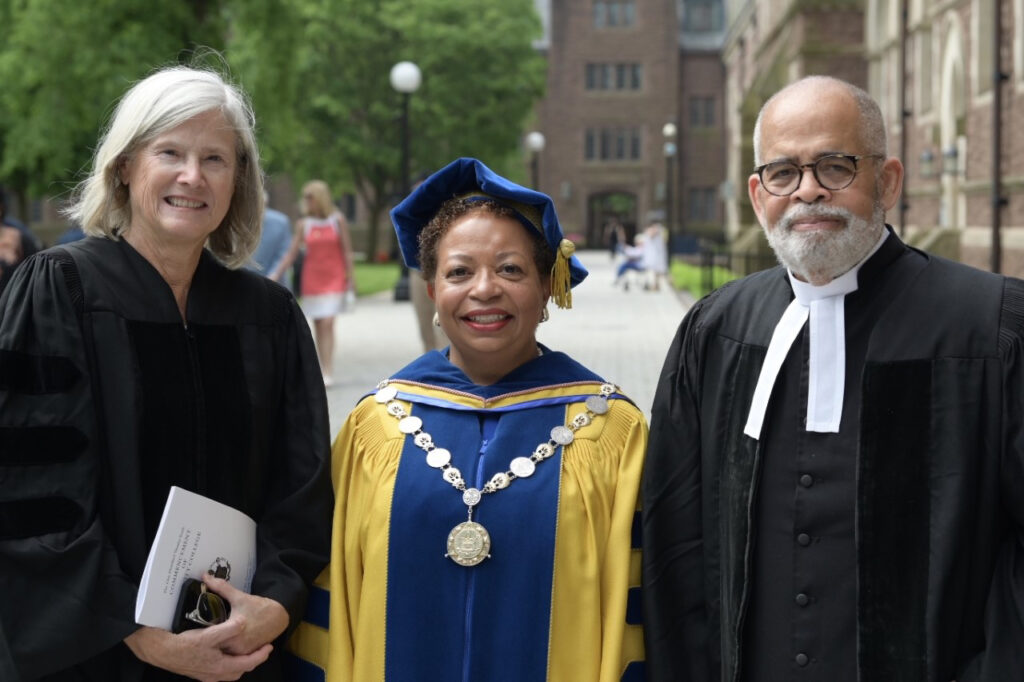 Honorary degrees also were presented to Lloyd Alexander Lewis Jr. '69, the first African American from Alexandria, Virginia, to be ordained to the priesthood of the Episcopal Church, and Cornelia Parsons Thornburgh '80, the first female chair of the Trinity College Board of Trustees. Click here to read more about the honorary degree recipients.
As the Class of 2022 graduate who was selected as the student speaker, Renita Washington noted the ways in which she and her classmates persevered during challenging times. "In the spring of our sophomore year, we were all hit hard by a global pandemic and conversations about racial inequity. We were all affected. But if I do say so myself, we persisted. It wasn't easy dealing with all that life has brought us," she said.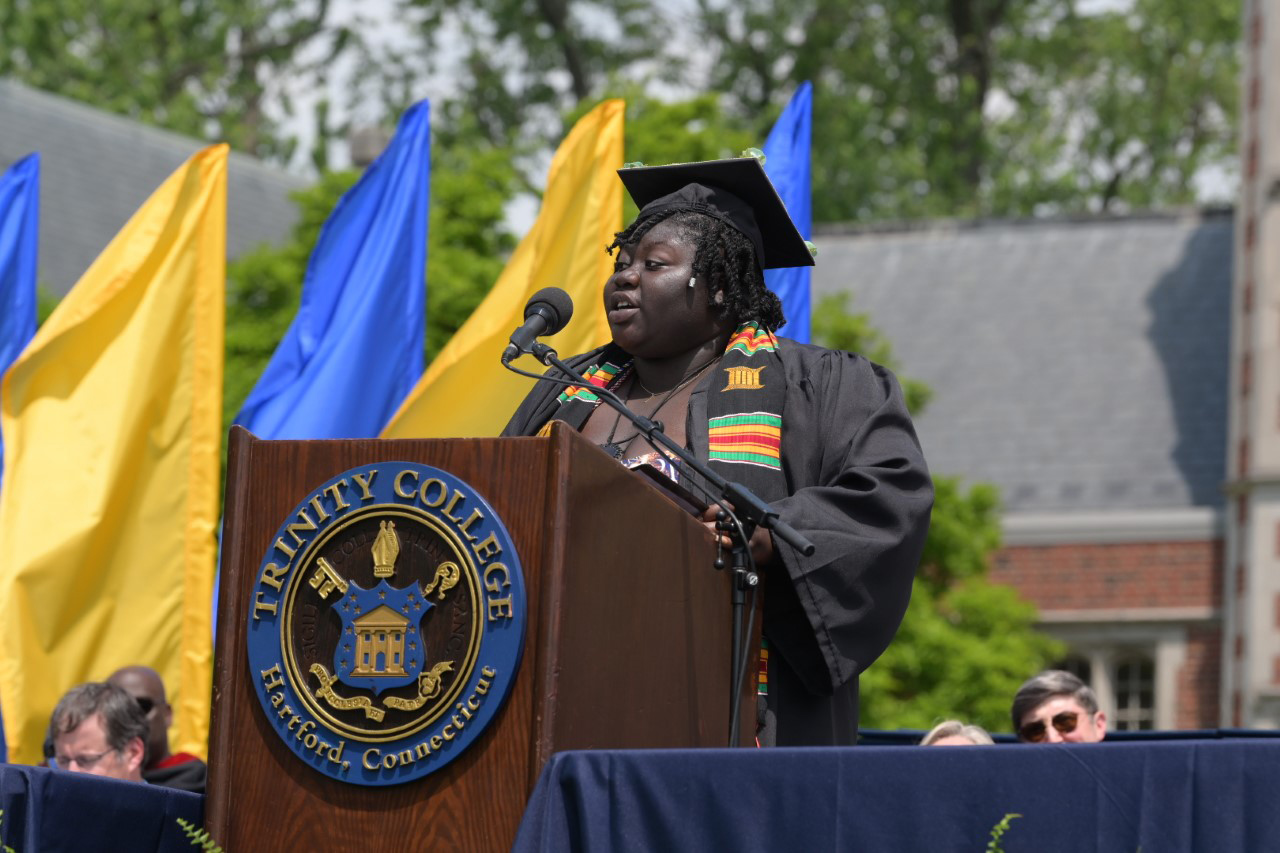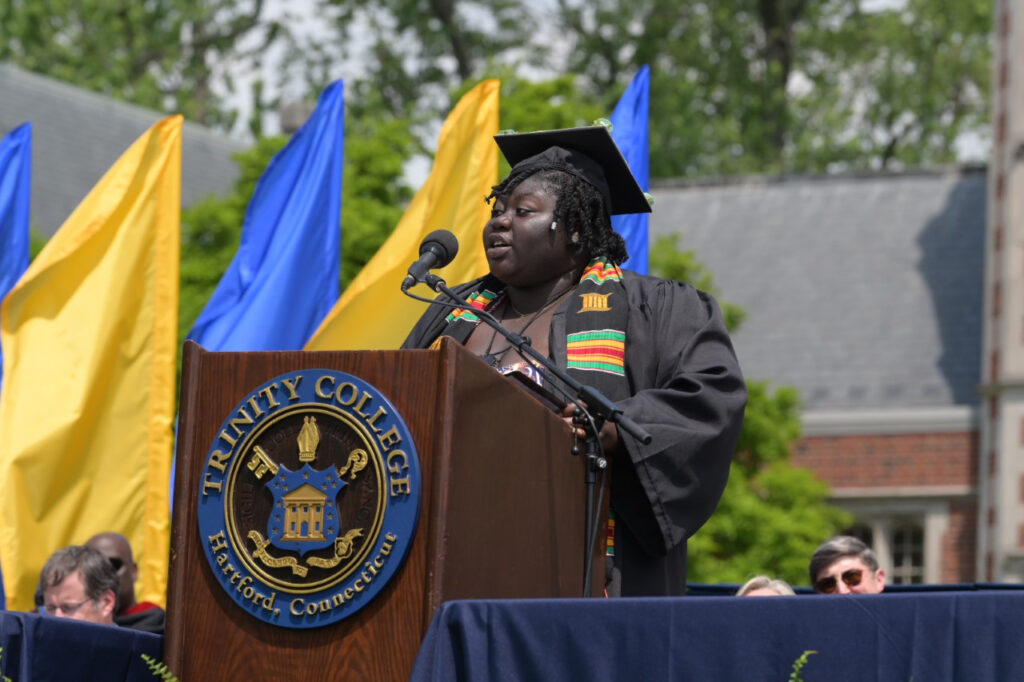 "Today, we celebrate our successes," Washington added. "By thinking back on all the ways we have persisted, I know that we can live with the unknown and make the best choices for our well-being." She told her fellow graduates to become integral parts of the communities that support them as they pursue their dreams. Washington concluded, "No matter where life takes us, we must remember to breathe, remember who you are, remember we are not alone, and, with our heads held high, own it because, Class of 2022, we did it!"
In her charge to the graduates, Trinity President Joanne Berger-Sweeney encouraged the members of the Class of 2022 to use their voices and their education to empower others. "That is the essence of education," she said. "It's not just how you use education to make life better for yourself but how you will use it to make life better for others. This idea explains why we say that education is a public good: it's not simply what job you get; it's how society will be better because you got your education."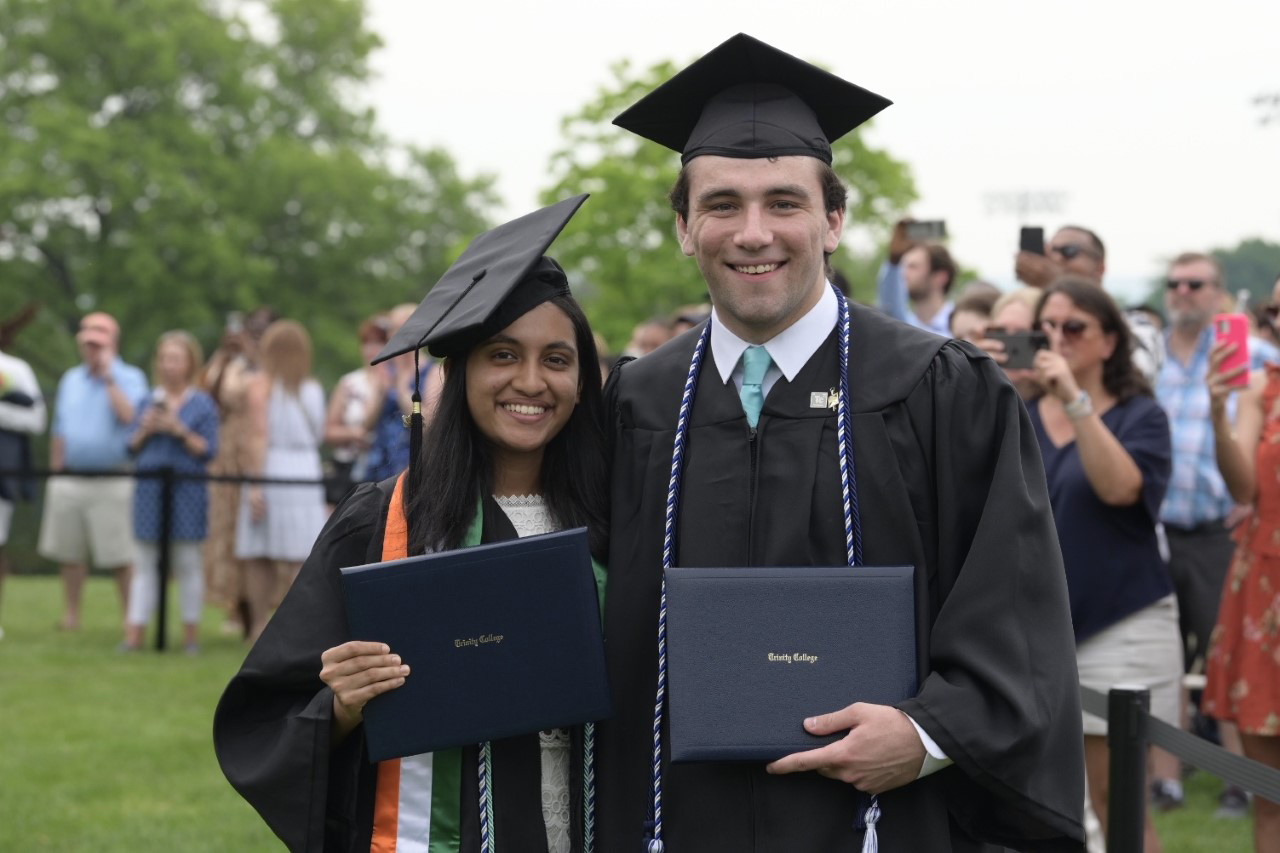 Berger-Sweeney added, "So remember, at Trinity—as in all of life—your voice is more than what you say; it is what you do. … We, here at Trinity, want you to make a better world because you were educated, transformed, and empowered at this very special place called Trinity College."
As the degrees were conferred, the valedictorian and salutatorian of the Class of 2022 were recognized for their outstanding academic achievements. Daniel Jacob Nesbitt, of Ohio, who earned a B.S. with majors in public policy and law and chemistry, was named valedictorian; Nayantara Ghosh, of India, who earned a B.A. with majors in political science and urban studies, in addition to a minor in religious studies, was named salutatorian.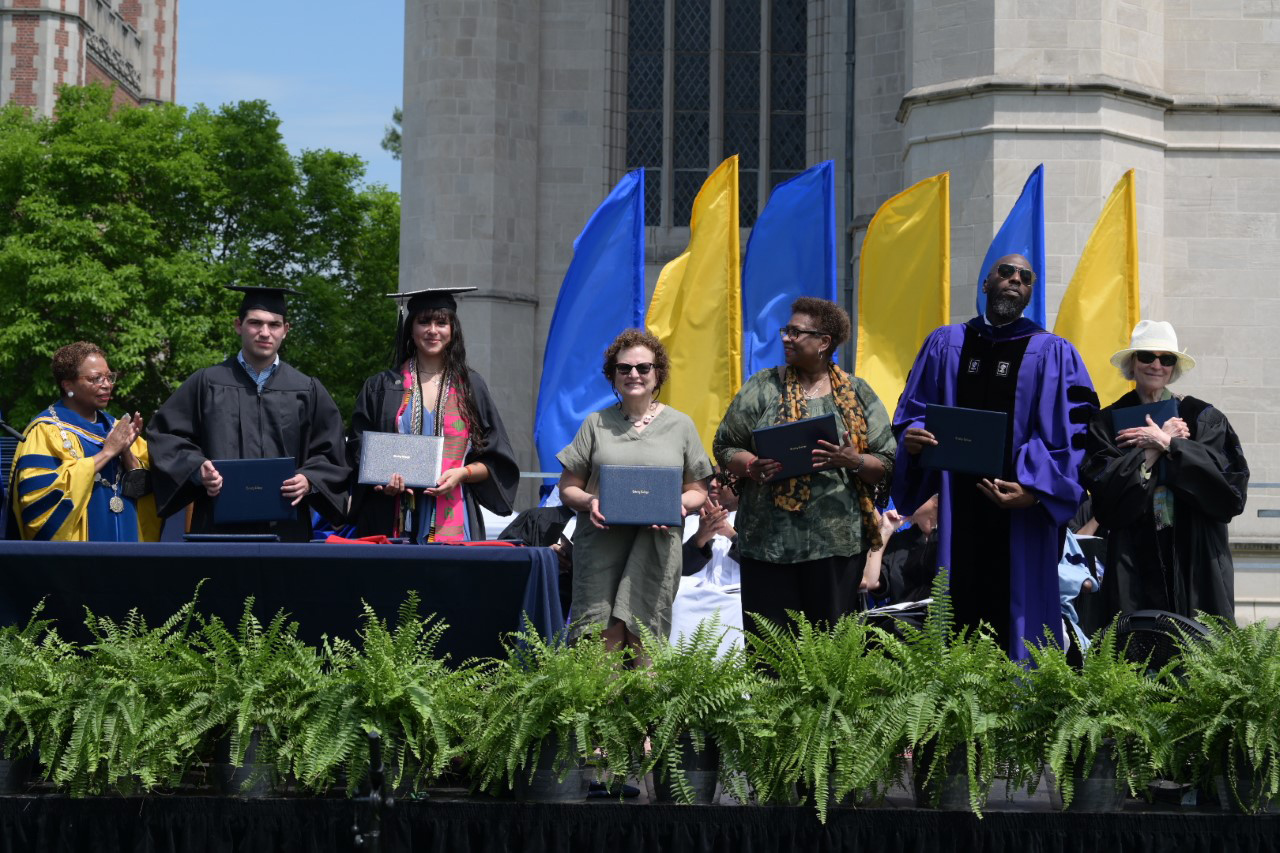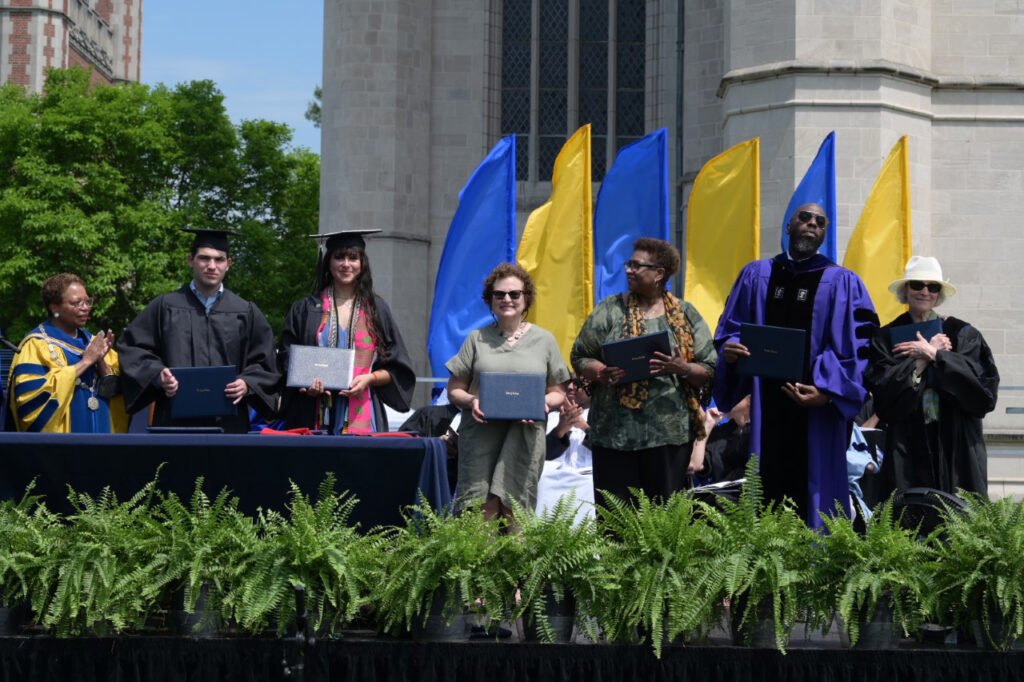 Following the awarding of degrees, Trinity College Alumni Association President Jamie Tracey Szal '06 welcomed the graduates into the community of Trinity alumni. "You may be departing campus, but you always will be among family," Szal said. "Wherever you land, the alumni—30,000 strong—are there: ready, waiting, and eager to support you as you go out into the world."
On behalf of the Board of Trustees, Board Chair Lisa G. Bisaccia '78 presented awards for faculty, staff, and student excellence. The Trustee Award for Faculty Excellence went to Paul E. Raether Distinguished Professor of American Studies Davarian Baldwin and Associate Professor of Legal and Policy Studies Adrienne Fulco. The Trustee Award for Staff Excellence went to Sonia E. "Penny" Lawrence, athletics equipment manager, and Lisa P. Kassow, director of Trinity Hillel. The Trustee Award for Student Excellence went to Class of 2022 graduates Alicia Maria Camuy and John D. Hayes Jr.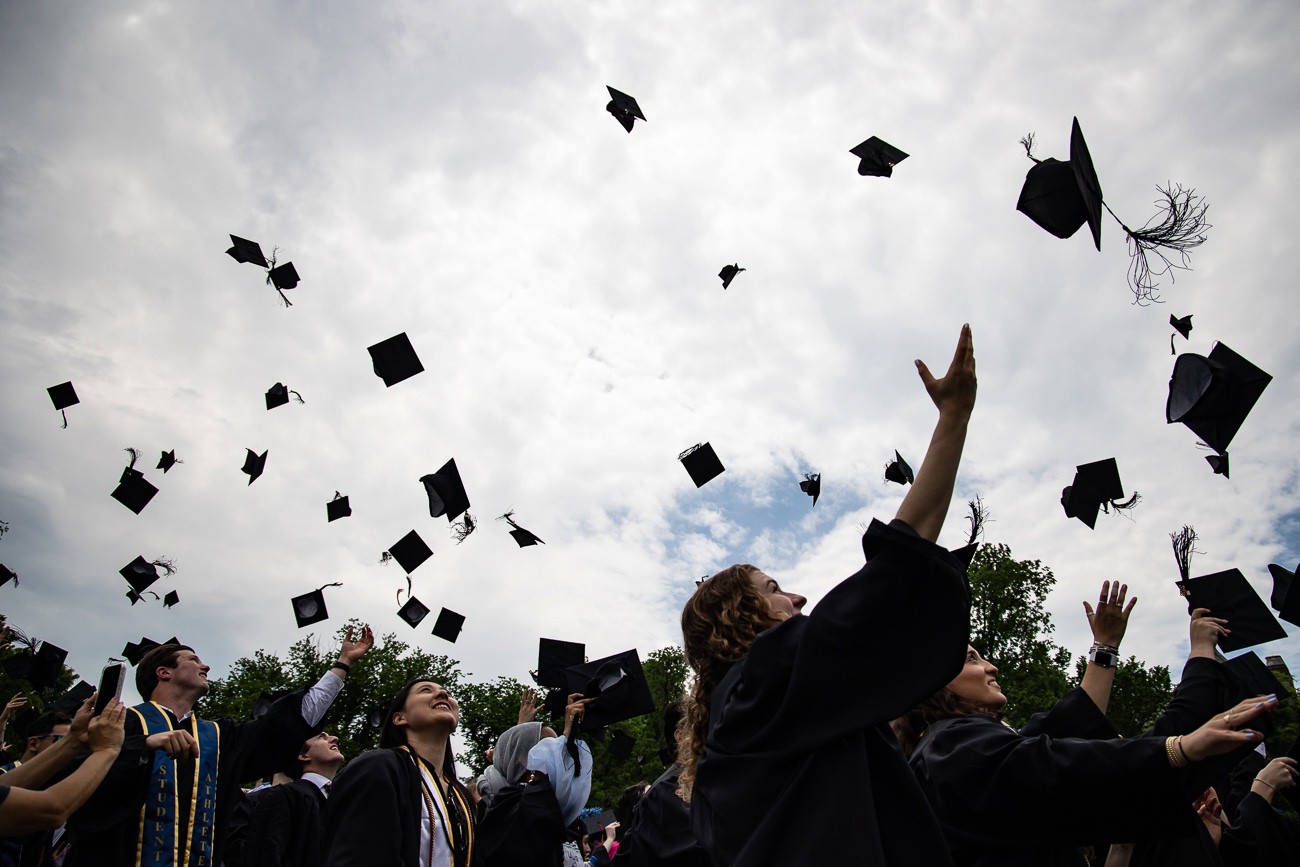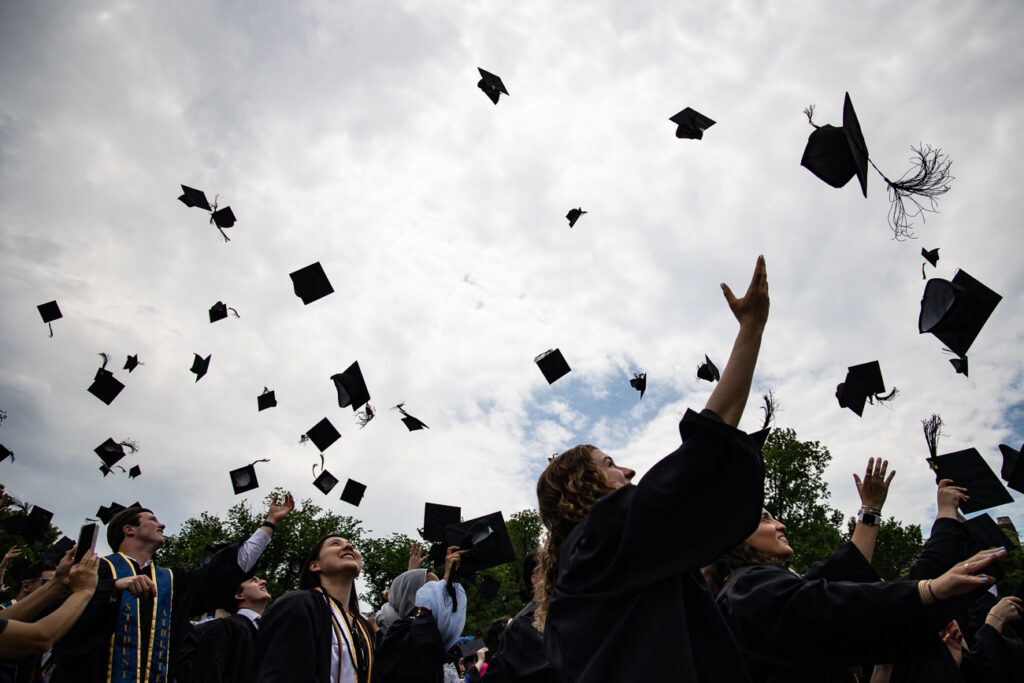 Dean of the Faculty and Vice President for Academic Affairs Sonia Cardenas honored several members of the faculty for their dedication to the academic life of Trinity. The Thomas Church Brownell Prize for Teaching Excellence for 2022 went to Brownell Professor of Philosophy Dan E. Lloyd. The Dean Arthur H. Hughes Award for Achievement in Teaching for 2022 went to Assistant Professor of Religious Studies Gabriel F. Hornung and Assistant Professor of Computer Science Ewa Syta.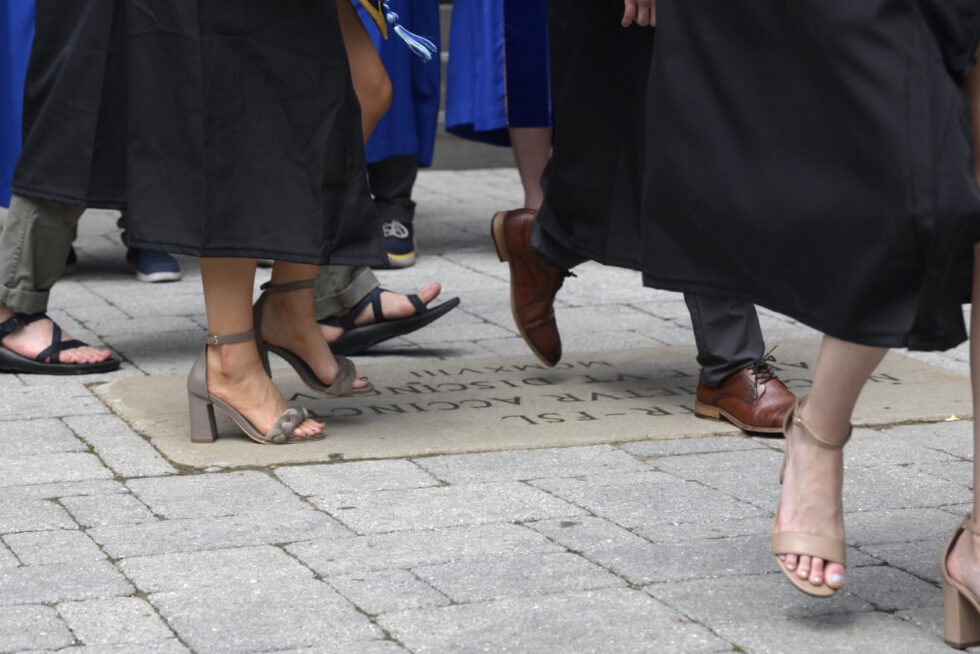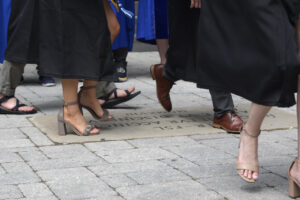 Commencement links:
Commencement Video
Commencement Program
Commencement Speeches
Honorary Degree Recipients
Awards and Distinctions
Photo Gallery
Video: How the Class of 2022 Contributed to 'A Better Campus Community'