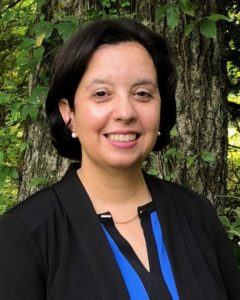 Sonia Cardenas was appointed Acting Dean of the Faculty and Vice President for Academic Affairs, beginning on June 1, 2019.  She is Professor of Political Science and joined the Trinity College faculty in 2001.  In her acting role, Cardenas continues her responsibilities as Vice President for Strategic Initiatives and Innovation. This involves chairing the President's Coordinating Group for Implementation of the Strategic Plan and leading key strategic initiatives at the college, including the partnership with Infosys and the development of Trinity's innovation space at One Constitution Plaza. Most recently, as Dean of Academic Affairs, Cardenas has also been responsible for Graduate Studies, intersession programs, and lifelong learning.
Cardenas began her work as an academic dean in 2013 and was appointed to President Berger-Sweeney's cabinet in 2014. As Associate Academic Dean for curricular matters, Cardenas led the restructuring of the first-year seminars program, the launch of the new January Term, and a year-long analysis of retention. She also played a key role in creating the Bantam Network, a first-year student-designed program, and convened a working group on faculty diversity. In fall 2015, Cardenas began serving as Dean of Academic Affairs, responsible for supporting half of all academic departments and programs. From 2015-16, she further served as Interim Dean of the Faculty, a position she shared with Melanie Stein. Together, they introduced a new phased retirement plan for faculty, co-chaired the President's Planning and Budget Council, supported the creation of a Center for Caribbean Studies, and oversaw design planning for the Crescent Center for Arts and Neuroscience. Cardenas also co-chaired Trinity's successful accreditation process in 2016-17 and was the principal author of the College's self-study.
In addition to serving on numerous governance committees as a faculty member, Cardenas was the director of Trinity College's signature Human Rights Program from 2007 to 2013 and held a Charles A. Dana Research chair from 2011 to 2013. She has authored dozens of publications, including three books from the University of Pennsylvania Press: Conflict and Compliance; Human Rights in Latin America; and Chains of Justice: The Global Rise of State Institutions for Human Rights. As a leading human rights scholar, she serves on various international boards and is a frequent reviewer. Her more recent short reflections on higher education and the liberal arts can be found in the Chronicle of Higher Education, The New York Times, and Huffington Post.
Cardenas earned a B.A. in international relations and French from Tulane University, an M.A. and Ph.D. in political science from the University of Virginia, and a certificate in international human rights law from Oxford University. Before joining Trinity, Cardenas held visiting appointments at the University of Cambridge, Harvard University's Kennedy School of Government, and the University of Notre Dame.