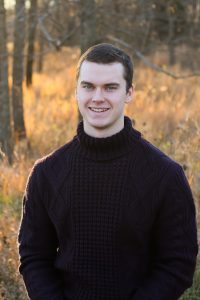 I am a junior at Trinity double majoring in LACS (Chinese and Japanese) and mathematics. I knew coming to Trinity that I wanted to major in Chinese, and through my tenure at Trinity I have yet to doubt my decision. Through my studies of Chinese and Japanese, I have been fascinated by the relationship between the two languages. Each language is truly unique and their similarities highlight the rich history of both languages and cultures. The differences between English and these languages are immense, and I have enjoyed discovering their intricacies, in fact it is one of the defining reasons I was originally drawn to studying these languages.
I have been lucky at Trinity to have such knowledgeable professors in both the Chinese and Japanese departments. Their extensive knowledge in their language's literature and culture have helped me to not only learn the language but also learn how the respective country's history and culture have developed as a whole. The language courses have been intense, and my professors have always challenged me to get out of my comfort zone so I can become a more confident conversational speaker. It is with their support and encouragement that I feel comfortable speaking to native speakers in many different settings.
One of the most impactful experiences at Trinity was the opportunity to study abroad in China the summer after my freshman year through the River Cities of Asia program. This program took place in Hong Kong, Shenzhen, Huizhou and Dongguan. It provided an integrated historical, cultural and environmental understanding of urban expansion and environmental consequences and their interrelationships. I felt prepared from my studies in the department to fully immerse myself in the Chinese culture. Some of my most profound memories from this experience have been listening to lectures at the Chinese universities I visited and interacting with native speakers; whether it be ordering in a restaurant or even conversing with taxi drivers about a few Chinese songs I happened to know. I always felt prepared to interact and immerse myself deeper into a new culture.
The LACS department has had a significant role not only in the classroom but also to broaden my global perspective. Since deciding to major in Chinese, my dream for the future has been the global setting. Combined with double majoring in mathematics, I hope to open the doors to an international experience that allows me to go to China and Japan. This dream is achievable due to the well-rounded understanding of both the language and culture of China and Japan I have received from my professors. I feel that the support and connections I have made with my professors have truly impacted me and helped prepare me to make this dream a reality.  As our world continues to globalize, I am thrilled I chose a path at Trinity that will enable me to contribute to the future.