Interested in becoming a Chapel Singer?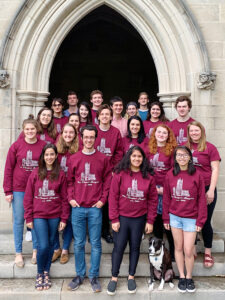 The Chapel Singers is Trinity's oldest student organization, and the group has continued to make music in the college Chapel (or virtually!) for nearly 200 years.
The group is a mixed-voice choir of about two dozen singers with a repertoire ranging from plainchant to compositions of the 21st century. The choir performs concerts, sings at Chapel services and major college occasions, and occasionally makes recordings and travels on tours. No religious affiliation or practice is necessary, and members come from a variety of backgrounds. Some experience reading music is strongly encouraged.
AUDITIONS: are held at the start of each fall semester. Details are posted at the Austin Arts Audition page.
LISTEN: More information and recordings of The Chapel Singers are available here.
CONTACT: Contact Christopher Houlihan (college organist and director of chapel music) with any questions, [email protected]. Prof. Houlihan is also happy to speak with high school students considering applying to Trinity College—feel free to reach out!