Trinity College's organ was built in Hartford and contains 4,416 pipes—the largest are the size of trees and the smallest are the size of pencils.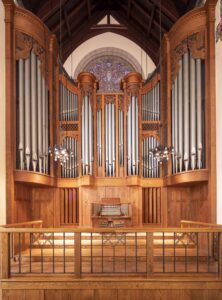 Clarence Watters (Professor of Music and Trinity College organist from 1932-1969) was consultant for the college's pipe organ, installed in 1971 by Austin Organs, Inc. of Hartford, Connecticut. Watters described it as "neo-classic," a 20th century organ that employs the best principles of the past three centuries of organ building.
The organ was a gift from the Mrs. Newton C. Brainard in memory of her husband, a former mayor of Hartford and a Trustee of the college for 41 years. The instrument stands in the nave with the lowest 12 open wood pipes of the 32′ Untersatz sitting directly against the west wall. These pipes were part of the Chapel's original 1932 Æolian-Skinner organ (op. 851), which occupied the now empty chamber in the choir.
The organ's casework and facade layout is the work of designer Charles Nazarian, '73. It was fabricated by artisans in his workshop and installed in 1986. The casework design was adapted to the structure of the existing Austin organ and, while original, was inspired by classical French organ cases. Crowning the case are wood carvings by Morgan Faulds Pike. They include grotesques, unicorns, angels with trumpets and lyres, swallows, griffins, and the Trinity College Bantam mascot. Two panels directly over the console feature the profiles of Paul W. Adams '35 (in whose honor the case was given) and Clarence Watters. Detailed photographs of the carvings and portraits are available on the sculptor's website (linked above).
The powerful Trompette de Jubilé that sits atop the case was installed in 1982, a gift of Alfred M. C. MacColl '54 during the Chapel's Jubilee Year. In 2013, the organ was fitted with new actions and a new console was built and installed by Austin Organs, Inc.
The Chapel also contains two other significant keyboard instruments: the 49-bell Plumb Memorial Carillon by John Taylor and Co., of Loughborough, England, and a five stop mechanical action organ in the Crypt Chapel by Nicholson & Co., of Malvern, England.
Details regarding the composition of the organ are available here.
Curators of the Chapel organs
Austin Organs, Inc., Hartford, Connecticut
Messrs. Czelusniak et Dugal, Inc., Northhampton, Massachusetts
Mr. David Johnston, Curator Emeritus
Explore the Gallery
See photos and learn about the Trinity College Austin Organ
Explore the Gallery
See photos and learn about the Trinity College Austin Organ