Trinity has many performing arts opportunities, and most classes and organizations will perform in some modality, whether in smaller in-person groups or remotely. Information about the groups follows.
The Chapel Singers

The Chapel Singers is Trinity's oldest student organization, founded in 1825. The group is a mixed-voice choir of about two dozen singers with a repertoire ranging from plainchant to compositions of the 21st century. The choir performs concerts, sings at Chapel services and major college occasions, and occasionally makes recordings and travels on tours. No religious affiliation or practice is necessary, and members come from a variety of backgrounds. Some experience reading music is strongly encouraged.
FALL 2020: The group will rehearse and perform at Chapel serivces in small ensembles of 4-8 singers. Masks will be worn at all times, and rehearsals will be in outdoor or semi-outdoor spaces as much as possible. The rehearsal schedule will be determined based on members' course schedules; singers can expect to rehearse or perform between 2-4 hours per week.
AUDITIONS: Will be held via Zoom, by appointment, during the first week of classes.  To set up an audition, email Prof. Christopher Houlihan '09, college organist and director of Chapel music. The final day of auditions will be Friday, September 11, 2020–reserve your spot early! More information about the audition will be sent by email.
LISTEN: More information and recordings of The Chapel Singers are available here.
CONTACT: Contact Christopher Houlihan with questions and to schedule an audition at christopher.houlihan@trincoll.edu.
The Trinity College Gospel Choir (TCGC)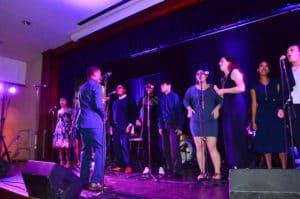 The Trinity College Gospel Choir (TCGC), a student organization now in its 26th season, brings the vital tradition of gospel music to the Trinity community. Members of the Gospel Choir enhance the group's music program through elements of dance, spoken word, and prayer from the traditional African American churches.
TCGC also builds community and promotes social change on campus. Seasonal concerts, offered once each semester, are the core of the program.
NO AUDITION REQUIRED: Come to the first TCGC meeting of the semester. No previous musical experience is necessary.
REHEARSALS: Rehearsals will likely begin on Tuesday, September 15, 2020, 6:30 p.m. – 8:30 p.m. under the tent on the main Quadrangle, near the Chapel.
CONTACT: Anthony Williams (anthony.williams@trincoll.edu) and John Hayes (john.p.hayes@trincoll.edu), Ministers of Music; or Deion Kelly '23, (deion.kelly@trincoll.edu) President.
Music Groups
We plan to record the final rehearsal of each ensemble to stream as a performance during the final weeks of the semester after Thanksgiving Break.
Instrumental Ensembles
MUSC-105. (.5 credit)–10 week class
The Trinity College Instrumental Ensembles Program is a half-credit course that supports the study and performance of music from five centuries of chamber music repertoire. Each semester, groups are formed and assigned a professional musical coach and repertoire to study and prepare for performance. The goal of the program is to provide the students with an opportunity to survey the vast literature of chamber music, and to receive training in ensemble playing skills.
AUDITIONS: Auditions are required.  Email Nancy Curran for questions and to arrange a remote audition.  Auditions are about 15 minutes and include scales, sight reading, and prepared piece.
CONTACT: Nancy Curran, Coordinator at nancy.curran@trincoll.edu.
Jazz Ensemble
MUSC-109. (.5 credit)–10 week class

Jazz is America's own art form! The Jazz Ensemble studies and performs the compositions of Ellington, Monk, Coltrane, Hancock, and others, as well as original works by Professor Allen and the group members. Styles span the gamut of jazz history, from traditional swing to bebop to all sorts of jazz fusions. We will work hard on improving individually and as a group, with a focus on creative improvising, group interplay, and solid grooves.
AUDITIONS: Auditions will be held during the first class time. The first class meets on Tuesday, September 8 in the Music Hall (AAC, Room 102.  Located downstairs.).
MEETING TIMES: Tuesdays and Thursdays, 7:30 p.m. – 9:00 p.m., Austin Arts Center, Room 102.
CONTACT: Jen Allen, Director at jennifer.allen@trincoll.edu
Steel Pan Ensemble
MUSC-108. (.5 credit)–10 week class

Students in this ensemble will learn the history and social significance of steel pan music in Trinidad. Additionally, they will understand the musical roles of each instrument in the ensemble and learn the techniques associated with playing each of them. Students will be expected to learn and memorize arrangements of classical, popular, and traditional calypso music. The music will be taught aurally and by rote by the instructor, Curtis Greenidge, a steel pan teacher from Trinidad.
AUDITIONS: No audition is required.
MEETING TIMES: All in the Music Hall, AAC 102.
Mondays, 7:30 p.m. – 9:00 p.m.
Wednesdays, 7:30 p.m. – 9:00 p.m.
CONTACT: Curtis Greenidge, Director at curtis.greenidge@trincoll.edu
Samba Ensemble
MUSC-111. (.5 credit)–10 week class

This ensemble primarily performs various carnival and other drumming and singing traditions of Brazil. The Samba Ensemble plays events on and off campus throughout the year. We are looking for various instrumentalists: guitar, bass, trombone, saxophone, keyboards, etc to supplement the ensemble.
AUDITIONS: Please contact Professor Eric Galm directly via email, and come to the first class meeting on Monday, September 7 at 6:00 p.m. in the Music Hall, AAC 102.
MEETING TIMES: All in the Music Hall, AAC 102.
Mondays, 6:00 p.m. – 7:30 p.m.
Wednesdays, 6:00 p.m. – 7:30 p.m.
CONTACT: Professor Eric Galm, Director at eric.galm@trincoll.edu.
Private Music Lessons
MUSC-107. (.5 credit)–13 week class
Trinity offers students the opportunity to study either a musical instrument or voice with Music Department-approved instructors.
To receive the 'Questionnaire and Guidelines' about Music 107 Music Lessons, please contact: Jen Allen, Faculty Coordinator; jennifer.allen@trincoll.edu.
COURSE PREREQUISITE: A basic understanding  of note reading and music terminology is required for music lessons.  Please contact Jen Allen if you would like to apply for a waiver from this requirement.  If you have no previous experience with musical notation, you may concurrently take MUSC 101 Basic Musicianship to fulfill this requirement.
COURSE REQUIREMENTS:
Attendance at

one

of two scheduled Zoom orientation meetings during the first week of classes: Tuesday, September 8 at 6:00 p.m. or Thursday, September 10 at 12:15 p.m.  Email Jen Allen for a link to the orientation meeting of your choice.
Successful completion of 11 one-hour lessons with a Music Department-approved lessons instructor.
Attendance at a remote recital at the end of the semester, date and time TBA.
In addition to tuition costs, students are required to pay an instructor's fee of $600 for the semester. Students who qualify for Trinity Grant financial aid may be eligible for an award to pay this fee.  The questionnaire in the "Questionnaire and Guidelines" serves as the application for a Trinity Grant for Music Lessons as well as the first step to enroll in Lessons.  The initial deadline to apply for the first round of financial aid grants is Friday, September 11.
MEETING TIMES: Each student and instructor will schedule weekly lessons based on their particular schedules.  The student should contact the instructor.  See contact information in the Questionnaire and Guidelines.
CONTACT: Jen Allen, Faculty Coordinator, Music Lessons at jennifer.allen@trincoll.edu.
Musical Theater
Musical Theater Productions
MUSC-119. (.5 credit)

The Department of Music is presenting a virtual production of Urinetown in Spring 2021!  All students are welcome to participate.
Urinetown takes place in a Gotham-like city, with a terrible water shortage.  The 20-year drought has led to a government-enforced ban on private toilets.  The citizens must use public amenities, regulated by a single malevolent company that profits by charging admission for one of humanity's most basic needs. Amid the people, a hero decides that he's had enough and plans a revolution to lead them all to freedom.
AUDITIONS: Auditions will also happen virtually via Zoom on Tuesday, 2/23 and Wednesday, 2/24 from 7:00 – 9:00 p.m.  Auditioners may also send a self-taped monologue and song video to (917) 817-1155 or to npinchin@hartfordstage.org. All audition requirements and sign up sheets can be found by clicking here.
CONTACT: Email Director Nina Pinchin at npinchin@hartfordstage.org with any questions.
Theater and Dance
Stage Productions
THDN-309. (.5 credit)
Fall Dance
Dancing Everywhere is a year-long think tank for movement experiences and performance experiments. We need your help to imagine this endeavor!
Dancing Everywhere could include student and faculty designed pieces, site-specific performances, dances that move across campus, dances for the camera, dances for zoom, and any other way of dancing together (while apart) that you can think of.
As a yearlong project, fall semester will include regular meetings (in person outdoors and also virtual) to research sites, local history, explore methods for composing work, and experimenting with performing in atypical settings, all as preparation for building a performance happening in the spring.
This project is open to the entire Trinity community. No prior experience necessary. It's time to think and dance outside of the box!
INFO SESSION: Professors Peter Kyle and Rebecca Pappas will co-direct this project. Join them for an informational Zoom meeting on Friday, September 11 at 4:00 p.m. You can join here.
CONTACT: Email Peter Kyle, Assistant Professor of Theater and Dance at peter.kyle@trincoll.edu​ and/or Rebecca Pappas, Assistant Professor of Theater and Dance at rebecca.pappas@trincoll.edu.
Fall Theater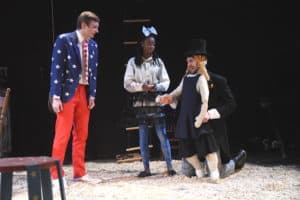 THDN-309 online, Credit 0.5
Quarantine Complex: A Docu-Style Performance Project is a practical performance project through which performers will explore the nuance of representation and the social impact of media/performance through docu-style storytelling and creation. Together, the company will examine the link between subject and representation during perhaps one of the more critical times in American social history, in order to create and share work that speaks to some of the many questions that the world is asking itself and the arts.
This performance project will embrace the spirit of artists such as Anna DeVare Smith (Fires in the Mirror, Twilight: Los Angeles) and Dael Orlandersmith (Until the Flood), as well as the popularization of documentary style entertainment such as Tiger King and How to Fix a Drug Scandal (Netflix). These spirits will help create work that engages not only audiences but also the subjects that pervade our discourse throughout these unprecedented times.  Members of the Quarantine Complex ensemble will engage in performance research and interviews, character study, and story development as we work to create a mixed media (live and recorded) presentation centered on life in 2020.
INFO SESSION: Tuesday, September 22 at 6:00 p.m. via Zoom, link here.
Please prepare something to share around the topic of life, media, and the year 2020.  A personal story, observance, revelation, or experience that revolves around life and/or media in this digital year.
PERFORMANCE DATES: TBD, mid to late November.
CONTACT: Email Director Terrell Sledge at terrell.sledge@trincoll.edu or Theater  Dance Chair Michael Preston at michael.preston@trincoll.edu.
Theater and Dance Classes–10-week, remote classes
THDN-111-90 Morning Movement Practice
Prof. Peter Kyle / peter.kyle@trincoll.edu
Other teachers and modes of moving TBA.
TR 9:20-10:35 AM
THDN-114-90 Awareness Through Movement 
Prof. Michael Preston / michael.preston@trincoll.edu
MW 10:00-11:15 AM
THDN-130-90 Jazz Dance Technique I
Prof. Lisa Matias / lisa.matias@trincoll.edu
TR 1:15-2:35 PM
THDN-145-90 Performing Hartford
Prof. Rebecca Pappas / rebecca.pappas@trincoll.edu
R 6:15-8:15 PM
THDN-218-90 Principles of Movement
Prof. Peter Kyle / peter.kyle@trincoll.edu
MW 11:10 AM – 12:50 PM
THDN-225-90 Dancing for the Camera
Prof. Rebecca Pappas / rebecca.pappas@trincoll.edu
MW 3:55-5:35 PM