Trinity has many performing arts opportunities across many disciplines. Students are invited to participate no matter their level of experience. Information about the groups follows.
Theater and Dance
Fall Theater Production
THDN-309. (.5 credit)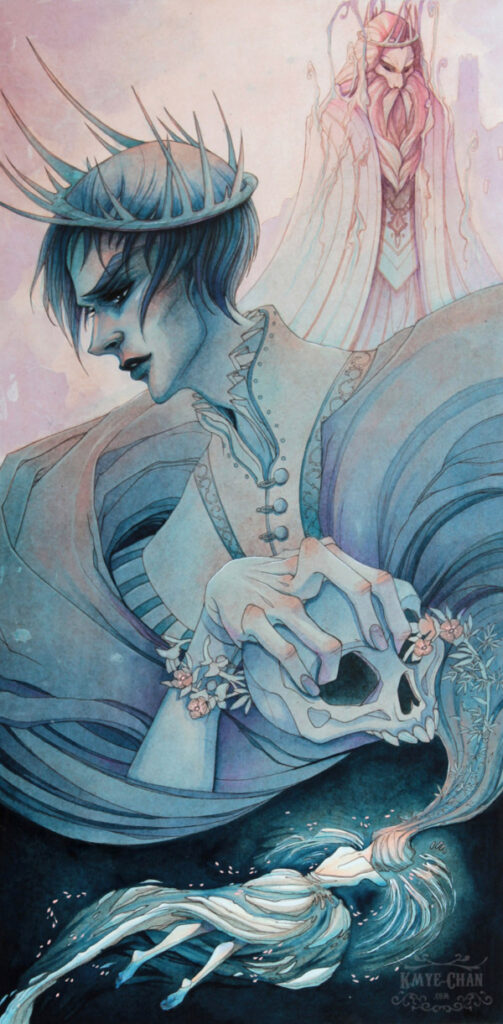 Hamlet by William Shakespeare
Directed by Terrell Sledge
Assistant Directed by Libby Perler '23
Auditions
WHEN: Friday September 9, 12:00-4:00pm and
Monday September 12, 5:30-7:00pm (callbacks)
WHERE: Performance Lab, Trinity Commons, rm. 152
Callbacks will be held in Trinity Commons rm. 156
WHO: Open to all students!
WHAT: For the audition, please prepare:
1. A 1–2-minute classical monologue (Selections from Hamlet are highly encouraged)
a. Have fun
b. Be creative
c. Be brave
d. Tell the story that resonates most for you in the piece
2. Be prepared to share a bit about your interest, experience and availability
Follow the link below to schedule your 10-minute audition time slot:
https://calendly.com/andifyouloseyourwaytc22/hamletaudition?month=2022-09
NOTE: If you need to opt for a zoom or video submission audition, be sure to reach out to tsledge@trincoll.edu or eperler@trincoll.edu ahead of time.
Rehearsals for Hamlet begin the week of September 12 (exact times TBA). Public performances take place November 10-12, 2022 in the Austin Arts Center.
This production is for course/major credit and all participants will be asked to be fully committed to both in-rehearsal work and independent preparation (memorization, review, etc.), as well as to the full production schedule, details of which will be shared at the audition.

A note from the director
"The object of art is to give life shape."
— Jean Anouilh, French, playwright and/or William Shakespeare
There is still debate about who first coined the phrase. But perhaps the debate itself serves the point. The search for the "truth" and the "right" is perhaps one of the grandest, most human occupations. For young Hamlet, that is definitely the case.
With a father slain, a mother re-married and an uncle accused, Prince Hamlet's life must take on a shape that even their own heart struggles to comprehend. But their hunt for truth and justice is only the beginning of our journey into the mind of a young royal under an unimaginable weight.
Trinity College's Fall Production of Hamlet by William Shakespeare will dive into questions of love, loyalty and the inner workings of the mind, as well as historic assumptions about mental health.
Join us as we explore the incredible narrative of a college-age hero, for whom growing up was anything but simple.
Whether you're a seasoned vet or new to the Bard, come be a part as we stage a classic tale in a new light. There are plenty of roles for all.
Let's grow together.
Let's be bold together.
Let your art help us reveal the wonderful variety of shapes that life can take on.
Fall Dance Production
THDN-309. (.5 CREDIT)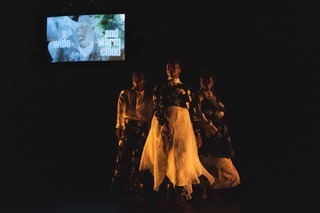 Offertory: Liturgy|Order|Bridge
Directed by Deborah Goffe
Casting Workshop
WHEN: Monday September 12, 6:30-8:30pm
Wednesday September 14, 6:30-8:30pm*
*Please hold the second date open for a (possible) follow-up workshop.
WHERE: Performance Lab, Trinity Commons, rm. 152
WHO: Open to all students! Professor Goffe is looking to cast between 5-10 performers who will collaborate in movement and vocal work (song and text), and object making for the project. Sign up here: https://forms.gle/G9PytoD9CSWkLoWLA, or just show up, all are welcome!
Weekly rehearsals for Offertory will begin the week of September 19, exact date/time to be determined. Public performances will take place December 2-3, 2022 (Fri&Sat 7:30pm and Sat 2pm). Students involved in this production will receive (0.50) course credit. All participants will be asked to commit fully to the production schedule, details of which will be shared at the casting workshop.
For questions or more information, please write to Professor Deborah Goffe at deborah.goffe@trincoll.edu.
ABOUT OFFERTORY
Offertory will grow out of (and feed) the development of "Liturgy|Order|Bridge," Scapegoat Garden's in-process collaborative performance project that invokes the intimacies of care practices, the contrasting spectacle (and absurdities) of religious ritual, and the communal embodiment of black church traditions. In Offertory we will employ movement, song, text, object making to ask: What might it mean to engage dance practice as faith practice, performance as communal ceremony, performance space as consecrated site, and audience as a fellowship of shared witness, place, and legacy? How might we nurture shared, though distinct, responsibilities for the dynamism and consequence of the encounter between performance and audience? What is the potential of an organized body of practitioners devoted to facilitating the threshold between performance and the rest of life.
Music Groups
The Chapel Singers

Friday, September 2, 2:00–3:00 p.m.
Sunday, September 4, 12:30–2:00 p.m.
Tuesday, September 6, 4:30–6:30 p.m.
Come to the Chapel South Cloister (outside, facing the quad) during any of the above times, no appointment needed.
About us: We are Trinity College's Chapel choir and we proudly sing challenging choral music at Chapel services…yes, every Sunday! Our repertoire ranges in style from ancient chants to modern works of the 21st century. We also sing at major college occasions, perform concerts, and create recordings. We rehearse three times a week, and because membership is such a big commitment we are paid student employees. No religious affiliation is required—we come from a variety of backgrounds.
Typical schedule:
Mondays and Wednesdays, rehearsal 4:30–6:00 p.m.
One 45-minute sectional rehearsal on Tuesday or Thursday.
Most Sundays during the semester, 3:30 p.m. rehearsal followed by 4:30–5:30 p.m. Chapel service.
About the audition: There is no music that needs to be prepared in advance, however we do recommend you arrive warmed-up and ready to sing. Our director will lead you through singing some scales and a few of us will teach you a short piece. There will also be a sight reading test (it's everyone's least favorite part—just try your best!). Members do need to have at least a little previous experience reading printed music.
Listen: Recordings of The Chapel Singers are available here.
Contact: Feel free to reach out for more information. Christopher Houlihan, director of chapel music and college organist: christopher.houlihan@trincoll.edu or Kendra Keelan '23, president: kendra.keelan@trincoll.edu. We look forward to hearing you sing!
Instrumental Ensembles
MUSC-105. (.5 credit)
The Trinity College Instrumental Ensembles Program is a half-credit course that supports the study and performance of music from five centuries of chamber music repertoire. Each semester, groups are formed and assigned a professional musical coach and repertoire to study and prepare for performance. The goal of the program is to provide the students with an opportunity to survey the vast literature of chamber music, and to receive training in ensemble playing skills.
Auditions: Auditions are required. Email Nancy Curran for questions and to arrange a remote audition. Auditions are about 15 minutes and include scales, sight reading, and prepared piece.
Contact: Nancy Curran, Coordinator at nancy.curran@trincoll.edu.
Jazz Ensemble
MUSC-109. (.5 credit)

Jazz is America's own art form! The Jazz Ensemble studies and performs the compositions of Ellington, Monk, Coltrane, Hancock, and others, as well as original works by Professor Allen and the group members. Styles span the gamut of jazz history, from traditional swing to bebop to all sorts of jazz fusions. We will work hard on improving individually and as a group, with a focus on creative improvising, group interplay, and solid grooves.
Auditions: Auditions will be held during the first class time. The first class meets on Tuesday, September 6 from 7:30 p.m. – 8:45 p.m. in the Music Hall (AAC, Room 102. Located downstairs.).
Meeting Times: Tuesdays and Thursdays, 7:30 p.m. – 8:45 p.m., Austin Arts Center, Room 102.
Contact: Jen Allen, Director at jennifer.allen@trincoll.edu.
Other performance opportunities that do not require an audition
Steel Pan Ensemble
MUSC 108   (0.50 credit) 
Students in this ensemble will learn the history and social significance of steel pan music in Trinidad. Additionally, they will understand the musical roles of each instrument in the ensemble and learn the techniques associated with playing each of them. Students will be expected to learn and memorize arrangements of classical, popular, and traditional calypso music. The music will be taught aurally and by rote by the instructor, Curtis Greenidge, a steel pan teacher from Trinidad.
Auditions: No audition is required.
Meeting Times: All in the Music Hall, AAC 102, beginning Wednesday, September 7
Mondays, 7:30 p.m. – 9:00 p.m.
Wednesdays, 7:30 p.m. – 9:00 p.m.
Contact: Mr. Curtis Greenidge, Director at: curtis.greenidge@trincoll.edu
Samba Ensemble
MUSC-111 (0.50 credit) 
This ensemble primarily performs various carnival and other drumming and singing traditions of Brazil. Related musical styles and musical genres are also included. Previous performance experience is not required, and students may take this course for more than one semester. The Samba Ensemble plays events on and off campus throughout the year. We are looking for various instrumentalists: guitar, bass, trombone, saxophone, keyboards, etc. to supplement the ensemble. Permission of the instructor is required.
Auditions: Please contact Professor Eric Galm directly via email, and come to the first class meeting on Wednesday, September 7 at 6:00 p.m. in the Gruss Music Hall, AAC 102.
Meeting Times: All in the Gruss Music Hall, AAC 102.
Mondays, 6:00 p.m. – 7:30 p.m.
Wednesdays, 6:00 p.m. – 7:30 p.m.
Contact: Professor Eric Galm, Director at: eric.galm@trincoll.edu
Private Music Lessons
MUSC-107 (0.50 credit)
Trinity offers students the opportunity to study either a musical instrument or voice with Music Department approved instructors.
To receive the "Questionnaire and Guidelines" about MUSC 107 Music Lessons, please contact Jen Allen, faculty coordinator, at: jennifer.allen@trincoll.edu
Course Prerequisite:  A basic understanding of note reading and music terminology is required for music lessons. Please contact Jen Allen if you would like to apply for a waiver of this requirement. If you have no previous experience with music notation, you may concurrently take MUSC-101 Basic Musicianship to fulfill this requirement.
Course Requirements:  Attendance at a scheduled orientation meeting during the Add/Drop period for Lessons is required, TBA. Email Jen Allen to ask about orientation dates.
Successful completion of 11 one-hour lessons with a Music Department-approved lessons instructor.
Attendance at the musicians' workshop and end-of-semester recital, dates and times to be announced.
In addition to tuition costs, students are required to pay their instructor a fee of $600 for the semester. Students who qualify for Trinity Grant financial aid and who are taking Lessons for credit may be eligible for an award to pay this fee. The questionnaire in the "Questionnaire and Guidelines" serves as the application for a Trinity Grant for Music Lessons as well as the first step to enroll in Lessons.  Submit your questionnaire during or before the first week of classes to be considered among the first group of Trinity Grant applicants. Additional applications will be accepted if there are additional Grants to be awarded.
Meeting Times: Each student and instructor will schedule weekly one-hour lessons based on their particular schedules. The student should contact the instructor directly. See instructors' contact information in the Questionnaire and Guidelines.
Registration: Extended Add/Drop deadline: Friday, Sept. 16, 2022
Contact: Professor Jen Allen, Faculty Coordinator of Music Lessons, at jennifer.allen@trincoll.edu
Trinity College Gospel Choir (TCGC)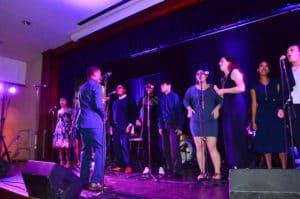 Trinity College Gospel Choir (TCGC), a student organization for more than 25 years, brings the vital tradition of gospel music to the Trinity community. Members of the Gospel Choir enhance the group's music program through elements of dance, spoken word, and prayer from the traditional African American churches.
TCGC also builds community and promotes social change on campus. Seasonal concerts, offered once each semester, are the core of the program.
No audition required: Come to the first TCGC meeting of the semester. No previous musical experience is necessary.
Contact: Anthony Williams (anthony.williams@trincoll.edu) and John Hayes (john.p.hayes@trincoll.edu), Ministers of Music; or Deion Kelly '23, (deion.kelly@trincoll.edu) President.