Trinity has many performing arts opportunities across many disciplines. Students are invited to participate no matter their level of experience. Information about the groups follows.
Theater and Dance
Stage Productions
THDN-309. (.5 credit)
Fall Theater: The Pillowman by Martin McDonagh
THDN-309, Credit 0.5
Set in an unnamed totalitarian state, a writer named Katurian is arrested and detained for penning macabre and gruesome short stories. Two detectives, Tupolski and Ariel, interrogate Katurian about the similarities between these writings and a recent series of bizarre murders. Over the course of three acts, the characters discuss the effects of art, purposeful and otherwise, that result from the act of creation, and the lengths one will go to save their work from destruction.
**Content warning: This play includes depictions of violence.
AUDITIONS: Auditions will be held in the Performance Lab at Trinity Commons. All students are welcome and encouraged to audition. Roles are open to performers of all races, gender identities, and levels of ability.
Thursday, September 9, 2021 from 6:00 p.m. – 8:00 p.m.
Monday, September 13, 2021 from 6:00 p.m. – 8:00 p.m.
You can sign up for a 10 minute audition slot HERE or by emailing the Director, Professor Teri Incampo directly. We ask that you arrive 5 to 10 minutes early to fill out an audition form and conflict sheet (which you can also access at the bottom of the audition sign up).
Please prepare a 1 to 2 minute monologue from any work or genre. You may also choose a monologue from The Pillowman — sides are available digitally on the audition sign up.
Information about casting will be sent out the night of September 13 after auditions are complete.
REHEARSALS: Rehearsals will begin on September 15. Technical rehearsals will take place beginning on November 4.
PERFORMANCES: Thursday – Saturday, November 18-20.
CONTACT: If you have any questions, please email Professor Teri Incampo at Theresa.Incampo@trincoll.edu
Fall Dance: What's Your Move?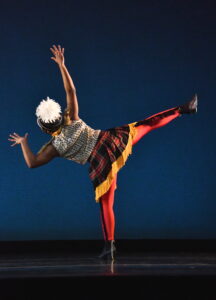 What's Your Move? is a fully produced live performance celebrating motion in all its variety.
It features original choreography created and performed by Trinity students in Austin Arts Center. All are welcome and no prior experience is required. We need movers, shakers, choreographers, dancers, visionaries, novices, and anyone looking to rock the walls of Goodwin Theater with their creative brilliance!
Throughout the fall semester students develop and share work with one another, engage in constructive feedback, explore creative and theatrical possibilities, brainstorm about design elements, and generally help each other put the show together. Peter Kyle, Associate Professor of Theater and Dance, guides and directs the production.
INFO SESSION: An informal meeting will take place on Friday, September 10 at 4:00 p.m., in Trinity Commons, Rm 152 (The Performance Lab), where the process for submitting work to be considered, holding an audition for performers, and scheduling rehearsals will be discussed. Sign up for the meeting HERE or on the main lobby bulletin board at Austin Arts Center.
PERFORMANCES: Friday and Saturday, December 3 and 4, 2021.
CONTACT: Please direct any questions to Professor Kyle at peter.kyle@trincoll.edu​.
Music Groups
The Chapel Singers

The Chapel Singers is Trinity's oldest student organization, founded in 1825. A mixed voice choir of about two dozen members, the group's repertoire ranges in style from medieval plainchant to modern works of the 21st century. The choir sings at Chapel services and major college occasions, performs concerts, and occasionally makes recordings and travels on tour. No religious affiliation or practice is necessary, and members come from a variety of backgrounds. Though there is no prerequisite, some basic experience reading music is strongly encouraged (about the equivalent of MUSC-101). Chapel Singers are paid as hourly student employees, and this job is eligible for work-study.
REHEARSAL/PERFORMANCE SCHEDULE:
Mondays and Wednesdays, 4:30 p.m. – 6:00 p.m.
One 45-minute sectional rehearsal, schedule TBD.
Most Sundays during the semester, 11:30 a.m. rehearsal and 12:30 p.m. Chapel service.
AUDITIONS: Auditions will be held at the Chapel at the following dates/times:
Friday, September 3, 4:30 – 6:00 p.m.
Sunday, September 5, 3:00 – 4:00 p.m.
Tuesday, September 7, 4:30 – 6:00 p.m.
Please click HERE to book an audition time.  Please be in touch with Christopher Houlihan if none of these times are possible.
LISTEN: Recordings of The Chapel Singers are available here.
CONTACT: Feel free to reach out for more information. We are looking forward to hearing you sing! Christopher Houlihan, Director of Chapel Music and College Organist: christopher.houlihan@trincoll.edu; Tucker O'Brien '21, President: tucker.obrien@trincoll.edu
The Trinity College Gospel Choir (TCGC)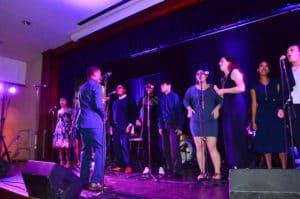 The Trinity College Gospel Choir (TCGC), a student organization now in its 26th season, brings the vital tradition of gospel music to the Trinity community. Members of the Gospel Choir enhance the group's music program through elements of dance, spoken word, and prayer from the traditional African American churches.
TCGC also builds community and promotes social change on campus. Seasonal concerts, offered once each semester, are the core of the program.
NO AUDITION REQUIRED: Come to the first TCGC meeting of the semester. No previous musical experience is necessary.
REHEARSALS: Rehearsals will begin on Tuesday, September 7, 2021, 7:30 p.m. – 9:00 p.m. in the Chapel.
CONTACT: Anthony Williams (anthony.williams@trincoll.edu) and John Hayes (john.p.hayes@trincoll.edu), Ministers of Music; or Deion Kelly '23, (deion.kelly@trincoll.edu) President.
Instrumental Ensembles
MUSC-105. (.5 credit)
The Trinity College Instrumental Ensembles Program is a half-credit course that supports the study and performance of music from five centuries of chamber music repertoire. Each semester, groups are formed and assigned a professional musical coach and repertoire to study and prepare for performance. The goal of the program is to provide the students with an opportunity to survey the vast literature of chamber music, and to receive training in ensemble playing skills.
AUDITIONS: Auditions are required.  Email Nancy Curran for questions and to arrange a remote audition.  Auditions are about 15 minutes and include scales, sight reading, and prepared piece.
CONTACT: Nancy Curran, Coordinator at nancy.curran@trincoll.edu.
Jazz Ensemble
MUSC-109. (.5 credit)

Jazz is America's own art form! The Jazz Ensemble studies and performs the compositions of Ellington, Monk, Coltrane, Hancock, and others, as well as original works by Professor Allen and the group members. Styles span the gamut of jazz history, from traditional swing to bebop to all sorts of jazz fusions. We will work hard on improving individually and as a group, with a focus on creative improvising, group interplay, and solid grooves.
AUDITIONS: Auditions will be held during the first class time. The first class meets on Thursday, September 9 from 7:30 p.m. – 8:45 p.m. in the Music Hall (AAC, Room 102.  Located downstairs.).
MEETING TIMES: Tuesdays and Thursdays, 7:45 p.m. – 9:00 p.m., Austin Arts Center, Room 102.
CONTACT: Jen Allen, Director at jennifer.allen@trincoll.edu