Trinity has many performing arts opportunities across many disciplines. Students are invited to participate no matter their level of experience. Information about the groups follows.
Theater and Dance
Fall Dance Production
THDN-309. (.5 CREDIT)

Joy!
A fabulous spectacle of circus, dance, and music directed by Tandy Beal
What: Casting workshops for JOY!
When: Thursday, September 7th and Friday, September 8th from 6:00-8:00 PM
Where: Trinity Commons Performance Lab (TC Rm. 152)
How: Please sign up HERE to attend one of the casting workshops on the sign-up sheets below. (All are welcome to attend both sessions, though it's not required)
All students, regardless of level of experience, are welcomed and encouraged to come out for JOY!. You don't have to prepare anything – come as you are, ready to move and dance. Please wear clothing in which you can move freely and without restriction. Note: we will work in bare feet.
We ask that you arrive 5 to 10 minutes early in order to fill out an audition form. A cast list will be sent out on September 10th after the casting workshop is complete.
INFORMATION ABOUT THE PRODUCTION & CAST
Peter Kyle, Chair of the Department of Theater and Dance is seeking 10-20 student performers (dancers, actors, clowns, athletes, hams, you name it) to join the fall production of JOY!. This dazzling spectacle of circus, dance and music is part of Trinity College's Bicentennial 1823 Series and will have three performances on October 13, at 7:30 p.m., and October 14, at 2:00 and 7:30 p.m. Trinity students, faculty as well as other students and professionals from the greater Hartford area will perform alongside a group of world-class circus performers under the inspired guidance of guest director/choreographer Tandy Beal. The production also features live music from the award-winning a cappella group, SoVoSó. Come be a part of this madcap cast of characters and celebrate the arts at Trinity.
Any students interested in assisting with the technical or backstage aspects of the production are welcome to contact Prof. Kyle ([email protected]). We'd love to have you join us, too!
Fall Theater Production
THDN-309. (.5 credit)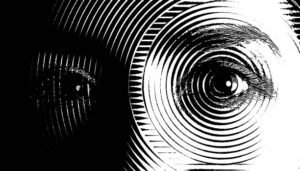 Machinal
by Sophie Treadwell
by arrangement with Nick Hern Books
Directed by Teri Incampo
Assistant Directed by Lily McMahon '23
Audition Information
WHEN: Sunday September 10, 1:00-4:00 pm and
Monday September 11, 6:00-8:00 pm
WHERE: Garmany Hall, Austin Arts Center
WHO: All students are welcomed and encouraged to audition for Machinal. Prof. Incampo is looking to cast 8-10 performers. Roles are open to people of all identities and levels of ability.
HOW: Sign up for a 10-minute audition slot HERE.
There is no need to prepare anything for the audition – come as you are!  
We ask that you arrive 5 to 10 minutes early in order to fill out an audition form. Musicians and students interested in assisting with the technical aspects of the production are welcome to contact Prof. Incampo if interested.  
 NOTE: If you need to opt for a zoom or video submission audition or if there are no slots available on your desired date, be sure to reach out to [email protected] or [email protected] ahead of time.
ABOUT THE PLAY & THE PRODUCTION: Rehearsals for Machinal will begin the week of September 17 (exact times TBA). Public performances take place November 30 and December 1-2 at the Austin Arts Center.
Written in 1928 by journalist and playwright Sophie Treadwell, Machinal is a fearlessly frank examination of one woman's experience of the male-dominated and rapidly-evolving society in which she lives. The play imparts sensations of isolation and restlessness by placing the audience inside the mind of the play's protagonist as she struggles to break free from the expectations of marriage and motherhood that those around her see as hallmarks of a "successful life." What might personal fulfillment resemble if we look beyond the prescriptions of patriarchy and capitalism? What happens to those who fail to fit within the rules of society? Treadwell's Machinal wrestles with these timeless, complex questions by asking audiences to encounter the world through the perspective of an ordinary woman existing inside the machine of modern life.
*Content warning: This play includes references to non-graphic violence.  
All participants will be asked to commit fully to in-rehearsal work and independent preparation (memorization, review, etc.), as well as to the full production schedule, details of which will be shared at the audition.
Music Groups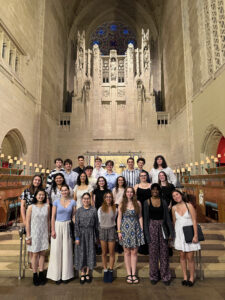 The Chapel Singers
Come to the Chapel South Cloister (outside, facing the quad) during any of these audition times, no appointment needed.
MORE TIMES ADDED!!
Monday, 9/11 @ 6:00–7:00 p.m.
Tuesday, 9/12 @ 4:30–6:00 p.m.
Sunday, September 3, 1:00–2:15 p.m.
Monday, September 4, 3:00–4:30 p.m.
Tuesday, September 5, 12:15–1:30 p.m.
Tuesday, September 5, 4:30–6:00 p.m.
About us: We are students who love to sing challenging choral music at Chapel services, college occasions, and in concerts. Our repertoire spans centuries and includes many works by historically marginalized composers.
Commitment: Rehearsals on Monday and Wednesday (4:30–6:00 p.m.) and singing at Chapel most Sundays (3:30–5:30 p.m.) Membership is a signifiant commitment as we are paid, student employees of the Chapel. Our members hold a variety of religious and spiritual beliefs, and all are welcome.
About auditioning: Arrive warmed up and ready to sing. You will sing some scales and sight read a few bars of music (it's everyone's least favorite part, just try your best). Lastly, a few of us will teach you a short piece. Membership usually requires some previous experience reading sheet music.
Any questions: Please reach out to our president, Marilyn Brach '25 or our director, Christopher Houlihan '09.
Instrumental Ensembles
MUSC-105. (.5 credit)
The Trinity College Instrumental Ensembles Program is a half-credit course that supports the study and performance of music from five centuries of chamber music repertoire. Each semester, groups are formed and assigned a professional musical coach and repertoire to study and prepare for performance. The goal of the program is to provide the students with an opportunity to survey the vast literature of chamber music, and to receive training in ensemble playing skills.
Auditions: Auditions are required. Email Nancy Curran for questions and to arrange an audition. Auditions are about 15 minutes and students should play a scale of their choice, and also a prepared piece or movement of a work of their choice.
Contact: Nancy Curran, Coordinator at [email protected].
Jazz Ensemble
MUSC-109. (.5 credit)

Jazz is America's own art form! The Jazz Ensemble studies and performs the compositions of Ellington, Monk, Coltrane, Hancock, and others, as well as original works by Professor Allen and the group members. Styles span the gamut of jazz history, from traditional swing to bebop to all sorts of jazz fusions. We will work hard on improving individually and as a group, with a focus on creative improvising, group interplay, and solid grooves.
Auditions: Auditions will be held during the first class time. The first class meets on Tuesday, September 6 from 7:30 p.m. – 8:45 p.m. in the Music Hall (AAC, Room 102. Located downstairs.).
Meeting Times: Tuesdays and Thursdays, 7:30 p.m. – 8:45 p.m., Austin Arts Center, Room 102.
Contact: Jen Allen, Director at [email protected].
Other performance opportunities that do not require an audition
Steel Pan Ensemble
MUSC 108   (0.50 credit) 
Students in this ensemble will learn the history and social significance of steel pan music in Trinidad. Additionally, they will understand the musical roles of each instrument in the ensemble and learn the techniques associated with playing each of them. Students will be expected to learn and memorize arrangements of classical, popular, and traditional calypso music. The music will be taught aurally and by rote by the instructor, Curtis Greenidge, a steel pan teacher from Trinidad.
Auditions: No audition is required.
Meeting Times: All in the Music Hall, AAC 102, beginning Wednesday, September 7
Mondays, 7:30 p.m. – 9:00 p.m.
Wednesdays, 7:30 p.m. – 9:00 p.m.
Contact: Mr. Curtis Greenidge, Director at: [email protected]
Samba Ensemble
MUSC-111 (0.50 credit) 
This ensemble primarily performs various carnival and other drumming and singing traditions of Brazil. Related musical styles and musical genres are also included. Previous performance experience is not required, and students may take this course for more than one semester. The Samba Ensemble plays events on and off campus throughout the year. We are looking for various instrumentalists: guitar, bass, trombone, saxophone, keyboards, etc. to supplement the ensemble. Permission of the instructor is required.
Auditions: Please contact Professor Eric Galm directly via email, and come to the first class meeting on Wednesday, September 7 at 6:00 p.m. in the Gruss Music Hall, AAC 102.
Meeting Times: All in the Gruss Music Hall, AAC 102.
Mondays, 6:00 p.m. – 7:30 p.m.
Wednesdays, 6:00 p.m. – 7:30 p.m.
Contact: Professor Eric Galm, Director at: [email protected]
Private Music Lessons
MUSC-107 (0.50 credit)
Trinity offers students the opportunity to study either a musical instrument or voice with Music Department approved instructors.
To receive the "Questionnaire and Guidelines" about MUSC 107 Music Lessons, please contact Jen Allen, faculty coordinator, at: [email protected]
Course Prerequisite:  A basic understanding of note reading and music terminology is required for music lessons. Please contact Jen Allen if you would like to apply for a waiver of this requirement. If you have no previous experience with music notation, you may concurrently take MUSC-101 Basic Musicianship to fulfill this requirement.
Course Requirements:  Attendance at a scheduled orientation meeting during the Add/Drop period for Lessons is required, TBA. Email Jen Allen to ask about orientation dates.
Successful completion of 11 one-hour lessons with a Music Department-approved lessons instructor.
Attendance at the musicians' workshop and end-of-semester recital, dates and times to be announced.
In addition to tuition costs, students are required to pay their instructor a fee of $600 for the semester. Students who qualify for Trinity Grant financial aid and who are taking Lessons for credit may be eligible for an award to pay this fee. The questionnaire in the "Questionnaire and Guidelines" serves as the application for a Trinity Grant for Music Lessons as well as the first step to enroll in Lessons.  Submit your questionnaire during or before the first week of classes to be considered among the first group of Trinity Grant applicants. Additional applications will be accepted if there are additional Grants to be awarded.
Meeting Times: Each student and instructor will schedule weekly one-hour lessons based on their particular schedules. The student should contact the instructor directly. See instructors' contact information in the Questionnaire and Guidelines.
Registration: Extended Add/Drop deadline: Friday, Sept. 16, 2022
Contact: Professor Jen Allen, Faculty Coordinator of Music Lessons, at [email protected]
Trinity College Gospel Choir (TCGC)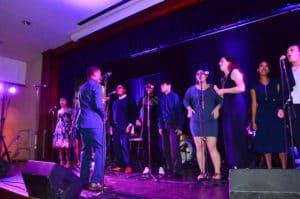 Trinity College Gospel Choir (TCGC), a student organization for more than 25 years, brings the vital tradition of gospel music to the Trinity community. Members of the Gospel Choir enhance the group's music program through elements of dance, spoken word, and prayer from the traditional African American churches.
TCGC also builds community and promotes social change on campus. Seasonal concerts, offered once each semester, are the core of the program.
No audition required: Come to the first TCGC meeting of the semester on Tuesday, September 12 at 7:30 p.m in the Chapel Choir Room. No previous musical experience is necessary. Rehearsals are held weekly on Tuesdays from 7:30–9:00 p.m. in the Chapel Choir Room (go down the main aisle, turn right and go down the stairs).
Contact: Reach out to TCGC president Jayda Clarke '26, or TCGC Ministers of Music Anthony Williams and John Hayes.