This year, we are excited to present our Virtual Summer Music Series!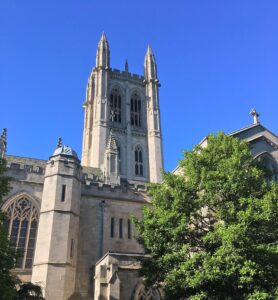 2020's Summer Music Series will be broadcast via YouTube on Wednesday evenings from 7:00 – 8:00 p.m. EDT. Click on a date below to tune in. (Please note: performances are pre-recorded.)
July 1 – Ellen Dickinson, College Carillonneur 
July 8 – Milo Brandt, Groton, Massachusetts
July 15 – Ellen Dickinson, College Carillonneur
July 22 – Paul Stelben, Guilford, Connecticut
July 29 – Ellen Dickinson, College Carillonneur
This year's season program is available as a PDF at the following link:  Trinity College Virtual Summer Music Series Program
Please note: all concerts are pre-recorded, and all in-person college events are cancelled at this time. While we will miss seeing everyone in person, we hope to hear from you. To be added to the Chapel Music email list, send your contact information to [email protected].
The Carillon Recital Series has been a Hartford tradition since 1949, featuring national and international guest artists. The audience is invited to enjoy the music of the 49-bell Plumb Memorial Carillon, one of approximately 200 such instruments in North America.
Behind the Soundtrack of Trinity