June 5, 2018
Dear Members of the Trinity College Community,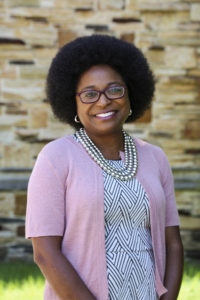 It is my great pleasure to announce the appointment of Anita A. Davis as Trinity's vice president for diversity, equity, and inclusion. She will begin her new role on September 4, the first day of classes of the fall semester. As a key member of the college's senior administrative team, Anita will provide leadership and collaborate with faculty, staff, students, alumni, and our broader Hartford community to advance Trinity's vision of an inclusive community.
Anita comes to Trinity from the Associated Colleges of the South, where she currently serves as director of diversity and inclusion for that consortium of 16 nationally recognized colleges and universities. She also is a tenured associate professor of psychology at Rhodes College in Memphis, which, like Trinity, is one of just a few liberal arts colleges located in a city.
It was a priority that finalists for this position have skills to be sensitive and accessible to our students, while helping to develop and implement best policies and practices around diversity, equity, and inclusion broadly across our academic community. In their listening tours on campus, search committee members heard consistently a desire to hire a bridge builder who also understands the needs of particular communities on campus, and who appreciates the challenging national and international context for this work.
The search committee and I—and virtually everyone who met Anita—were impressed with her breadth of experience, including extensive research, publication, and teaching in the field of clinical/community psychology; her work directing and conducting workshops and training around diversity and inclusion; and her wide-ranging skills and experiences as an administrative leader. It was clear to us that Anita seeks out knowledge and uses data and the perspectives of multiple constituencies to create institutional strategies and practices; in other words, she models inclusiveness. Further, as a Memphis native who helped to strengthen relationships between Rhodes College and her hometown, Anita expressed a passion for engagement with our Hartford community.
In her role with the Associated Colleges of the South, Anita's primary responsibilities are to support member institutions in their collective and individual efforts to advance diversity and inclusion goals on their campuses and in their communities. At Rhodes, she was the inaugural faculty director of the African American Studies Program for five years, and associate dean of academic affairs for seven years, with responsibilities including accreditation, curriculum and program assessment, faculty evaluation and mentoring, and supporting diversity and inclusion initiatives. As a practicing clinical psychologist, she understands the importance of keeping the individual central as an organization moves forward.
A member of the National Association of Diversity Officers in Higher Education, Anita holds Ph.D. and M.A. degrees in clinical/community psychology from the University of Illinois at Urbana-Champaign, and a B.A. from Rhodes College. Her research interests include understanding the factors that promote resiliency in adolescents and young adults from underrepresented backgrounds and improving organizational climate involving diversity and inclusion. She has the perfect combination of training in theory and practice for Trinity College.
I want to offer my thanks to Anne Lambright and Jason Rojas for co-chairing the search team, as well as to the other members of the committee for their diligent work on this important search: Stephanie Chambers, Dario Euraque, and Donna-Dale Marcano; Lisa Kassow, Allison Read, and Courtney Roach '16; Esther Appiah '21, Brandon Herrera '19, and Jerry Rodriguez '20; and Nancy Davis '79. The thoughtfulness and dedication of the search committee, along with the expertise of our search consultants at Witt/Kieffer, helped us realize this successful outcome that will help Trinity College reach the Summit.
We look forward to welcoming Anita to Trinity on September 4.
Sincerely,
Joanne Berger-Sweeney
President and Trinity College Professor of Neuroscience