May 11, 2016
Dear Members of the Trinity College Community,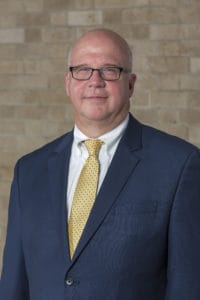 I am extremely pleased to announce the selection of Dan Hitchell as Trinity's new Vice President of Finance and Chief Financial Officer. This key position is a member of the senior leadership team and provides strategic oversight and management of the College's financial resources and operations.
Dan comes to Trinity from Ohio Wesleyan University in Delaware, Ohio, where he was Vice President for Finance and Administration and Treasurer. Dan brings to Trinity the ability to frame complex financial issues in straightforward terms, to create feasible solutions, to plan and implement capital projects, to manage the College's debt portfolio, and to steward the College's resources. As head of the College's finance functions, he is experienced in formulating operational and capital budgets, designing fiscal policies and procedures, evaluating potential capital projects, overseeing risk management and insurance programs, coordinating the activities of a college's outsourced vendors and investment services and, importantly, interfacing with faculty, students, staff, and members of the Board of Trustees. He also is a seasoned administrator and described by all as transparent and an honest broker. Finally, he has in-depth experience operating in the challenging financial environment that liberal arts colleges – and all of higher education – face today. This breadth and depth of expertise, combined with Dan's outgoing and collaborative manner, were primary factors in the search committee's recommendation and in my decision.
Prior to joining Ohio Wesleyan in 2012, Dan served as Associate Vice President for Resource Planning and Budget at Webster University in St. Louis, and, before that, as Director of Financial Planning and Budgeting at Saint Louis University. Dan holds a B.S. in quantitative business analysis from Western Kentucky University in Bowling Green, Kentucky, and an M.B.A. from the University of Evansville in Evansville, Indiana.
I want to extend my sincere thanks to the members of the search team for their considerable time and conscientious work toward identifying the right person for this extremely important position at the College. The team was chaired by Sue Aber and included Shannon Burke '16, Tim Curran, Caroline Deveau, Joe DiChristina, Sam Kassow, Kathleen Kete, Deke Mathieu, Max Le Merle '16, Pat Moody, and Jason Rojas.
Until Dan's arrival at Trinity on July 1, 2016, the senior leadership team will continue to work closely with Phil Shapiro, who has done an outstanding job as interim CFO since January.
This is an excellent manner in which to end this eventful and very successful academic year. Already, we know that we will begin the next academic year with a very strong administrative team in place for the future.
Sincerely,
Joanne Berger-Sweeney
President and Trinity College Professor of Neuroscience