Back to News
President's Convocation Marks Beginning of 195th Academic Year at Trinity College
Hartford, Connecticut, August 31, 2018­—During the President's Convocation, which officially began the 195th academic year at Trinity College, new students and their families heard about the many ways in which the members of the Class of 2022 had already distinguished themselves, even before arriving on campus earlier that day.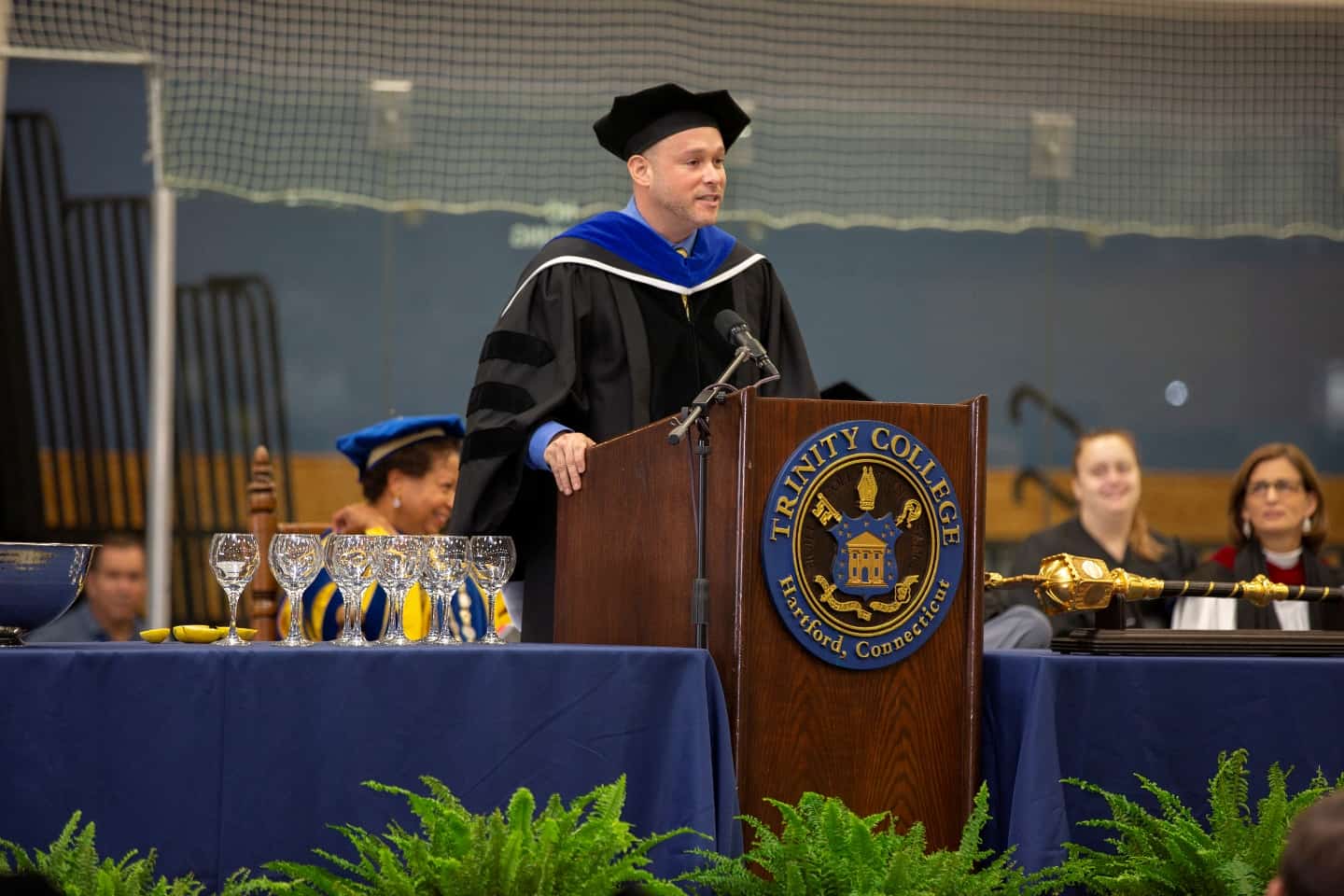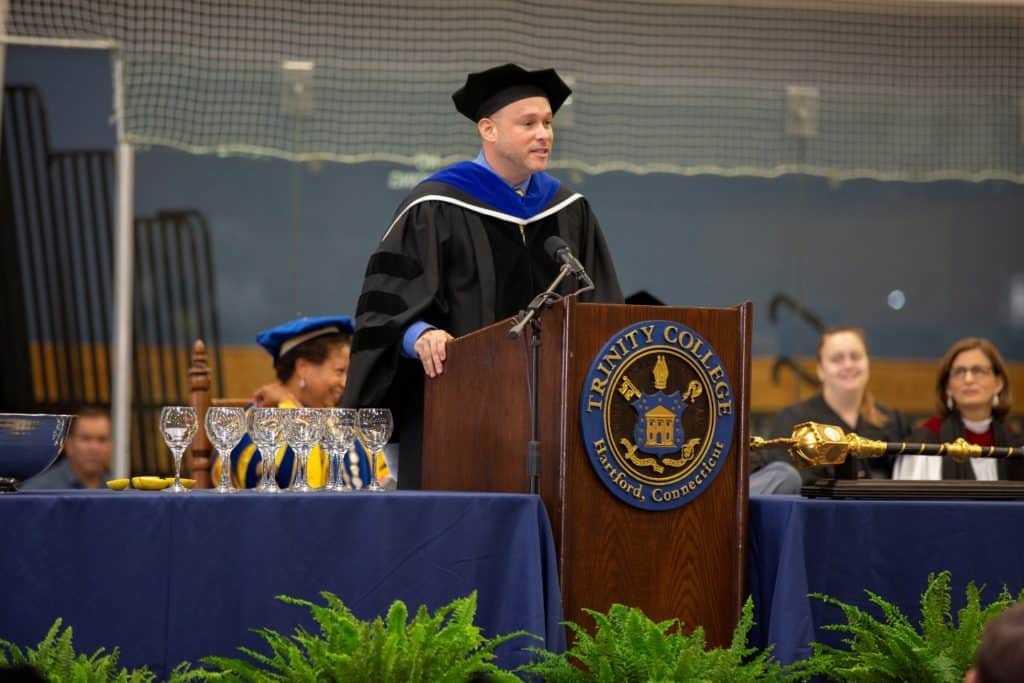 "You are the most diverse class in the history of the college," Vice President for Enrollment and Student Success Angel B. Pérez told the students gathered at the Koeppel Community Sports Center on August 30. "This is the largest international class to ever attend Trinity; with the arrival of this class, 72 countries are now represented at Trinity." He added that the class includes a record-setting percentage of first-generation students, who would be the first members of their families to earn a four-year college degree.
Arriving at Trinity this fall are 589 members of the Class of 2022, 17 transfer students, and eight new Individualized Degree Program (IDP) students. Included among the members of the Class of 2022, Pérez said, is a student who has written and published two books, someone who saved a life as a lifeguard, the holder of a patent for a heating system, a co-founder of a nonprofit organization that sends school supplies to remote areas of Vietnam, an assistant director of a Bollywood feature film, an apprentice blacksmith, and a world champion ice skater. "You will learn a lot from our faculty, but you will also learn from each other," Pérez told the students. "You are an extraordinary group and we are proud to have you at Trinity College."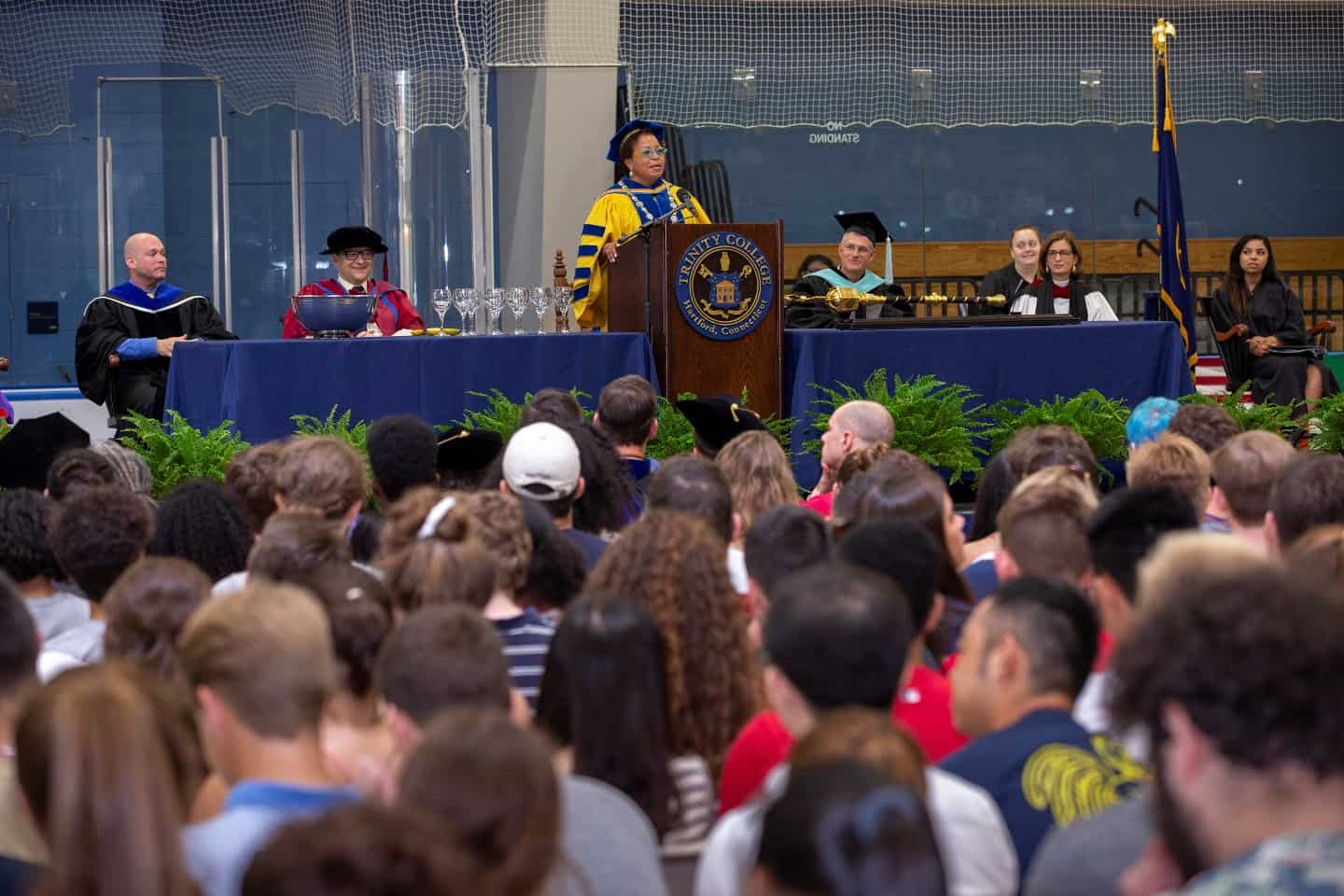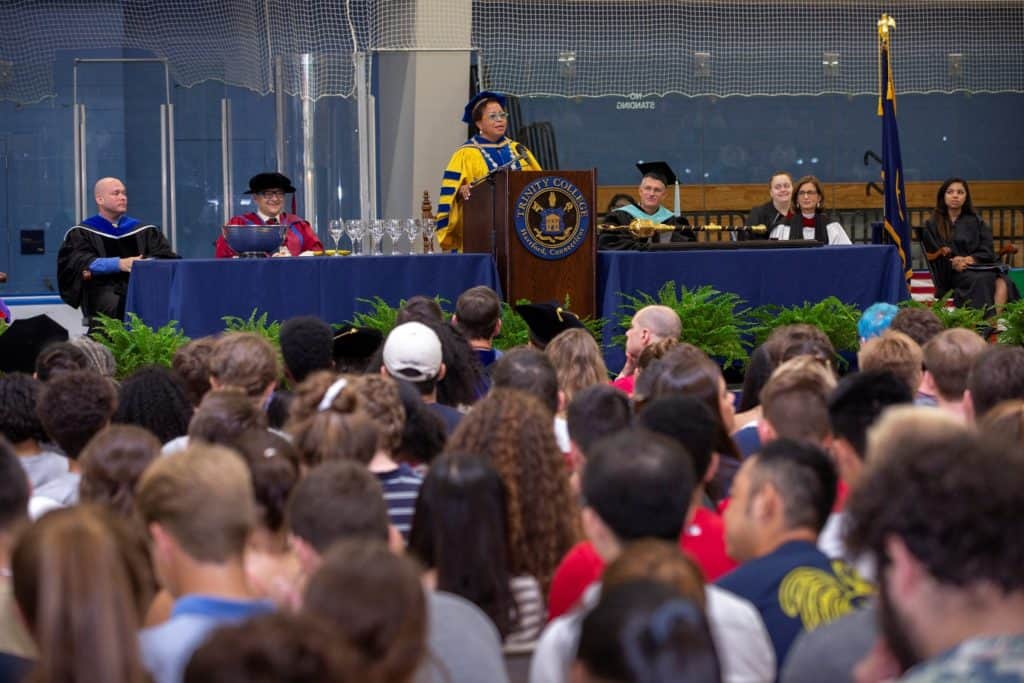 Trinity College President Joanne Berger-Sweeney also noted the diverse and inclusive nature of Trinity's community in her address to students and their families. "We intentionally bring together people from varied backgrounds and cultures, with a wide variety of beliefs and perspectives," she said. "Why do we do this? Because we know … that different perspectives allow us to be more creative, to find better solutions, and to live more satisfied lives."
The college experience, Berger-Sweeney said, is most fulfilling for students who take an active, assertive approach and seize the opportunities to build deep relationships with mentors, engage in research and long-term academic projects, and get involved in campus organizations. "My advice to you: worry less, learn more. Connect, create, and commit to your education," she said.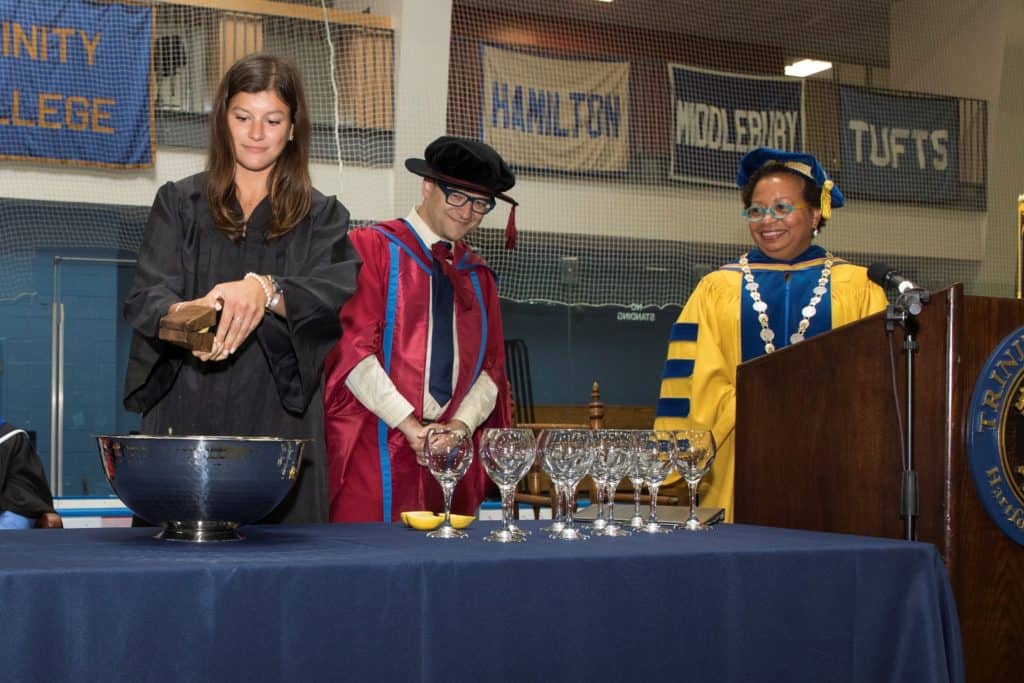 On behalf of the faculty, Jennifer Regan-Lefebvre, secretary of the faculty and associate professor of history, encouraged the students to reach out to their professors during their search for scholarship. "No matter who you are or where you come from, there will be a faculty member here who understands you and your life experience," Regan-Lefebvre said.
Student Government Association President Kristina A. Miele '19 said that exploring new subjects, embracing new experiences, and meeting new people can lead to exciting possibilities. "My advice to you is don't settle. Don't let yourself fall into a routine," Miele said. "Take advantage of all that you can during your time here."
Dayla I. Whaley '20 welcomed the Class of 2022 into the Trinity community by telling them about some Trinity traditions. One such tradition, the lemon squeezer, was used for the lemonade toast offered by Berger-Sweeney and Miele after the academic year was declared under way by Tim Cresswell, dean of the faculty and vice president for academic affairs and professor of American studies.
Another tradition—a performance of the alma mater, "'Neath the Elms," by The Trinity College Chapel Singers—concluded the ceremony, which was followed by a family picnic at Mather Hall.
Watch the full President's Convocation here.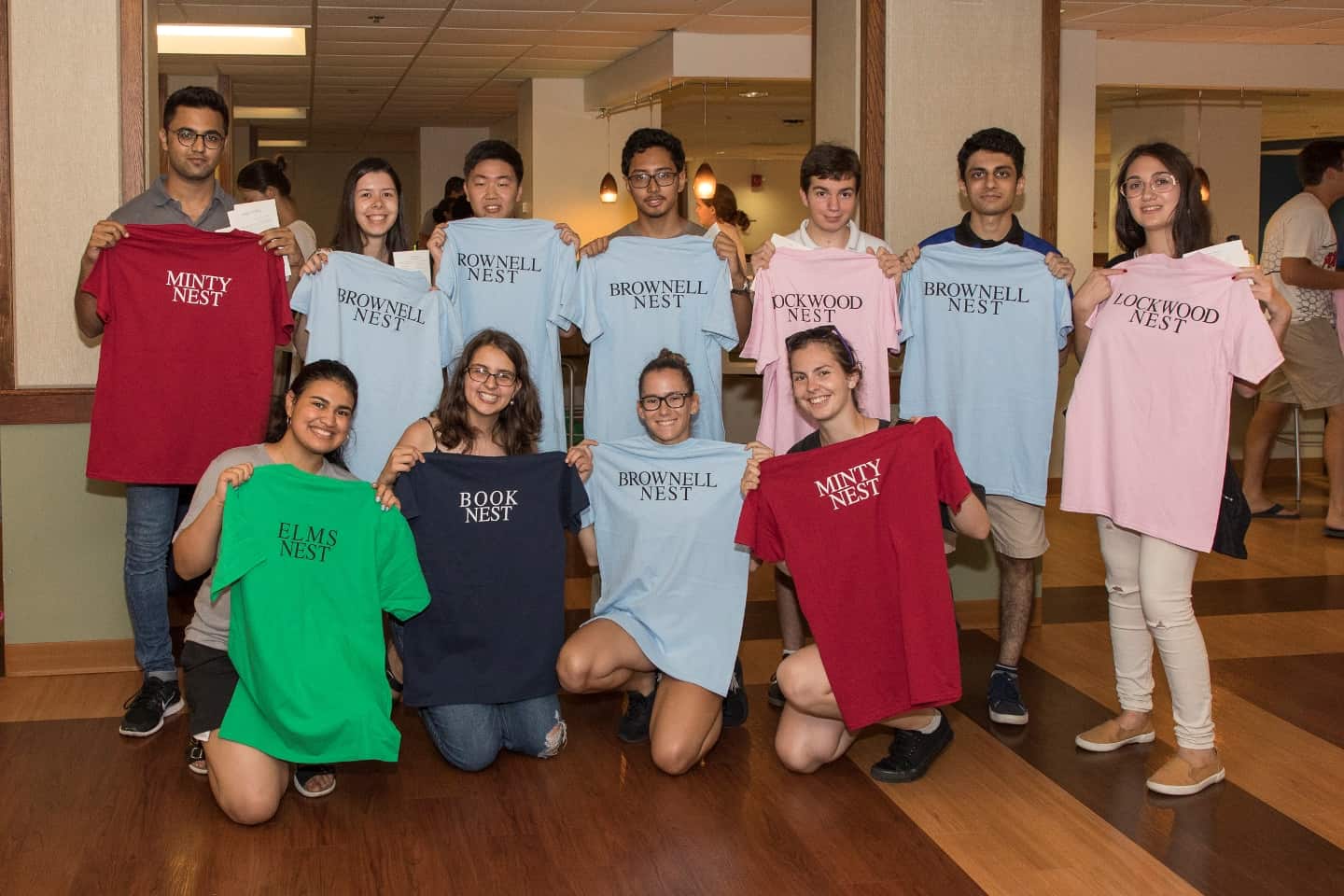 Photos by John Marinelli