David Andres '04
Associate Vice President and Chief Data and Analytics Officer
David Andres serves as Trinity's first chief data and analytics officer. In this role, he leads the Analytics and Strategic Initiatives Center (ASIC), which provides analysis, research, and curated data to support a strengthened culture of planning and evaluation across the college. The ASIC team is responsible for the college's institutional research functions and the development of its next-generation data warehouse and analytics platform. Through this work, the team shares insights and analyses that inform decision making at all levels of the college's leadership and support the implementation of its strategic initiatives.
Andres also serves as Trinity's accreditation liaison officer to the New England Commission of Higher Education (NECHE), the college's regional accreditation agency. In that capacity, he shared a leadership role in facilitating the college's self-study report and the decennial comprehensive evaluation by the Commission in 2016 and the fifth-year report in 2022.
In prior roles at Trinity, Andres was special assistant to the president and deputy chief of staff, and before that, served as director of strategic projects for the student life division. He earned a B.S. in biology from Trinity.
Sonia Cardenas
Dean of the Faculty and Vice President for Academic Affairs and Scott M. Johnson '97 Distinguished Professor of Political Science
Sonia Cardenas was named Dean of the Faculty and Vice President for Academic Affairs on September 2, 2021. She had been serving as Interim Dean of the Faculty and Vice President for Academic Affairs since June 1, 2019. She is Scott M. Johnson '97 Distinguished Professor of Political Science and joined the Trinity College faculty in 2001.
Cardenas began her work as an academic dean in 2013 and was appointed to President Berger-Sweeney's cabinet in 2014. As Associate Academic Dean for curricular matters, Cardenas led the restructuring of the first-year seminars program, the launch of the new January Term, and a year-long analysis of retention. She also played a key role in creating the Bantam Network, a first-year student-designed program, and convened a working group on faculty diversity. In fall 2015, Cardenas began serving as Dean of Academic Affairs, responsible for supporting half of all academic departments and programs. From 2015-16, she further served as Interim Dean of the Faculty, a position she shared with Melanie Stein. Together, they introduced a new phased retirement plan for faculty, co-chaired the President's Planning and Budget Council, supported the creation of a Center for Caribbean Studies, and oversaw design planning for the Crescent Center for Arts and Neuroscience. Cardenas also co-chaired Trinity's successful accreditation process in 2016-17 and was the principal author of the College's self-study.
In addition to serving on numerous governance committees as a faculty member, Cardenas was the director of Trinity College's signature Human Rights Program from 2007 to 2013 and held a Charles A. Dana Research chair from 2011 to 2013. She has authored dozens of publications, including three books from the University of Pennsylvania Press: Conflict and Compliance Human Rights in Latin America; and Chains of Justice: The Global Rise of State Institutions for Human Rights. As a leading human rights scholar, she serves on various international boards and is a frequent reviewer. Her more recent short reflections on higher education and the liberal arts can be found in the Chronicle of Higher Education, The New York Times, and Huffington Post.
Cardenas earned a B.A. in international relations and French from Tulane University, an M.A. and Ph.D. in political science from the University of Virginia, and a certificate in international human rights law from Oxford University. Before joining Trinity, Cardenas held visiting appointments at the University of Cambridge, Harvard University's Kennedy School of Government, and the University of Notre Dame.
Anita Davis
Vice President for Diversity, Equity, and Inclusion
Anita Davis began serving as Trinity's inaugural vice president for diversity, equity, and inclusion in September 2018. In this role, she provides strategic leadership to advance institutional goals that promote and enhance diversity, equity, and inclusion (DEI) within the community. Under her leadership, the Office of DEI is composed of four departments: Multicultural Affairs, the Queer Resource Center, the Women and Gender Resource Action Center, and Title IX. She co-directs the Office of Human Resources and serves as co-chair of the Task Force on Campus Climate and vice chair of the Campus Climate Incident Response Team. Davis is also the senior administrative liaison to the Board of Trustees DEI subcommittee, the Task Force on the Status of Women, and the Non-Exempt Staff Council.
Prior to coming to Trinity, Davis served as the director of diversity and inclusion at the Associated Colleges of the South, a consortium of 16 liberal arts colleges and universities, supporting member institutions in advancing their diversity and inclusion goals on campus and in their communities. Before that role, she served for five years as the inaugural director of what now is known as the Africana Studies Program at Rhodes College. In addition to being a tenured faculty member at Rhodes, she also served for seven years as the associate dean of academic affairs, with responsibilities including accreditation, curriculum and program assessment, faculty evaluation and mentoring, and supporting diversity and inclusion initiatives.
Davis has more than 20 years of experience helping institutions assess and build capacity to address social justice issues. As a clinical-community psychologist, she brings a strengths-based, collaborative, and action-oriented approach to her work. She is a member of the National Association of Diversity Officers in Higher Education and of the Executive Board of Liberal Arts Diversity Officers. Davis received an M.A. and a Ph.D. in clinical-community psychology from the University of Illinois Urbana-Champaign and a B.A. from Rhodes College.
Joseph DiChristina
Vice President for Student Success and Enrollment Management
A member of the Trinity community since July 2015, Joseph DiChristina oversees Trinity's newly formed Student Success and Enrollment Management Division, which represents a strategically holistic approach to the student experience and spans the entire student life cycle, from the prospective student to the graduate launching into life beyond Trinity.
The division comprises undergraduate and graduate admissions; financial aid; Posse scholars; career development; student success and retention; the Individualized Degree Program; dean of student life, community life, and standards; campus life and social houses; campus safety; athletics and recreation; the Bantam Network residential learning community; counseling and wellness; health center; housing; spiritual and religious life; accessibility; student involvement and leadership; and international students and scholars.
DiChristina was named to this position after serving for five years as Trinity's dean of campus life and vice president for student affairs, responsible for all areas of student life and involvement. He came to Trinity from Allegheny College in Pennsylvania, where he had served as dean of students since 2001 and was the founding director of that college's award-winning Center for Experiential Learning. Previously, he served at Oberlin College in Ohio in several areas, including residential life, campus safety and security, and student activities, before being appointed associate dean of students.
DiChristina earned a B.S. in biochemistry from Beloit College and a master's degree in higher education from the University of Akron.
Kristen Eshleman
Vice President for Library and Information Technology Services
Kristen Eshleman joined the Trinity community in July 2021 and is responsible for leadership of Trinity's merged Library and Information and Technology Services. Prior to her arrival at Trinity, Kristen was at Davidson College in North Carolina, where she served a 20-year career, most recently as director of innovation initiatives.
At Davidson, Kristen was responsible for operational leadership of innovation strategy, processes, and projects for the college, leading through deep collaboration on complex institutional initiatives that address needs and seize opportunities. Prior to her tenure at Davidson, Kristen worked in two start-up companies.
Kristen holds a master's degree in social anthropology from the London School of Economics and a bachelor's degree from the University of North Carolina at Chapel Hill. She has written numerous articles on topics such as complexity, innovation, and change management in higher education for Inside Higher Ed, EDUCAUSE Review, and other outlets, and she co-authored, with Joe Eshleman, Richard Moniz, and Karen Mann, the 2016 book Librarians and Instructional Designers: Collaboration and Innovation.
Dan Hitchell
Vice President of Finance and Chief Financial Officer
Dan Hitchell was appointed as Trinity's vice president of finance and chief financial officer, beginning in July 2016. Reporting to the president, Hitchell is responsible for the strategic oversight and management of the College's financial resources and operations. He came to Trinity from Ohio Wesleyan University in Delaware, Ohio, where he served as vice president for finance and administration and treasurer. In an announcement to the campus community about Hitchell's appointment, President Berger-Sweeney wrote, "Dan brings to Trinity the ability to frame complex financial issues in straightforward terms, to create feasible solutions, to plan and implement capital projects, to manage the college's debt portfolio, and to steward the college's resources."
Prior to time at Ohio Wesleyan, where he began in 2012, Hitchell served for six years at Webster University in St. Louis, where he was associate vice president for resource planning and budget, and, before that, for 15 years at Saint Louis University as director of financial planning and budgeting. Dan holds a B.S. in quantitative business analysis from Western Kentucky University in Bowling Green, Kentucky, and an M.B.A. from the University of Evansville in Evansville, Indiana.
Hellen Hom-Diamond
Vice President for Strategic Marketing and Communications
Hellen Hom-Diamond was appointed the vice president for strategic marketing and communications in January 2022. Reporting to President Berger-Sweeney, Hellen oversees the Communications Office and the college's integrated strategic marketing and communications plan. The president wrote in her announcement: "As the college seeks a marketing and communications leader to shepherd its story and engage all stakeholders, Hellen stood out as someone with a deep understanding of what it means to champion a 21st century liberal arts education and how to leverage marketing and communications to advance an institution's strategic goals."
For more than 25 years, Hellen has led marketing and communications teams at educational institutions. Prior to Trinity, Hellen served as the chief communications officer at Sidwell Friends School where she wrote a strategic plan to elevate and promote the institutional storytelling and reputation through: an integrated digital and social media strategy; branding and DNA messaging; redesigned magazine; community-building events and campus communications; the alignment of Advancement and Admissions communications; crisis communications; and media relations. Prior to Sidwell Friends, she led communications and marketing strategies at The Hotchkiss School as the chief communications officer.
The majority of her career was spent at Yale University and UCLA. As the director of campus communications in the Office of Public Affairs and Communications at Yale University, Hellen worked to align internal and campus communications with institutional storytelling on YaleNews and through effective campus partnerships. As the director of online communications at the UCLA Alumni Association, she created digital strategies to engage alumni globally for the third largest alumni association in the country.
Hellen earned her bachelor's degree in architecture from Columbia University and serves on the Communications and Marketing Commission of the Council for the Support and Advancement of Education (CASE).
Matthew S. Hyde
Dean of Admissions and Financial Aid
Matthew S. Hyde joined the Trinity community in July 2022 and is responsible for the college's vision for recruitment, enrollment, and financial aid. He is also a member of the leadership team of the Student Success and Enrollment Management Division.
Prior to his arrival at Trinity, Matthew served as the assistant vice president for enrollment management and dean of admissions at Lafayette College. Under his leadership, Lafayette grew the size of its applicant pool by 82 percent and increased other important recruitment benchmarks, including selectivity, student diversity, secondary/tertiary market growth, and yield rates.
Prior to his time at Lafayette, Matthew served as an associate director of admissions at Tufts University from 2004–11, where he directed the Tufts Alumni Admissions Program and connected more than 3,400 alumni volunteers with prospective students. Additionally, he worked closely with the Athletics Department to support the recruitment of student athletes in 28 NCAA Division III programs.
Matthew holds a B.A. from Bowdoin College in history and environmental studies and an Ed.M. from Harvard University's Graduate School of Education.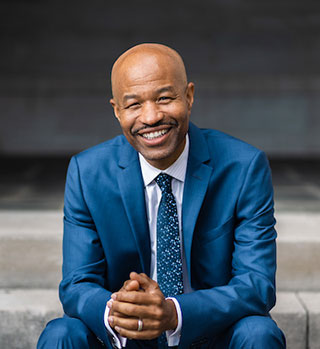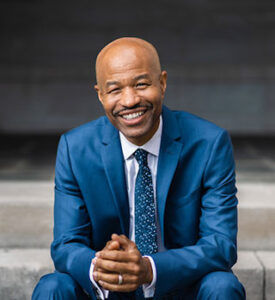 Dickens Mathieu
General Counsel and Secretary of the College
Dickens "Deke" Mathieu is the general counsel and secretary of the college for Trinity College. As general counsel, Mathieu provides legal advice and counsel to Trinity College's Board of Trustees and to the college leadership, covering the full breadth of legal and compliance issues that abound in higher education today, including personnel matters, faculty affairs, student affairs, litigation, and Title IX, to name a few. As secretary of the college, Mathieu provides advice and support to the Trinity College Board of Trustees, and facilitates the work of board members in discharging their fiduciary duties to the College.
Mathieu has more than two decades of legal experience in higher education, private law firm practice, and public service. He previously served as general counsel for Syracuse University and senior legal counsel for Tufts University. He worked as an assistant U.S. attorney in Boston, MA, in the Criminal Division, prosecuting narcotics trafficking and money laundering. He began his legal career in 1993 at the law firm Morgan, Lewis & Bockius, LLP, in Washington, D.C.
Mathieu earned a B.A. in political science from Amherst College and a J.D. from the University of Virginia School of Law.  He is active in the National Association of College and University Attorneys; is a founding director of Discovering Justice, The James D. St. Clair Court Education Project; and is a life member and former director of the Massachusetts Black Lawyers Association.
Carrie Pelzel '74
Executive Director of the All In Campaign
Carrie Pelzel '74 was appointed executive director of the All In campaign on September 18, 2023. Succeeding the late Vice President for Advancement Michael Casey, Pelzel oversees the fundraising efforts of the Advancement Division and the All In comprehensive campaign. Prior to her appointment, she served for three years as campaign consultant and adviser to Trinity's campaign. A recipient of the Alumni Medal for Excellence in 1989, Pelzel also previously served on Trinity's Board of Fellows and Board of Trustees.
Pelzel, a seasoned fundraising professional, has launched and stewarded successful capital campaigns throughout her career. Prior to retiring in 2012, she served as senior vice president for advancement at Dartmouth College and led the $1.3 billion Campaign for the Dartmouth Experience through to its successful completion in December 2009. Before her time at Dartmouth, Pelzel spent 11 years at Harvard University as associate director of university development and director of external relations and helped to plan the launch of that institution's $2.3 billion campaign, which was completed in 1999. Additionally, she held leadership roles at the National Association of Independent Schools and at her other alma mater, Northfield Mount Hermon School, where she was director of external affairs and led a capital campaign.
Pelzel earned a B.A. in philosophy and French from Trinity.
Mitchell Polin '96
Associate Dean for Curriculum and Professor of Theater and Dance
Mitchell Polin, a member of the Trinity faculty since 2001, is a professional dramaturge, director, media artist, and playwright. For the past several years, he has collaborated with the Double Edge Theatre in Massachusetts as a writer and dramaturge. His fields of interest include American experimental performance, radio and sound theory, art brut and nonmimetic performance styles, new media studies, and linguistic experiments in the European avant-garde.
At Trinity, Polin has served as department chair, co-director of the Trinity Institute for Interdisciplinary Studies (TIIS), director of the InterArts Program and Film Studies Program, and on numerous elected faculty committees. He has chaired the Curriculum Committee, playing a crucial role in the development of Trinity's new curriculum and the college's response to COVID-19. In his role as associate dean for curriculum, he works closely with the arts and humanities.
Polin earned a B.A. in theater and dance from Trinity and an M.A. in performance studies from New York University.
Sarah Raskin
Associate Dean for Faculty Development and Charles A. Dana Professor of Psychology and Neuroscience
Sarah Raskin has been at Trinity for almost 30 years, serving in a range of capacities, most notably as chair of Neuroscience for almost two decades.  Recently, she has been Director of Faculty Mentoring and a DEI Faculty Fellow.  She has also served over the years on major elected faculty committees and in various roles, ranging from Faculty Ombud to co-chairing the Taskforce on the Status of Women.
Raskin has received numerous professional recognitions for her service and research into improving cognitive functioning after brain injury.  At Trinity, she was awarded the Dana professorship in 2019, following her appointment in 2015-17 as Dana Research Professor.  She also received both the Trustee Award for Faculty Excellence and the Hughes Award for Teaching Achievement.
Sarah Raskin received her Ph.D. in Neuropsychology from the City University of New York Graduate Center and her B.A. in Behavioral Biology from Johns Hopkins University.
Jason Rojas M '12
Chief of Staff, Associate Vice President for External Affairs
Jason Rojas serves as the president's chief of staff and associate vice president for external affairs, with primary responsibilities of administering the Office of the President at Trinity College. Jason's responsibilities include coordination of the president's senior management team and meetings of the President's Cabinet. Additional key duties include arranging/managing the president's schedule and travel arrangements; supporting the president's speaking engagements; assisting the president's fundraising efforts; maintaining effective relationships with both internal and external constituencies; interacting on a regular basis with trustees of the College, alumni, faculty and staff, students, and others; and serving as a liaison between the College and the Hartford community while encouraging collaboration between Trinity College and many of its community partners.
In addition to his duties at Trinity, Jason is a member of the Connecticut General Assembly representing the Ninth Assembly District (East Hartford and Manchester) in the Connecticut House of Representatives. In 2021 he was elected by his colleagues to serve as Majority Leader after serving as House Chairperson of the Finance, Revenue, and Bonding Committee and the Planning and Development Committee. Jason has also served as a deputy majority leader and co-chairperson of the House Screening Committee. He has also served on the Higher Education and Workforce Development Committee and the Education Committee. A lifelong resident of East Hartford, Rojas attended East Hartford Public Schools and was the first in his family to graduate from college, earning a B.A. in history from the University of Connecticut and an M.A. in public policy from Trinity College.
Jason serves on the Board of Directors of the East Hartford Alumni Association and Education Foundation, the Manchester Community College Foundation and is a member of the Board of Trustees of the Connecticut Historical Society. He is a former member of the East Hartford Town Council and Board of Education as well as the New England Association of Schools & Colleges Commission on Public Secondary Schools.