Welcoming the Class of 2022
After much anticipation, more than 600 of Trinity's newest students are now arriving on campus and getting started with making the most of their Trinity experience.


Trinity welcomes 589 members of the Class of 2022, 17 transfer students, and eight new Individualized Degree Program (IDP) students—and, of course, all of their families, for whom the start of the 2018–19 academic year represents a big time of transition, too.
"We are thrilled to welcome the Class of 2022 and our new transfer and IDP students," said Trinity College President Joanne Berger-Sweeney. "These students bring impressive academic strength as well as a wealth of experience and interests, including prior civic and community involvement and global experiences. In the case of both our domestic and international students, many have studied or volunteered abroad, and their range of perspectives will enrich the Trinity experience for us all."
Vice President for Enrollment and Student Success Angel B. Pérez said, "We've been very intentional about bringing to campus students who will engage both in and out of the classroom with their peers from all over the world. This incoming class is the most diverse in Trinity's history, and we are incredibly proud to have them join the Bantam family."
The Class of 2022 at a Glance:
50 percent women and 50 percent men
Trinity's largest international class ever (15 percent); with the arrival of this class, 72 countries are now represented in Trinity's overall student body
Record-setting 15 percent first-generation students (who would be the first members of their families to earn a four-year college degree)
22 percent domestic students of color
From 34 countries and 35 U.S. states plus the District of Columbia and Puerto Rico
41 students from the western U.S. (highest number ever for an entering Trinity class)
91 students from Connecticut
Chock-full of scholars, including 12 Presidential Scholars, 37 1823 Scholars, 24 Global Scholars, 20 Posse Scholars, and seven Davis United World College Scholars (highest number ever of Davis UWC Scholars in the entering class)
21 percent more students at the top of Trinity's academic rating scale than in last year's entering class
Drawn from a historically strong applicant pool of 6,112 students—up 1 percent from last year's applicant pool
Pérez noted that the phenomenon known throughout higher education as "summer melt"—whereby the number of students in the enrolled class shrinks as some decide over the summer to take gap years or change their plans—was less of a factor this year than has been typical in recent years for Trinity and peer schools. "We are delighted to be welcoming 589 first-year students."
What's in store for new students:
Energetic teams of student leaders, faculty and staff members, and representatives from local community organizations are ready to help students get acquainted with Trinity and their new home city of Hartford.
Under the guidance of the SAIL (Student Activities, Involvement & Leadership) Office, New Student Orientation Chairs Jordan Gershman '19 and Kate Lucas '20 are coordinating the work of 30 upper-year students who are serving as Orientation leaders. Lucas, whose focus has been on Orientation leader training, said, "Orientation leaders are a central point of contact for new students. We help them connect with important people and resources and navigate to where they need to be. We introduce them to Trinsition Fellows, Resident Assistants, and so many other people who will guide them and answer questions. We lead them on campus tours, and they bring along their class schedules so we can show them how to get to buildings where their classes are."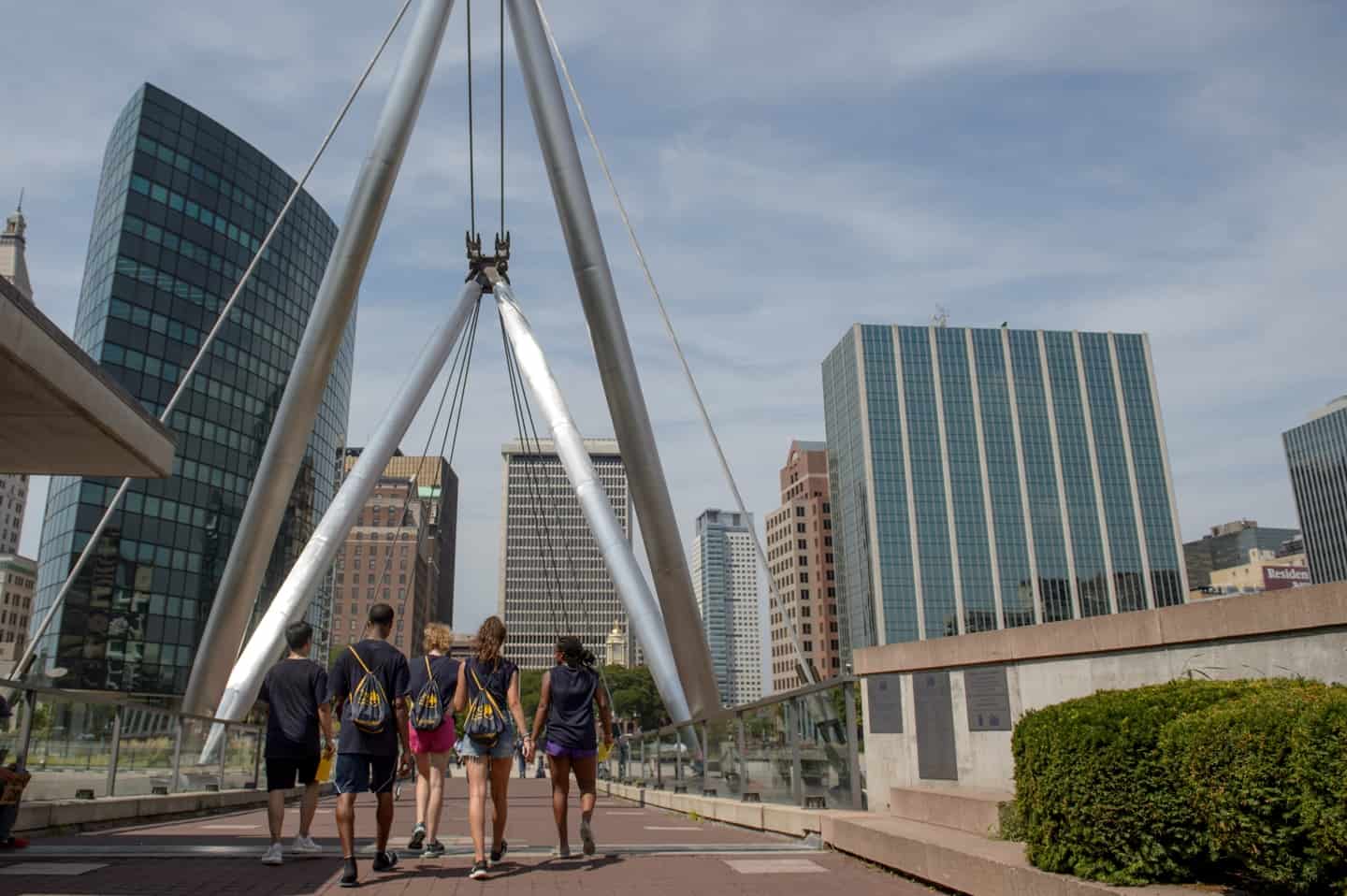 Gershman said, "Our focus is on how to make the transition to Trinity as smooth as possible—we want to make this the best possible experience for new students." She noted that her favorite part of Orientation is the "Hartford Has It" Resource Fair, taking place on Thursday, August 30, from 9:00 a.m. to 1:00 p.m. on the Gates Quad. One of Gershman's primary Orientation responsibilities has been planning and organizing the fair and connecting over the summer with local organizations that will participate alongside various campus offices and resources. Gershman said she is excited about the array of local organizations represented, including the Wadsworth Atheneum, CTrides, Story and Soil Coffee, the Hartford Wolfpack, and the Lime bike-sharing program.
Orientation for transfer students has been expanded this year, with the addition of peer mentors (upper-year students who came to Trinity as transfer students) and activities such as off-campus outings extending throughout the first semester.
An overriding theme for new students will be the idea that "college is not just an experience that happens to you, it's an experience that you take an active role in designing," said Pérez. For the first time, on the final day of Orientation, all first-year and transfer students will take part in "Designing Your Trinity," based on the most popular class offered by Stanford University, "Designing Your Life." Pérez said, "We're infusing this design thinking philosophy not just in Orientation but elsewhere, such as through our new Center for Academic Advising and the revamped offerings of our Center for Student Success and Career Development."
About half of the new students are participating in optional pre-orientation programs, which provide three- to 10-day opportunities to get a jump on making the transition to college. Move-In Day for new students is Thursday, August 30, as is the official kickoff of the new academic year, the President's Convocation, which will take place at 3:30 p.m. on the Main Quad. Faculty members in full regalia and first-year students will gather at the Fuller Arch at Northam Towers as music from Trinity's famous 49-bell carillon beckons all on campus.
During the Convocation ceremony, family members, faculty, staff, and student leaders will be seated on all four sides of the first-year class, forming a symbolic matrix of support. Highlights of the event include the welcome and introduction of the Class of 2022 by Pérez; Berger-Sweeney's Convocation address; and the official declaration of the opening of the college's 195th academic year by Tim Cresswell, dean of the faculty and vice president for academic affairs. Following the ceremony, faculty and staff will join families and new students for a cookout in celebration of the start of these students' journey at Trinity—and the cookout is where first-year students will be welcomed officially into their Bantam Network nests.
Orientation for all first-year and transfer students runs August 30 through September 3, in advance of the first day of classes on September 4.
See more photos and follow along with Convocation and Move-In activities on Instagram here. Check out a photo album from P.R.I.D.E. Welcome Weekend here. (Check back for additional photo albums.)
Written by Kathy Andrews
Header photo from International Students Orientation by Nick Caito